By Lucy Komisar
When and If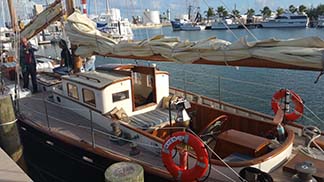 Sunset cruises are special at Key West. Among all the fun things you do, you will remember them most. I generally like the catamarans, as you can walk about them steadily. No lurching from side to side. More about that later.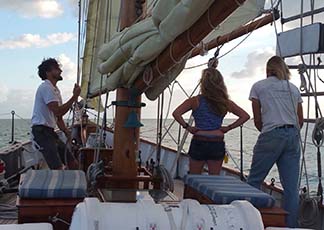 But this time I was intrigued when I discovered that the "When and If," a two-masted schooner, had been built for General George Patton in 1939.
Patton commanded the U.S. Seventh Army in the Mediterranean and European theaters of World War II. "When" the war was over and "If" he got out of it alive, he and his wife would sail around the world. Don't think I would have been up for that; the general was made of hardier stuff, as the legend tells.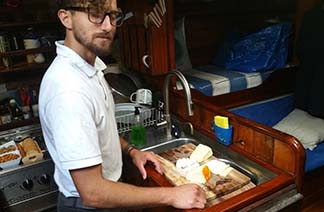 This is a cruise for real sailors. In the very intimate setting, you are close to the work, to putting up the sails and steering the boat. In fact, one passenger joined in. And out into the Atlantic Ocean!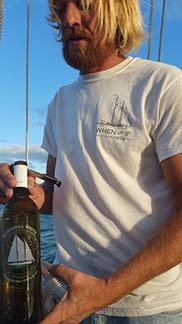 We got a tour of the below deck, with standing room and hatches that let in the daylight, and saw the galley where our snacks were being prepared and even Patton's berth. Or your berth if you charter the boat.
On the cruise, the staff was generous with good wine and cheese.
Going out on the ocean from Stock Island gave me a sense of the solitude sailors experience. Stock Island is next to Key West, from where most boats depart. There you can usually see the land, a swath of people at cafés and at the boardwalk promenade. From Stock Island, you just see water.
And of course the glorious sunset.
Fury Commotion on the Ocean
But if you want a less adventurous, more gregarious experience, that is Fury's Commotion on the Ocean.
There are more sails to hoist. Here's a crew member doing the job.

But she gets some help (??) from the people on board. (They seem less industrious than self- aggrandizing!)
Most of the passengers prefer to chat, check their phones.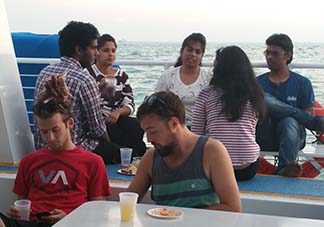 And enjoy the libations: wine, champagne, beer and margaritas flowed. And plenty of finger food, including southwestern rolls (like egg rolls), pork sliders, veggies and cheese.
The Cory Heydon Band played country rock, and the deck became a dance floor.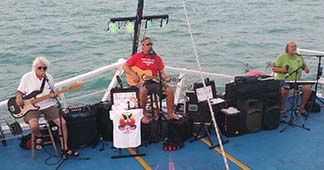 And of course, people enjoyed the glorious sunset, which  looks the same off Key West as this one off Stock Island!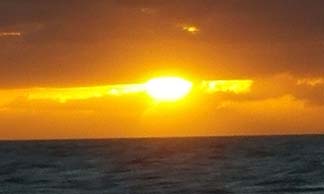 If you go
sailwhenandif@gmail.com
(305) 587-3915
The boat leaves from the dock 7009 Shrimp Rd, Stock Island.  Free parking. It's a large dock area so get precise directions to the boat when you book. Or Captain Seth will send a free taxi for you.  When and If also sails to Cuba.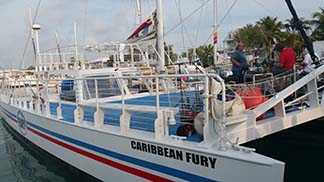 (888) 976-0899
The boat leaves from the dock at Front and Elizabeth Streets, Key West.
Photos by Lucy Komisar