By Lucy Komisar
This play is a charmer. I didn't expect to say that. I thought a story about the passengers who force-landed in Gander, Newfoundland, because airspace in the U.S. was closed on 9/11 and who were welcomed by the locals, would be hokey and sentimental. It is not.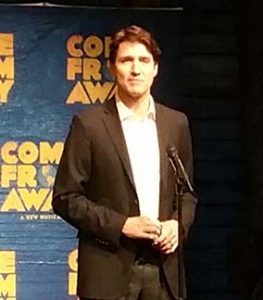 It is smart and though it uses a light brush, it deals with serious issues such as a Muslim passenger being humiliated in a body search.
I went on the evening that Ivanka Trump was there, guest of the Canadian Prime Minister Justin Trudeau, and I wondered how she took that. Canada had bought 600 seats for guests that included 125 UN ambassadors, among them American UN Ambassador Nikki Haley seated next to him and Ivanka.
The book, music and lyric by the Canadians Irene Sankoff and David Hein is in the modern style of folk opera, with the music featuring sounds of country, Celtic and a bit of pop showbiz. Direction by Christopher Ashley is smooth and pleasing. So is the ensemble cast.
The actors play numerous parts, both locals and passengers. At first, the arrivals are edgy, especially after 15 to 25 hours sitting on the tarmac. Even though they get free drinks! The dozen or so actors represent 7,000 people who were on 38 grounded planes.
It is a different kind of disaster show. The real disaster is over a thousand miles away at the World Trade Center. But people's lives here are also disrupted. We see them on rows of wood chairs on the plane. They are distraught. When they get off, they immediately want phones and internet computers.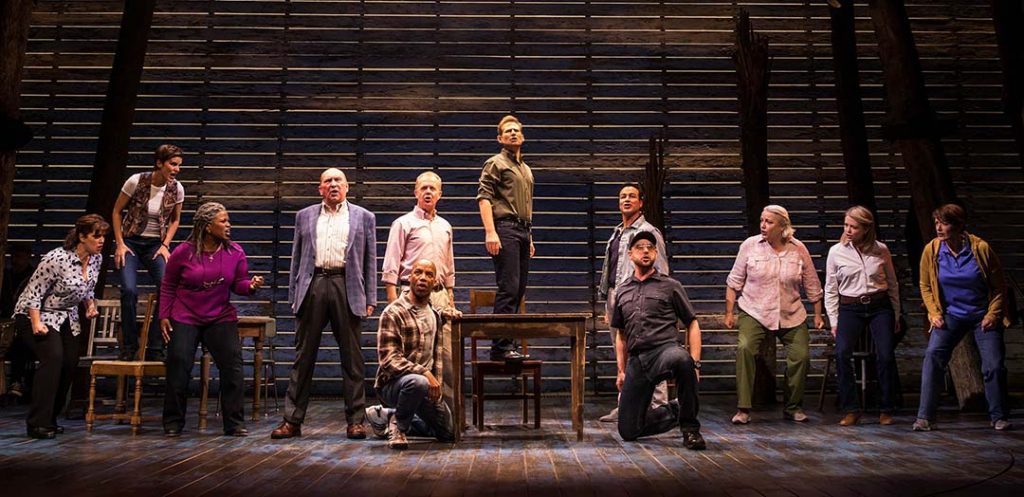 The mayor (Joel Hatch) and others get the willing citizens of Gander to greet them – to provide food and clothes and showers and even beds in their homes. That will last for five days. The chairs shift to represent the venues where they are welcomed, community centers, other places where they can sleep. There's a night out at the pub, with a large lit Molson's sign. And good Irish singing.
At the sides are high thin tree trunks and at the back a weathered wood wall – this after all is not an urban place. Population 10,000. Set by Beowulf Boritt.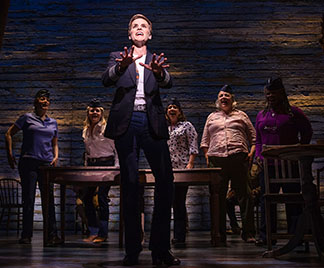 And there's some serious stuff. The pilot (Jenn Colella) turns out to be a woman of 51 who struggled from 1986 to fulfill a childhood dream to become a pilot and became the first American airline pilot in history. When she tells that, it gets applause.
And some very contemporary dark-comic matters. They are going to have a huge barbecue and someone tells Bob, the black guy (Rodney Hicks), to go around the backyards and collect grills. What!, he wonders, "Take their grills? Someone's gonna shoot me." But he does it and isn't shot.  In fact, he says, "I   get offered   a cup a tea in every single backyard –and most of them offer to help me steal their own barbecues."
Two gay men (Chad Kimball and Caesar Samayoa) are nervous about revealing themselves, and suddenly everyone is talking about their gay and lesbian friends. When a Jewish man starts praying, another who joins him says he was born in Poland and his parents sent him to Canada before the war and told him never to tell anyone he was Jewish. But now he needed to tell someone.
And then there is the Muslim, Ali (Samayoa), who is talking in Arabic on the phone. A passenger exclaims, "Why doesn't he speak English?" And another, "You telling your Muslim friends where to bomb next?" He is targeted by a flight attendant and gets stopped both landing and departing and subjected to a full body search which he explains is in his faith degrading. (In whose faith is it not degrading?)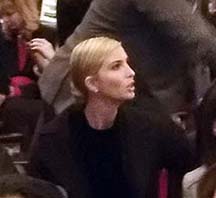 He reveals that he is the chef at an international hotel. And he pitches in to do the cooking. Unlike some of the flight passengers, the Canadians don't display Islamophobia.
Ivanka to Donald! Ivanka to Donald! (Forget that, don't assume morals or sensibility.)
There's also a nice budding romance between a British man (Lee MacDougall) and a Dallas woman (Sharon Wheatley), both in their 40s. First a bit shy and diffident, they find each other in the unusual space. Life in the midst of death. Which takes us to Hannah (Q. Smith), a large middle-aged woman who is worried about her son, a New York City firefighter. She bonds with the expansive Earth Mother type, Beulah (Astrid Van Wieren).
People who might never have met and talked to each other are becoming fast friends. But as one of the gay guys says, "We're not sure how much to say – you just don't know where the red states are in a foreign country, right?"
Fortunately for Canada, which has terrific public health care and education systems and doesn't share America's hostility to immigrants, it doesn't seem to have too many red states. Which explains why they have terrific public health, etc. And, so, with its subtle back story, this is a very appealing musical show.
"Come From Away." Book, music and lyric by Irene Sankoff and David Hein. Directed by Christopher Ashley. Gerald Schoenfeld Theatre, 236 West 45th Street, New York City. 212-239-6200. Opened March 12, 2017. 3/17/17.