By Lucy Komisar
Drawing on the crises of the Middle East, London playwright Henry Naylor has produced two powerful, insightful plays about women who struggle to defeat the machismo that incites Islamic militants. And which is hardly limited to the Islamic world. Naylor, 51, is a man with a strong feminist sensibility and a keen eye for drama. He shows in works that are political as well as theatrical how the domination and abuse of women is part of the psyche of political repression.
"Angel" is the stunning final play in Naylor's trilogy about the West's imperial Middle East wars. Director Michael Cabot also tautly directed the Edinburgh Fringe production which won a Fringe First in 2016 and received the Best Theater and Critics Choice Award at the Adelaide Fringe this year.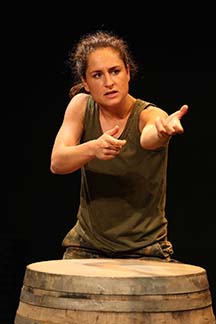 Angel — Rehana — was a real person who lived in Kobane, a Kurdish town in northern Syria. Rehana was known as the Angel of Kobane because she took up arms to fight ISIS and is said, as a sniper, to have killed 100 ISIS fighters. Her father had taught her to shoot to protect their farm, practicing on orangina cans. This is about a woman's heroism.
Rehana is portrayed by Avital Lvova in an bravura solo performance in which she plays numerous roles. Perhaps her sense of inhabiting the other is enhanced by the fact that Lvova was born in Russia, raised in Berlin, and now lives in London.
Rehana's father expects her to take over the farm, but she wants to be lawyer. She is tough, strong and a charmer. She sings Beyoncé's "All the single ladies." Her father supports her but trains her to use a weapon for the liberation of Kurdistan.
Then in 2014, her family must flee, because "Daesh are coming." "Don't worry," he tells her. "They will look after us in Europe." But the Turks won't let them cross the border, a kilometer to the north. Her father stays to fight.
She returns to find him. Her driver Sabah is killed by Kurds, because he has tattoos and is believed to be Yazidi. And we see the brutality against women as she is captured, put in the ISIS slave market, selected for rape by a man of influence. She escapes by pretending to have her period.
A pacifist, Rehana becomes part of a fighting unit of women whose choice is between "violence which empowers you or one enslaves you." Rehana organizes a unit of six women to fight Daesh. Lvova's moves are athletic, acrobatic. With camouflage pants, she turns into a fighter in fury, teaching the others how to handle their guns. It will end in heroism and tragedy.
Echoes shows how ISIS fighters copy the brutality of British colonialists.
Machismo redux. Naylor's "Echoes" shows that there is more to Islamic radicalism than fundamentalist religion. Emma Butler directed this with Naylor at the Edinburgh Fringe in 2015 where it won The Spirit of the Fringe Award. It also won Best Play at the Adelaide Fringe in 2016.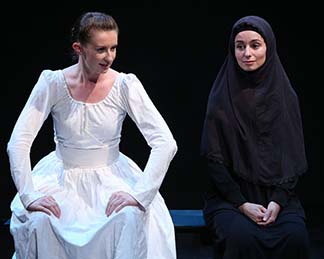 Naylor explores the imperialist mindset as he compares the experiences of two women who lived 175 years apart in Ipswich, England, and were each swept up in the murderous rampage of "godly" imperialist killers. We see that the brutality of Daesh, especially to women, echoes that of the British colonials a few hundred years earlier.
The story is told through the interweaving monologues of two women. One is middle class Tillie (the fine Rachel Smyth), 17, a top student who in the mid-1800s wants to find a husband and sails to India, where fighters for the Empire need wives. She has bought the imperial meme that her role is to produce children, and on the ship, she meets an army lieutenant who she commits to marry. Suddenly he is posted to Kabul, Afghanistan, to protect the Indian trade routes against the Russians. He tells her, "It is God's work, to spread our peace, wealth and civilization through commerce."
A few centuries later, Samira (the strong and moving Serena Manteghi) also 17, reads the papers about racist Nigel Farage. "Why would a Grade A student suddenly up- ­sticks to become a housewife in a Syrian basement?"  "Who groomed me for jihad? ….Nigel Farage. …He pushed me to the Caliphate." She doesn't like her suitors, the politics or the press lies about Muslims. She decides her future is "paradise or Ipswitch." She will go to Raqqa and become the wife of an ISIS fighter.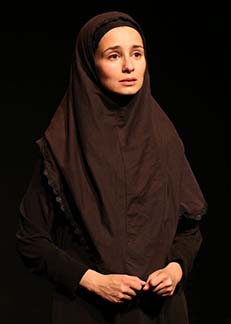 Both women had bought into the myth of empire, both are willing to do their "service" to men who turn out to be personally crude and uncaring. The lieutenant is annoyed when Tillie gets her period; "the empire needs children." Samira's "husband" lifts her veil and "circles like a man inspecting a second-hand car." Naylor's descriptions are fierce.
But the women still have their sense of selves. Tillie's husband whips a beggar. She accuses him of savagery and he replies, "Why, if you had been alone with this savage, I can't imagine what he would have done to you.' She says, "The only savage here was you, sir." He punches her. "Hard. A soldier's punch, practiced in war."
She apologizes to the abused man, telling him, "We have come to do God's work. He says, "Before the British, we were not beggars."  The lieutenant, carousing one night, rapes a young woman.
Samira finds she must share her husband with his first wife and a young girl, a Yazidi slave. And that he and the other Mujahidin are violent. She says, "My husband's idea of foreplay is to show me YouTube videos of himself. I think he imagines I'll be impressed.   ˜Watch this.' He's tying a string of explosives round the necks of ten ˜pagans.'
When she challenges that, he beats and rapes her. His first wife tells her, "You are lucky…. Women like you get passed from fighter to fighter."
Tillie believed in an empire filled with high ideals. Samira believed in jihad. You realize that the Caliphate is an ironic "echo" of British imperialism.
The women's subservience becomes rebellion. Smyth turns Tillie tough and angry and imbued with a power that will enable her to smartly target the lieutenant in the name of justice. Samira will flee with the Yazidi slave. But women in such conditions cannot really get free.
The direction by Cabot and Butler transports you, in these important plays, to the terrifying places the women inhabit.
"Angel" and "Echoes." Written by Henry Naylor; "Angel" directed by Michael Cabot; "Echoes" directed by Emma Butler. Redbard Theatre and Gilded Balloon Productions at 59E59 Theaters, 59 East 59th Street, New York City. (212) 279-4200. Opened April 16, 2017; closes May 7, 2017. 4/25/2017.