By Lucy Komisar
Fifteen years after she slammed the door, Nora returns to Torvald's house as the Betty Friedan of 19th-century Norway. As created by Laurie Metcalf from the script by Lucas Hnath, she is smart, witty, sarcastic, tough and likely to make women cheer. I did!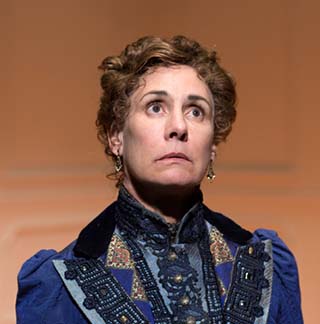 Hnath's clever, funny, inventive sequel to the Ibsen play is told in the modern vernacular. Director Sam Gold's pitch-perfect modern day time machine looks back about 140 years with a feminist sensibility.
And it is nuanced. The evil it attacks is the institution, not the people. The minimalist set has just some chairs and plaster walls and a small table with a tissue box, as if it could be of any time.
Nora (the brilliant funny modernly acerbic Laura Metcalf) arrives dressed fashionably in blue and tapestry with a fur stole.
When she asks Anne Marie (always excellent Jayne Houdyshell) who has taken care of Nora's children all these years, how she thinks she survived, Anne Marie reflects a maid's class/servant attitude.
She says if Nora, didn't struggle, she was lucky. Nora points out that she doesn't say, "clever or resourceful." Lucky, because one expects people who leave their families to be punished.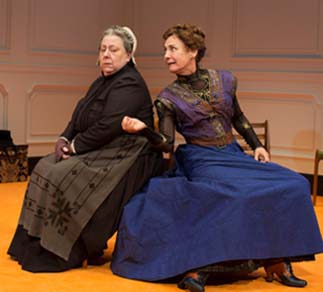 Asked to guess what Nora did for a living, the nanny comes up with actress, dancer, something to do with clothes, then lawyer, banker. . .
In fact, Anne Marie would explain later, that she had left her own child to work for the Helmers, because the realistic alternatives for her were to be a factory worker or a prostitute.
But Nora, of another class, made a success of writing and speaking against marriage. She tells her audiences how marriage says to women "I own you," how she no longer sees a reason for marriage because it is cruel and destroys people's lives. She has a nice house and has had a succession of lovers.
That is revealed in a terrific interaction with the very traditional Anne Marie, who takes Torvald's side.
Nora has returned to tie up some loose ends. A judge, whose wife left him after reading her book, found out Nora's husband never filed the divorce papers and threatens to expose her as a married woman. She says, "I have conducted myself as a married woman in ways that is not allowed. She says, for example, I have signed contracts." So, she needs Torvald to file the divorce papers.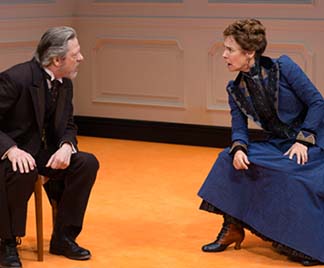 Well, it wasn't all perfect for him, either. Torvald (Chris Cooper) accuses her of being manipulative, saying she loved him when she wanted money.
He says that she made him to feel like a wimp or weak. He tells her, "You left me and the kids. I wish I'd left you." They have a modern fight.
Turns out he has told everyone she was sick, in a sanatorium, and then died. She reminds him that for her to file for divorce now, she would have to reveal the truth, which would ruin his reputation. A banker, he could be fired for fraud. Torvald says, do it.
Anne Marie is not sisterly: "Fuck you, Nora….You have zero gratitude. I raised your kids." She turns down Nora's offer to pay for a house of her own. Too late in life.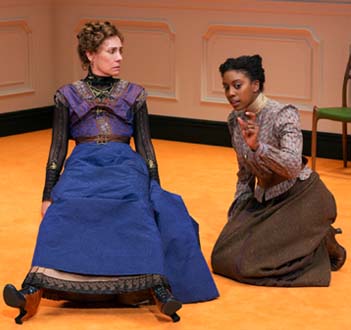 Nora also tries to deflect the marriage ideas of her daughter, Emmy, now a young woman, who Condola Rashad plays as a character out of a modern sitcom. Emmy doesn't like a future where everyone is leaving each other, never finding a home.
Will Nora make her understand how women suffered from the limits of marriage as an institution?
Torvald has gone out to his office, and when he returns he shows Nora a book he picked up. "Anne Marie told me you write these little books."
Nora retorts, "Little!"
It's the novelized story of their marriage. Still, he wants her back. No spoiler here, but Nora predicts a time when everyone will be freer.
I loved this play!
"A Doll's House, Part 2." Written by Lucas Hnath, directed by Sam Gold. Golden Theatre, 252 West 45th St, New York City. (212) 239-6200. Opened April 27, 2017; closes July 30, 2017. 5/12/17.