By Lucy Komisar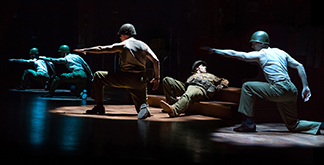 The terrific 40s sound and dancing – choreography by Andy Blankenbuehler – raises the level of a rather corny and predictable musical about a World War II vet who puts together a swing band to compete in a song contest. (Blankenbuehler is also the director.)
Donny Novitski (Corey Cott) in 1945 is home after four years in the military overseas and can't get the job he wants as a piano player at a club. He hears about a contest for a swing band to do a song for the troops. And he reaches out to musicians back from the war who are also struggling.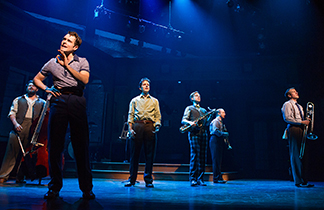 Some of the musicians have psychological damage: Wayne Wright (Geoff Packard), the trombone player, keeps cleaning a gun, but it never gets used. And there's a bit of the racism of the time after the war to end racism (or whatever): Donny changes his name to Donny Nova. The dream he shares with the others is to be in an MGM musical, become a hit at the clubs.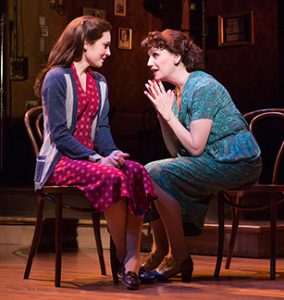 His love interest is Julia (Laura Osnes), the widow of his friend Michael. Except she doesn't know how he died – it turns out from friendly fire. Her edgy mother is Jane Adams (the fine Beth Leavel).  Osnes is good at Donny's jazzy torch song, Love will come and find me again.
But then we learn about the corrupt music business. Donny finds out from the producer that — in spite of what they have been led to believe — even if they win in their home town in Ohio, they have to pay own way to New York and there is then another audition. The rules are set by the sponsor Bayer Aspirin. (Today they would have contacted Bayer PR and suggested it would be bad press not to pay the vets. Or they would have gotten crowdfunding.)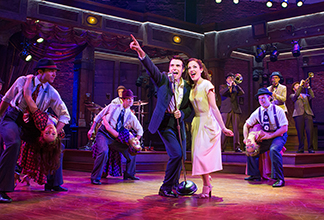 But in the 40s, they learn how NBC is cheating them. Beyond making them pay all expenses, it turns out that NBC wants to steal their song and give it to a big shot singer to make the hit. But these smart guys figure how to finesse the deceit. They will do a song no one else can do. Hint, it's by war vets about war vets. Nobody else can take the words and fake it. It's a terrific number, "Welcome home," about the vets with their profiles, psychic wounds, one by one. It's not something Sinatra can sing.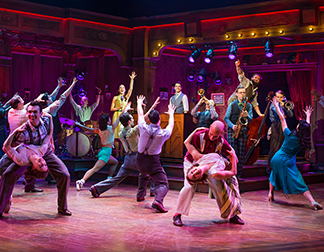 I liked the politics of the plot. But the best thing about the show is the dancing. I love 40s music and choreography. This is like a 1940s Hollywood movie. And just as hokey. Jazzy jitterbug by Blankenbuehler, who won a 2016 Tony award for his choreography in "Hamilton," got another one this year for "Bandstand."
The plot is very predictable, except for a slight welcome surprise at the end. Cott and Osnes are charming, with fine singing voices. And the actors/musicians are first rate. A show likely to please fans of jazz, cabaret and dance.
"Bandstand." Book and lyrics by Richard Oberacker and Robert Taylor; music by Richard Oberacker. Director and choreographer Andy Blankenbuehler. Bernard B Jacobs Theatre 242 West 45th Street, New York City. 212-239-6200 or 800-447-7400. Opened April 26, 2017. 6/15/17.