By Lucy Komisar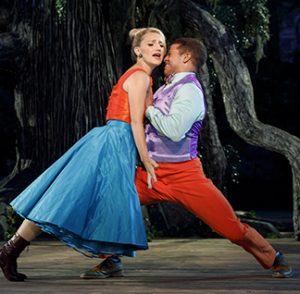 Annaleigh Ashford as Helena and Danny Burstein as Bottom shine in Lear deBessonet's funny, inspired by teen movies, jazzy staging of Shakespeare's comedy about dueling lovers. But the rest of the cast glitters almost as brightly.
We know this will be a cool production when we meet the Duke (Bhavesh Patel) and his fiancée Hippolyta, Queen of the Amazons (De'dre Aziza). He is in-your-face smart, and she is sensually on the mark.
The younger couples have some difficulties. Egeus (David Manis) the blue pinstriped father of Hermia (Shalita Grant) wants her to marry Demetrius (Alex Hernandez). But she loves Lysander (Kyle Beltran). To complicate matters, Helena (Ashford) loves Demetrius, but he loves Hermia.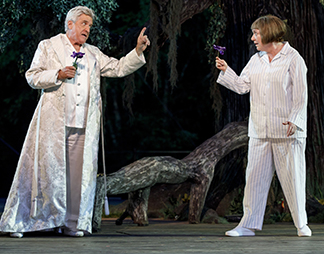 Trying to work out the romantic complexity, the youths flee to the forest, which is inhabited by fairy king Oberon (Richard Poe), his wife Titania (Phylicia Rashad), Robin Goodfellow, a puck, (Kristine Nielsen) and sprites in white nightdresses and PJs. They dance to terrific pop rock and jazz by composer Justin Levine.
The production is modern in spirit without being altogether modern in dress. The boys and girls seem working class. Hermia, quite nonplussed, is given the choice of death or a single life if she doesn't accept to wed Demetrius. Her response is teenage shriek. Helena seems a little flaky. They are like coeds, with wide skirts, straw hats. The "swains," Lysander and Demetrius, appear in colorful street clothes.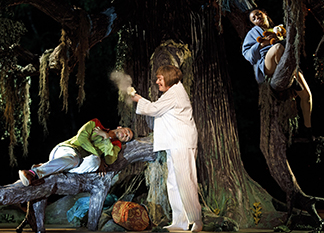 But into the magical forest. The set is three tall trees laden with heavy clumps of leaves. Oberon is annoyed that Titania has adopted a "changeling" child (Benjamin Ye), so he arranges for Puck to sprinkle dust on her that will make her fall in love with the first creature she sees. And, in generosity, the same for the Athenian lover, who he assumes to be Demetrius, who should then see Helena. This is achieved by a squirty flower.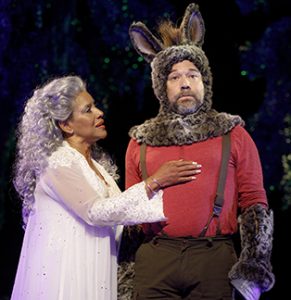 Well, Titania awakes to see Bottom transformed to an ass. And Puck anoints the wrong Athenian. (Did Shakespeare originate the sitcom?)
This is a very physical production. Some actors arrive whizzing down a slide set in a tree trunk. Helena hangs on Demetrius's body. Ashford does brilliant comedic turns with her face and body language. Her shtick pushing off suiters is a classic. Grant as Hermia shrieks a lot in typical teen sit-com mode. She jumps onto Lysander's back, hangs on his leg. Then there is a campy fight threat between the two women. Of course, all will be straightened out.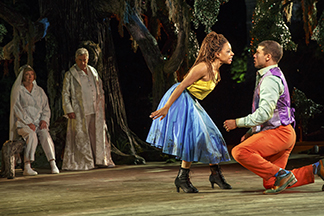 Burstein makes the secondary role of Bottom a star of the show. But I've loved seeing him in any role, from Tevye in "Fiddler" to the entrepreneurial sailor in "South Pacific."
Another highlight is Marcelle Davies-Lashley as the smart jazz singer in glittery gold dress who does numbers between scenes.
From the moment the iconic Kristine Nielsen as Puck appears in her trademark quirky manner, till the grand finale when a young fellow sails across the stage with a sign that says, "Please stand for the brides," and the audience does, the Public Theater production is a smashing delight. You wish Shakespeare could have seen it.
"A Midsummer Night's Dream." Written by William Shakespeare; directed by Lear deBessonet, choreographed by Chase Brock. The Public Theater at the Delacorte, Central Park West and 79th Street, New York City. 212.539.8500. The video. Opened July 11, 2017; closes Aug 13, 2017. 8/12/17.