By Lucy Komisar
Richard Marsh's witty offbeat rhyming verse tells of a copy writer chosen by God to save the world. It is very smart and very funny. And full of fantasy, including these production photos, of scenes not actually in the play.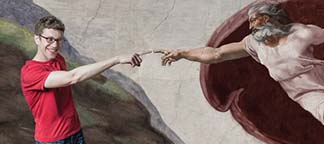 Todd (Marsh) is a mild-mannered fellow in his 20s, in jeans and black-rimmed glasses, a copywriter for alumni magazines.
He is in a difficult relationship with Helen (the voice of Marsh), his superior wife, a pediatric surgeon. Todd and Helen are atheists, though Helen seems more insistent about it.
One day Todd is approached by God (Sara Hirsch), who explains, "God is a woman. I make life and I take it."
As proof of her power, he demands a bacon sandwich delivered by an owl, and gets it.  (The owl has something to do with Harry Potter.) He is impressed. God quickly advises him to ditch segueing into such traditional ideas as heaven and hell: "Actually, they're both made up. Most of that stuff, and Original Sin was invented by St Augustine. It's basically Biblical fan fiction."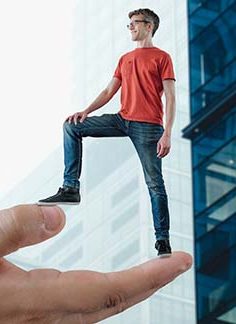 He starts questioning her, "Why all the evil?" "Free will." But God adds, "Here's the thing – every time I've done religion so far, it's gone a bit wrong….Beat me then and beats me still. How you make war from ˜thou shalt not kill'. I almost regret giving out free will."
Now Todd wants to start a religion. He has altered his LinkedIn profile to ˜Messiah.' Helen worries he will become neurotic like her father, a "sweary vicar (also played by Marsh)," whose religion pushed out his wife. Todd's response to a heckle: "It's not a cult, it's a boutique religion." But Helen leaves him. God says, "It's hard, dating a messiah. That's why Jesus stayed single."
At one point, when Todd tries to contact God, he gets a response: "I'm afraid I can't take your prayer right now. Leave a message after the angels." (Sings heavenly choral notes) Then, "I'm just messing with you! I'm always here. I am always here." My favorite line is God singing "Kumbaya, me, Kumbaya." "Kumbaya, Lord," get it?
Todd goes to the zoo and announces, "I am the Chosen One, the leader of Fools. Religion 2.0." He climbs into the lions' den. [Biblical, right?] The lions lick him. God declares: "Be strong, my son, you have God in your bones. And half the world is up there with their phones. You're not here to take your life – You're here to win back your wife."
Surviving the lions puts him on TV. He faints and ends up at Helen's hospital. She will tell him, "You're the first person ever got famous by being inedible."
Todd will find himself. You'll have to see the rest of the show to find out what happens. But that is a mitzvah. (And I've left out some of the best parts all the way through. This is just an amuse bouche.)
Marsh in fact is an atheist, whose grandfather was a preacher. Hirsch is an atheist Jew. Their take on God is rather affectionate if not traditional. She is actually a pretty nice deity. And suppose you wanted to change the world, what would you do? No answers here, but the messianic impulse is subtly quaffed. No matter, you will appreciate the very fine actors, Marsh and Hirsch, Coleman's tongue-in-cheek direction, and the play's sublime wit.
"Todd and God." Written by Richard Marsh; directed by Dan Coleman. Pleasance Dome at the Edinburgh Festival Fringe. https://www.pleasance.co.uk/event/todd-god#overview   August 2017. 8/17/17.