By Lucy Komisar
Standup comedy, political rally, late night talk TV? It's hard to know what to make of Michael Moore's theater event billed as a play. Donald Trump's black and white photo is the backdrop. A box on the upper right has red, white and blue bunting. It's the presidential box and Trump and family have been invited. Moore is wearing his signature worker's blue shirt and cap.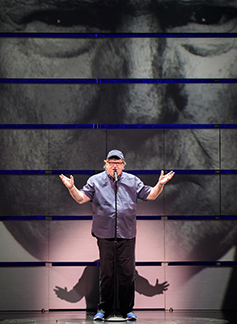 He starts out arguing political issues — that a majority of American agree on equal pay for women, climate change, health care but they don't hold power. This will be Moore's 12-step meeting on how the audience can change that. He jokes, "Everyone gets an arm band and a machete and we take this place by midnight."
And then he tells the audience to get the 5calls.org app that tells people the issues congress will vote on or hold hearings on, plus name of the person's representative and phone number, even dials it and gives talking points. He tells them to run for office.
He does a comic riff on items the TSA says people should not take with them on planes, and pulls items out of a suitcase: dynamite, meat cleaver, microwave oven, power tool, cattle prod, hand grenades, leaf blower, a Muslim – and a woman with a headscarf rises out of the carry-on.
If you like Moore's politics, you will like this show. Except for some silly parts, including a contest between an audience Canadian and American to show who knows more about political geography. Didn't quite turn out as scripted.
The most interesting bits are autobiographical.
In 1971, the Elks Club took only whites. His father had planned to join, saw the form and walked out. Moore, 17, was at a Michigan Boys' State and noticed a sign advertising an Elks prize for best speech on Abraham Lincoln. He wrote and won with "How dare the Elks Club sponsor a contest about Abraham Lincoln when …..this is Michigan not Mississippi. And I don't want your stinkin' trophy." The story was on CBS, Senator Phil Hart held hearings, and (official) race barriers at private clubs were ended.
At 18 and a high school senior, an assistant principle made him bend over and slapped him with a wooden paddle, because his shirt tails were out. He ran for the school board. Seven adults ran against him and split the vote. He became the youngest elected official in the U.S. There's a nice projected photo of him sitting at a board table with the others glowering. But he collected information on how badly the school was run, and by the end of the year, the board had fired the principle and assistant.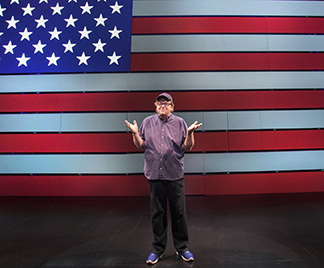 In 1984, President Reagan was going to Germany and would lay a wreath in the Bitburg cemetery at the graves of Nazi soldiers. Moore and a friend who had family members killed in the Holocaust decided to go there.
To get into the site, they joined an ABC camera crew by volunteering to carry their equipment. When Reagan arrived, they unfurled a bedsheet that said, "We came from Michigan USA to remind you. They killed my family." He flashes the photo. Guards grabbed the two and dropped them in a distant cornfield. But the picture went worldwide.
A story of how one person makes a difference. Harper Collins told him the book they just printed in 2001 had to be toned down. He said no. They said it would be pulped. He read two chapters at a labor conference in New Jersey and told the audience the copies would be destroyed. An Englewood librarian got on a listserv and in a few days, librarians with picket signs protested at the publisher's Madison Avenue headquarters. The publisher's rep, an Australian (the publisher was Rupert Murdoch) said they would put the 50,000 books in the stores, but after that, nothing. No publicity or book tour.
Four days later, the books were sold out and the company went to 59 printings. The book spent 29 weeks as a best seller and was published in 27 languages, all because of a librarian in Englewood NJ.
Happy ending. But some of what Moore says is serious and scary. He plays a Glen Beck audio interview on the Bill O'Reilly show where the rightwing radio host talks about choking Moore to death. Former Mayor Rudy Giuliani says on Fox News, "I'm against the death penalty except for people like Michael Moore."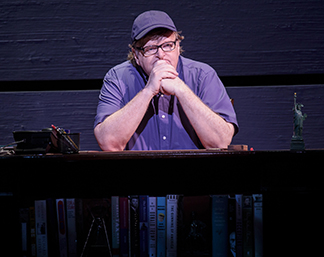 Moore was getting 1000 death threats a month and needed a bodyguard. The bodyguard got second degree burns by intercepting a coffee cup thrown at Moore, another got a knife in his hand when he raised it to protect Moore. A white supremacist made a fertilizer bomb to blow up Moore's house, but his AK47 went off, and a neighbor called the police. Chilling.
There is another murder, murders, that happened. Michigan's Republican Governor Rick Snyder decided to save $15 million by shifting Flint's drinking water source from clean Lake Huron to the Flint River, which was polluted by half a dozen factories. The population of Flint is majority black. Officials at the General Motors plant said they need to get filters, because the water was corroding parts. So, Snyder shifted GM back to clean water. But not the citizens, who drank poison for a year and a half.
Within weeks, kids were going to the hospital with skin rashes. They tested positive for lead. The water was drunk by 10,000 children under 6. They will have permanent brain damage. The local environmental agency cooked the books. There was no press coverage. The victims were black and poor.
Moore declares, "No terrorist organization has figured out how to poison a city. A Republican governor figured it out." Postscript, "The average value of homes in Flint is now zero."
Moore says, "Flint was prologue to Trump's America. We all live in Flint now."
I saw the show before the climate change hurricanes.
"Michael Moore: The Terms of My Surrender." Written by Michael Moore, directed by Michael Mayer. Belasco Theatre, 111 West 44th Street, New York City. 212-239-6200. Opened Aug 10, 2017. 9/18/17.