By Lucy Komisar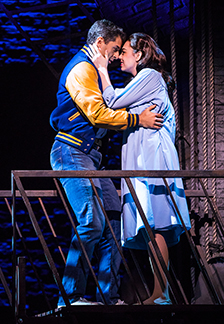 Harold Prince produced and directed some of Broadway's brilliant musicals: "Cabaret," "Candide," "Evita," "Kiss of the Spiderwoman," "Fiddler." Those shows were about politics and ideas. I was glad to see a reprise of famous numbers, but I was sorry this production did not deal with Prince's vision. It was more "and then I directed/produced" rather than this is why I put on this show. David Thompson's book should have made the point that they were very political shows. That and their artistry is why they succeeded.
Prince starts as a young man, and we see him through seven decades, with various actors playing the role, all with glasses perched on their heads in his signature style. Prince explains that his success was about the luck of being in the right place at the right time. But that's not how he choose his shows. It was his political vision.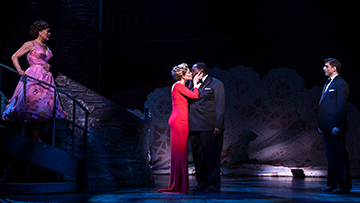 He helped Sondheim with "West Side Story," the riveting play about ethnic strife. Then we see "She Loves Me," a feminist take on relationships. "Superman" didn't work. It was just fantasy.
His favorite was "Follies," which he directed. One of mine too. Complex, sophisticated, feminist, about what happens to former show girls decades later when their lives depend on the men they married.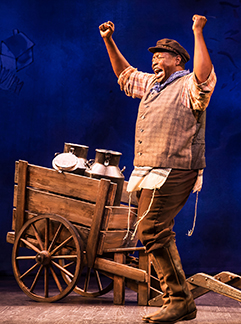 And "Fiddler," about repression in Czarist Russia. Chuck Cooper is very good as Tevye. Black guy, Jew? Makes sense for one to play the other. They share repression. And tradition.
"Cabaret" of course was based on the growing Nazi power in 1930s Germany. Prince got a Tony for directing the show in 1967. Brandon Uranowitz, with painted face and pink vest, is good as the MC performing "Willkommen. And in the chilling words sung to a gorilla (Karen Ziemba), "If you knew her like I do, she doesn't look Jewish at all."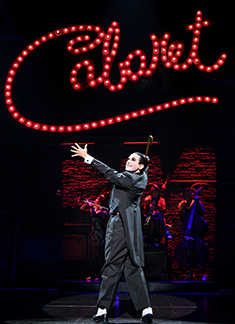 Ziemba is terrific as Fräulein Schneider, the German trying to get by, in "So what?" Bryonha Marie Parham brings Sally Bowles to life. In her jazzy rendition of the title song, her voice has the power of a sweet musical horn.
By the way, it must be said that the cast is uniformly excellent, in voice and acting. And Susan Stroman's choreography is as usual vivid. She is also co-director.
In "Company," an erector set stage features the terrific "Here's to the ladies who lunch….a matinee, a Pinter play." Again about women and their choices, or that they didn't have many. Prince directed.
Back to serious politics, "Evita" declares that the voice of the people cannot be denied. It's nicely, militantly staged as the crowd lifts protest signs.
Interesting that Prince put on three plays about innocent men imprisoned and brutalized. "Parade" is a soul-smashing musical about the 1913 trial of Jewish factory manager Leo Frank (Tony Yazbeck), who was accused and convicted of raping and murdering a thirteen-year-old employee. The yellow press (which was all of it) boiled up anti-Semitism, and when Frank's death sentence was commuted to life in prison, he was kidnapped from prison and lynched.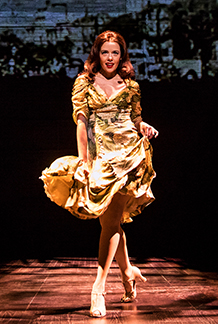 In "Spiderwoman," a gay man (Uranowitz), who is a window dresser at a store, and a leftist revolutionary are both tortured in a Brazilian prison. (The U.S. government beginning with Lyndon Johnson supported the Brazilian generals' coup and the 21-year dictatorship 1964-84.) To survive the abuse, the gay Molina has movie fantasizes about the Spiderwoman (Janet Dacal).
And another prison story, Sweeney Todd, which Prince directed, is about a man (Cooper) who returns after being unjustly condemned to 15 years in a penal colony. He learns that the judge raped his wife, who then poisoned herself. And that the judge is keeping his daughter. He will be revenged. Karen Ziemba is very good as the gruesome pie maker.
Phantom, one of the most successful musicals in U.S. theater history, is a fantasy that turns on personal longing and despair. And it worked better than Superman, the fantasy that never got out of cartoonland.
Prince had a genius for producing and directing plays that dealt with social and political issues. If this production makes people aware of that, it deepens their understanding of the best in American musical theater.
"Prince of Broadway." Book by David Thompson, directed by Harold Prince, co-directed and choreographed by Susan Stroman. Samuel J. Friedman Theatre 261 W. 47th St, New York City. 212-239-6200. Opened August 24, 2017, closes October 22, 2017. 9/15/17.