By Lucy Komisar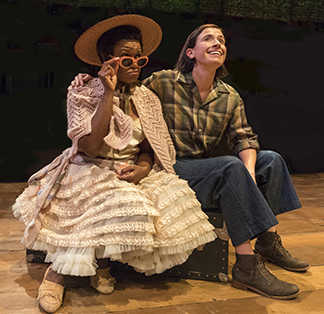 A modern trippy jazzy smart take on Shakespeare's couples play ("As You Like It") about males and females going after each other, circling each other in real life before internet dating sites. In modern dress with a jazzy Elizabethan piano. And with the rather austere stripped down set that director John Doyle is known for. Let's just do the play!
Rosalind (Hannah Cabell) is dressed as a boy, but doesn't fool anyone. In fact, forget the real play, about her and her cousin, the duke's daughter Cecilia (Quincy Tyler Bernstine), hiding out in the forest. (Well, rather bereft of trees.) And about Orlando (Kyle Scatliffe), who she is in love with. And a shepherd who wants the woman who wants the fake man, Rosalind.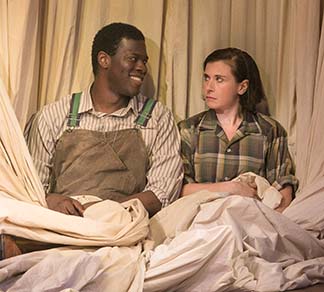 Plus an older guy (André De Shields), a jazz man, and slightly funny, flaky lady with a ukulele. By then I couldn't remember Shakespeare's play at all, seems to have gotten lost. Cutting it to 1 ¾ hours will do that. And in the theater with three sides, in which I couldn't always understand the dialogue, which is in blank verse and occasionally was directed away from my hearing.
But didn't matter. It's a light charmer, with piano, base, guitar, violin – lots of jazzy inflection of the Elizabethan songs. A musical pas de deux. I liked the mood, the style, fiery spirit.
By the end you are smiling a lot, which is a clue that you really liked this production. Cabell is terrific as Rosalind. And Scatliffe as her swain.   And the ensemble. You will be delighted at this find.
"As You Like It." Written by William Shakespeare, directed by John Doyle. Classic Stage Company, 136 East 13th St, New York City (bet 3rd & 4th Aves). 212-677-4210. Opened Sept 28, 2017, closes Oct 22, 2017. 10/9/17.