By Lucy Komisar
The Cabaret Convention put on by the Mabel Mercer Foundation has for almost three decades brought together some of the best cabaret performers in the country, each of four days presenting as many as 20 singers, some prominent, some new, some doing standards, others jazz, to keep the tradition alive. One night this year featured the works of George Gershwin, which is why you'll note many singers doing his songs.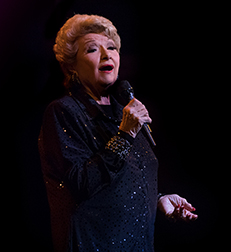 Marilyn Maye, photo Seth Cashman.
A nice part about the event is that the performers come out to the lobby at intermission and after the show to chat and schmooz with the audience. Hence these photos. Dozens appeared over four evenings; these are just my highlights of three nights I attended. I notice that most are women. Well, so be it! They had the most pizzazz, the most drama.
The 2017 Cabaret Convention began with a sense of its history, with Marilyn Maye, now 89 years old in black sequin jacket sauntering on stage with a hint of horn and her voice filling the room in a style that has lasted the years, in a saucy jazzy Johnny Mercer's "Day in Day Out," "You're Just Too Marvelous," "You Must Have Been a Beautiful Baby," "Jeepers Creepers." Her voice was like another instrument to add to piano, bass, drums. Her story telling came through in a still glorious voice.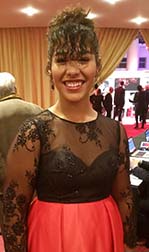 Lyric Peterson, photo Lucy Komisar.
And then the probably youngest performer, Lyric Peterson, from Oklahoma, just out of school in her New York debut, doing "God Bless the Child" made famous by Billy Holiday, a bit of the gospel, soprano and then R&B. She takes over the stage. You will hear from her.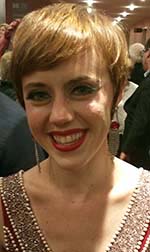 Carole J. Bufford, photo Lucy Komisar.
Luba Mason showed her anguish, soft and then cries of pain in "Love for Sale" taking us through the pure and tawdry. Her voice range was impressive, her performance seemed visual as well as vocal.
Carole J. Bufford, in glittery red and silver flapper dress with sequins and tassels, silver heels, is becoming the cabaret star of the moment. Her "Chicago" shows her not just a singer but a perfect performer, with shimmy and shake. She did Gershwin with pizzazz. In "The Man I Love," always a story, she becomes another character, makes it a torch song not of a sweet little thing. She was presented a Donald F Smith Award. Waiting for her to sing on Broadway.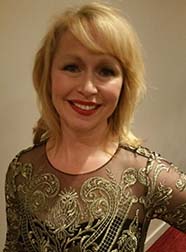 Karen Oberlin, photo Lucy Komisar.
Karen Oberlin, if Carole is the new coming cabaret star, Karen Oberlin is comfortably settled as the classic sophisticated jazz singer. Her "Hamlet" was a funny story of "a prince of a spot called Denmark," with scat, and then a "Night and Day" medley with a choice of cabaret songs you maybe hadn't heard. Her voice soars.
I liked Danny Bacher, with his clarinet doing "If It's Love You Want Baby, It's Me," by Leonard, Betty and Adolph, as he said, a jazzy story teller with a comic come hither, his idea of old rap la Louis Jordan. He reminded me of Satchmo. And old style 40s. His "So Lucky to be Me" also seems from the old school. He is a charming crooner, I love the swing style.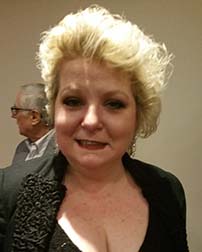 Tanya Moberly, photo Lucy Komisar.
Tanya Moberly saunters with guttural yeah yeah country rock grunts and screeches, tough demeanor in "Chuckie's in Love." Not my style, but well done.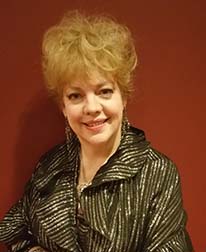 KT Sullivan, photo Lucy Komisar.
And then KT Sullivan's "Kiss Me Kate," why can't you behave, her own sophisticated style reminded me of Channing or a comic Merman. She has a theatrical Broadway style, and she can also hit the high notes as she shows in "So in Love" and "Wunderbar."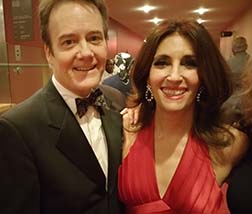 Eric Comstock and Barbara Fasano, photo Lucy Komisar.
Eric Comstock and Barbara Fasano, a delicious couple, he at the piano, "Isn't it a Pity" we never met. She in red satin, with a round honeyed soprano voice, "Time wasted fishing for salmon playing at backgammon," clever lyrics. Let it rain and thunder, a million firms go under … who cares what banks fail in Yonkers." That was 1931, the depression.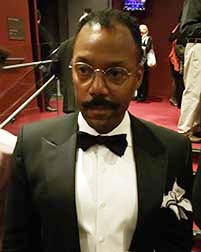 T. Oliver Reid, photo Lucy Komisar.
A highlight was T. Oliver Reid doing "Porgy and Bess" and a medley of "Rhapsody in Blue." His voice was full, deep, of amazing timber, soaring in "I Got Plenty of Nothing" and then moving from his bass and tenor suddenly to high notes in "Summertime," that make you think you hear a female soprano. He'll be on Broadway in Once On This Island in December.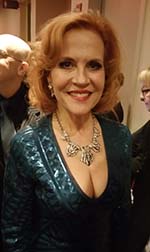 Anna Bergman, photo Lucy Komisar.
Anna Bergman is an elegant operatic soprano doing By Strauss. Delightful, sweet, I loved it.
A duet by Celia Berk and Karen Akers, which Akers comically introduced as sung by the two lowest female voices in cabaret, featured a charming, sprightly "What Are We Here For?" from the "Treasure Girl" musical. It makes you want to see the Gershwin play.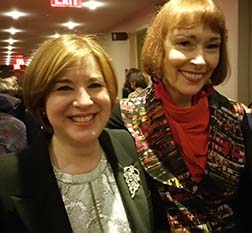 Celia Berk and Karen Akers, photo Lucy Komisar.
Then Akers continued as a prostitute in "How Long Has This Been Going On." "I could cry salty tears." She acts the story, she emotes, I didn't know it started with a prostitute. She is a champion, what cabaret is about.
Gabrielle Stravelli did a jazzy Gershwin number, bright, vocalizing on the notes, climbing and falling in classic jazz fashion.
Steve Ross, One of the prime guy singers, sang "Stairway to Paradise" from George White's Scandals of the 20s. Loved the jazzy rhythm, inflection and beat of his piano. You want to tap your feet and nod your head in time.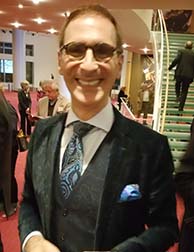 Mark Nadler, photo Lucy Komisar.
Mark Nadler created a fine S'Wonderful and Rhapsody in Blue on his jazzy boogie black and white keys.
Jennifer Sheehan's "A Foggy Day" features her bell clear rich voice that shows how to do standards.
I liked Shauna Hicks's medley "But Not for Me," and "I'm Biding my Time," with a perfect cabaret voice, strong, a big band kind of voice that lifts you, and a presence that belongs on stage. Her "I've got Rhythm" is cinematic.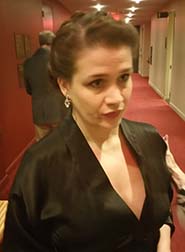 Maude Maggart, photo Lucy Komisar.
We have missed Maude Maggart in New York since she moved to California. Her soprano is still lilting, an elegant sound with trills in "Why Was I Born." And then in "Once in a Blue Moon," her voice is ethereal. It seems like a recording of the 40s.
Barbara Brussell in "This Nearly Was Mine" has a sound almost quivering in sadness as she tells the story of a love story gone wrong. It was like a theater piece, amazing acting.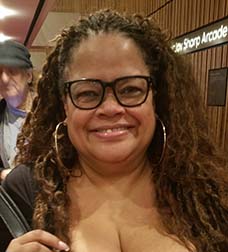 Natalie Douglas, photo Lucy Komisar.
Natalie Douglas conjures up Lena Horne in "I Love to Love" and "Stormy Weather" in a jaunty sultry soft jazz mood. She sings up a storm of elegance.
Cabaret Convention 2017, Jazz at Lincoln Center, Broadway and 60th Street, Oct 16-19, 2017. 10/28/17. Review on New York Theatre Wire.