By Lucy Komisar
Suzan-Lori Parks reimagines Hester of Nathaniel Hawthorne's "A Scarlet Letter" in a time when small children are imprisoned for stealing food and their sentences extended for decades. And when bounty hunters go after escaped prisoners, who they will torture and kill.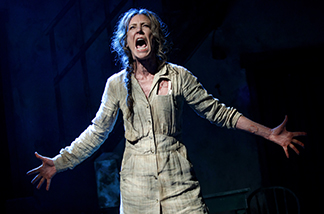 Think "Les Miz" and the slave-era South. Injustice and cruelty stalk the land. Under Jo Bonney taut direction, the play is strong, disturbing, surreal, naturalistic. Parks has also done the music and lyrics for the dark original songs.
Hester Smith (the riveting, exceptional Christine Lahti) is an abortionist. Her house in made of pock-marked mud walls. Her apron is stained with blood. When she talks about sex or women's bodies with Canary Mary (a sultry Joaquina Kalukango), the lover of the mayor (Marc Kudisch), they use a weird gobbledygook, a ladies' language.
Her life revolves around her son in prison. She saves her money to buy the right for a picnic with him.
The smarmy mayor wants to have his progeny rule for a thousand years and is angry his wife (Elizabeth Stanley) doesn't conceive. He tells Canary he will kill his wife and take her money.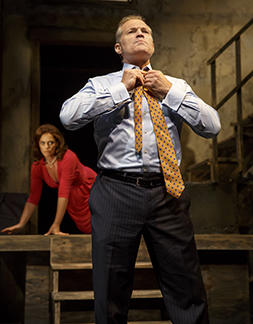 The three hunters (J. Cameron Barnett, Peter Romano and Marlene Ginader) are itching for the prey. They sing, "There used to be plenty of jobs to work, but then the factories tanked. I used to live in a lovely house. Had to give it back to the bank…With jobs so scarce and times so hard, some folks have turned to crime. The law locks all the bad ones up ….when they escape it's good for us, cause we hunt…. but we do not eat what we catch!"
Desperate workers without jobs may steal, and other workers without jobs make a living catching and killing them.
The son (an impressive Donovan Mitchell), known as "The Monster," escapes and his picture is put over town. Meanwhile, Hester is provided a picnic with another convict, and told he is her son. He rapes her. The son comes to house. He steals her money. The mayor's wife has sex with the son and gets pregnant. But Hester plots revenge.
Hester says to her son, "You used to be so good. What happened?"
He replies, "Oh – this and that." He sings, "You think it would take so much work to create the devil incarnate? But it's easy….A small bit of hate in the heart will inflate and that's more, so much more, than enough to make you a Monster."
Evil always wins over good. This is a very difficult, painful, powerful play.
"F**king A." Written by Suzan-Lori Parks, directed by Jo Bonney. Signature Theatre, 480 West 42nd Street, New York City. 212-244-7529. Opened Sept 11, 2017; closes Oct 8, 2017. 10/7/17.