By Lucy Komisar
Albert Camus' 1948 play, powerfully staged by Emmanuel Demarcy-Mota, director of the Paris Théȃtre de la Ville, seems so prescient, so of the moment, that you could swear it was written yesterday.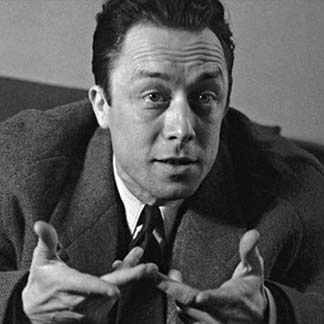 Orwell's "1984" was published a year later. But both warn against totalitarian governments that frighten and coopt ordinary citizens until a few brave souls fight back. They will be bloodied. Both are called allegories. I consider them warnings.
This production starts with the cabaret music of the 40s; people are dancing. Suddenly there are flashing lights, a siren. Joy turns to horror. There's been a bombing. War? It takes a fool, Nada (a nonchalant Philippe Demarle), to realize it was a comet. Nada is Spanish for nothing; Nada believes in nothing. People will recognize fake threats and ignore the real ones.
The set has three platforms on which characters move, emphasizing the surreal nature of the production. Theirs is a large video screen. The background sound is portentous organ music. The acting and staging are vivid, memorable.
People are struck by plague and declare that the venom is in our hearts. Heaven sent this to corrupt cities. There are calls for confessions. The US right-wing evangelicals about disastrous floods? But those in charge decide that as the epidemic is in poor or outlier districts, they need not tell the public. The judge (a deliberately banal careerist, Alain Libolt) shares the view. Bodies are thrown. Our young hero Diego (an almost innocent Matthieu Dessertine) is afraid and feels shame.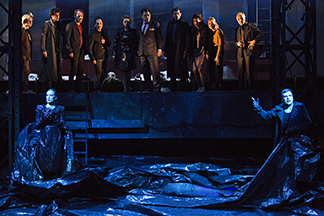 To deal with the health menace, all public gatherings are forbidden. Or is that just an excuse? Is the plague something other than a medical disease? Camus was a socialist who hated totalitarianism. For him, the plague is political.
Suddenly a black floor covering moves and rises. We are confronted with The Plague (a powerfully villainous Serge Maggiani). Not a disease, a totalitarian. "I reign," he declares. "I rule on my terms."
A woman in a black glitter dress appears. She is the secretary/Death (Valérie Dashwood, conjuring up an austere dominatrix). She has a list, a book of names of people who are infected, ie targeted, who will die. A list like Joe McCarthy's list? A woman is struck down. The governor (Pascal Vuillemot) asks urgently, "Will you protect my family?" He's ready to give up Jews and blacks. The collaborators of the Nazis.
You can't go into the street after 9pm. You can't help those with the malady, ie those targeted. You must denounce family members and others to authorities. You will separate men and women. Everyone is suspect. (The Nazis but also Soviet communists and their client states.)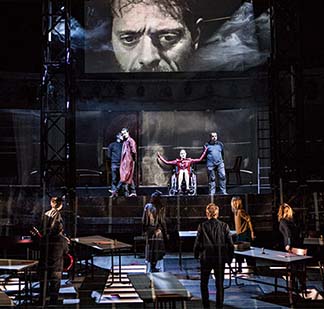 The Plague declares, "I give you organization." And order. He says, "I demand your collaboration." And some, including the judge, decide it's better to be an accomplice than a victim. Vichy France?
Citizens need certifications of existence. They have to fill in the major events of their lives. One replies, "My life is private." The secretary, sitting in an upper platform in a wheelchair, replies, "The words have no meaning for us. What interests us is you." The age of surveillance could not have been imagined.
The secretary wears blood-red leather. The purpose of government is that the victim carries out his own execution. There is contagion, an interesting way to describe the thoughtless mob. One declares a belief in a struggle informed by passion and intelligence and says, "Once we were a people and now we're a herd." Ah, the victory of American corporate politics.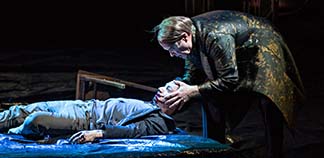 Those who resist are beaten. They are suppressed, wounded, limping, homeless. A woman's husband is taken. But some still resist. There is a badge for those who refuse to wear the badges. Star of David? They wear workers' clothes and sing a revolutionary song.
The collaborator judge says he serves the new ruler "because it's the law." His wife (Sarah Karbasnikoff) says, "I spit on your law. Justice is on the side of those who suffer."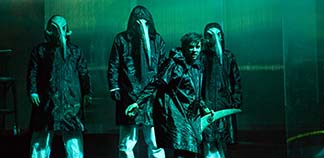 Diego has fled to the edge of the sea. He tells others, "Don't be afraid, that's the only condition. Stand up, tear up our certificates." One says, "Smash their office windows." Another, "Throw away your gags."
The text is updated in talk about victors' Iraqi and Syrian funeral pyres. The Plague's hatred needs fresh victims.
A stunning play, it has a lot to say to our time and should be staged often.
"State of Siege." Written by Albert Camus, directed by Emmanuel Demarcy-Mota. In French with English supertitles. Théȃtre de la Ville, Paris, at BAM Opera House, 30 Lafayette Ave., Brooklyn, NY.   718-636-4100, Nov 2-4, 2017. 11/14/17.