By Lucy Komisar
Nov 25, 2017
William Browder has blocked the Russians from investigating how he may have used shell companies in offshore Cyprus to fraudulently move assets out of Russia. He filed a request to a court in Cyprus asking an emergency injunction on transfer of any data about his activities to Russia. Then 17 of his loyal supporters in the European Parliament asked the Cyprus government not to cooperate with Russia in its investigation into how Browder might have used his offshore companies in tax evasion, illicit share purchases and fraudulent bankruptcy. See here.
Cyprus is a favorite bank and corporate secrecy place for Russians and people who do business in Russia. According to U.S. news reports, Paul Manafort, now being investigated for various suspicious money movements connected to Russians the U.S. investigators don't like, was associated with at least 15 bank accounts and 10 companies on Cyprus, dating back to 2007.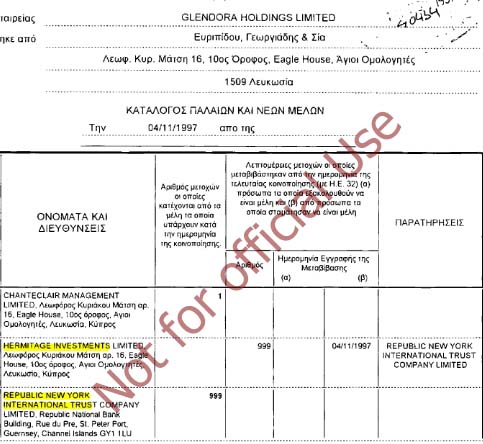 William Browder is also a fan of Cyprus secrecy. Cypriot shells Glendora and Kone were part of his offshore network "owned" by an HSBC Private Bank Guernsey Ltd trust. The real owner was Browder's Hermitage Fund. Assets (stocks and money) went from Russia to Cyprus and then to parts unknown. Republic International Trust, registered by Mossack Fonseca of Panama Papers fame and listed on the Glendora document, was in the offshore network of Republic National Bank owner Edmond Safra, an early investor who then held 51% of Hermitage Fund shares.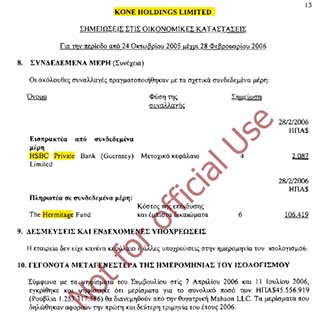 The Russians are looking to chase down those "parts unknown." They think that Browder used the Cyprus shells to move assets from Russia to evade taxes, cover up fraudulent stock buys and bankrupt his Russian companies to prevent assets being seized. They want to know where such illegitimate profits landed.
They were recently awarded $20 million in a Russian bankruptcy fraud case against HSBC, reduced from an initial $30 million. (Numbers vary based on currency rates.) They want some $50 million more, which Russian criminal court evidence shows Browder illicitly obtained.
They wanted cooperation from Cyprus. This is standard between countries investigating fraud and corruption.
But Browder doesn't want the Russians to find out where the assets went. So, he filed to block the Cypriots from cooperating with the Russians.
Will Paul Manafort be so lucky?
Cyprus has an incentive to protect its lucrative corruption-enabling tax haven system. Will Americans seeking Cypriot cooperation about Manafort be more successful than the Russians wanting it about Browder? And what could that say about the international rule of law?
See the Browder story on 100Reporters.
Readers, please tell me if you find corporate or even Western alternative media writing about Browder's blocking the Russians from getting information about his Cyprus shell companies.
You didn't read this in the MSM. And you won't. Please donate to make such self-financed reporting possible!