The Fiasco Theater company has become known for iconic, clever, delightful productions of Shakespeare plays that are both complex, with live music performed by the actors, and minimal and intimate, with few characters and small settings. This production at the Classic Stage Company opens with terrific sea shantys in a country style. It will proceed to joyous drinking songs. And a charming and very accessible production of Shakespeare's comic play about shipwrecked twins and mismatched lovers.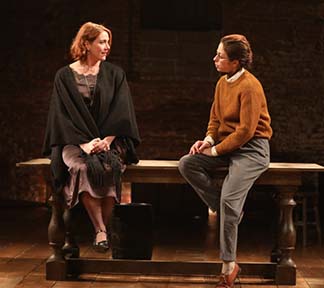 It's all set on a stage of trunks and wood crates the represent the ship and then the sites in Illyria. Evocative, simple, it works. The music makes it almost chamber opera.
Emily Young is Viola, the young woman saved from a shipwreck who is searching for her father and twin brother. Arriving in Illyria, she masquerades as the youth "Cesario" to get a job working for Count Orsino (Noah Broady, also co-director). Full of passionate speech, tough as well as comic, she could persuade anyone that she is really a young man.
The very good Jessie Austrian is the Countess Olivia, the flirty niece of Sir Toby, who has rejected the advances of Count Orsino. I might too: has a demeanor of an angry fratboy. Nonetheless, Cesario is sweet on Orsino. When Orsino sends Viola/Cesario to Olivia as a messenger, she develops a crush on the male-impersonating young woman.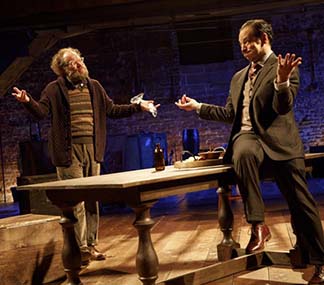 The play is full of mirth and slapstick. And always song: "Give me that old time religion….We will pray with Aphrodite."
Sir Tony Belch (Andy Grotelueschen), often drunk and larger than life, and his pal Sir Andrew Aguecheek (Paco Tolson) with a terrific comic grin, are the Abbott and Costello team that holds the action together.
Paul L. Coffey is fine and surely as the iconicly stupid steward Malvolio, who is so full of himself that it's hard to feel sorry when he dons a yellow hat and boat costume and is the butt of an intricate ruse by the aforementioned duo and the maid Maria (Ina Chilip) that leads him to be locked in a dark cell.
A treat is Feste, the bright jokey fool, played by Ben Steinfeld, also co-director.
Then suddenly Viola's brother Sebastian (Javier Ignacio), separated as an infant in the shipwreck, turns up. He is quite pleased with Olivia's importuning. So we can figure out this turns out.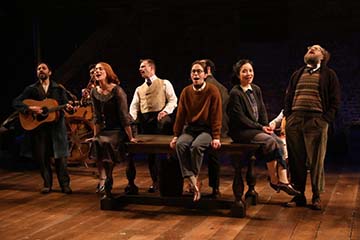 Even the smaller roles, such as David Samuel as Sebastian's servant Antonio, are done excellently. Samuel is made for slapstick.
It seems a bit of midsummer madness. Imagine anything so hokey in a contemporary romcom! But I guess you can. And maybe Fiasco Theater did.
"Twelfth Night, Or What You Will." By William Shakespeare; directed by Noah Broad and Ben Seinfeld. Fiasco Theater at Classic Stage Company, 136 East 13th Street, New York City. At 3rd Ave. Opened Dec 14, 2017; closes Jan 6, 2018. 866-811-4111. 12/27/17.