By Lucy Komisar
Surreal, slapstick, funny, political, clever, and very feminist, Ariana Mnouchkine's staging of "A Room in India," created by Hél¨ne Cixous and Mnouchkine's world-famous Thé¢tre du Soleil (founded in Paris in 1964), is a rich feast for audiences.
It is built around the travails of a French political theater troupe visiting India whose director abandons them because he can't produce the Mahabarata, the ancient Indian epic. Never clear why.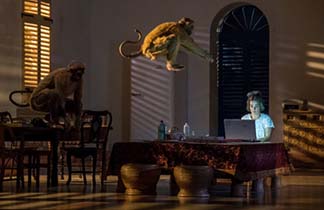 Cornélia (Hél¨ne Cinque), his assistant, finds herself in charge. Suddenly cut adrift by the Alliance Fran§aise and without any money, she spends a lot of the play in a nightdress in bed having visions, nightmares, apparitions, panics that turn into her own epic. She is occasionally awakened by a phone call that has her trip groggily across the floor to find that someone in Paris doesn't understand the time difference.
The production, Mnouchkine says, was inspired by the terrorism that killed music fans at Paris's Bataclan Theater in 2015. It attempts to consider what theater means in an era of crisis and conflict, of terrorism and religious extremism, of misogyny.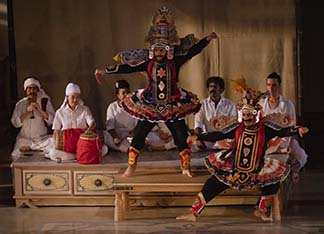 But instead of a dirge soaked with evil, it is answers with a hopeful grin. And fantasy, all via the dreams and imaginings. Yes, we are in India, where the monkeys that dance in through the window and we see riveting musical scenes from the Mahabarata performed in Terukkuttu, a traditional form of song and dance practiced in Tamil Nadu (South India).
But that old legend, where women didn't always fair very well, suffering subservience and rapes, becomes a mirror through which we see the present. For example, the Taliban terrorists who are shown arguing how many virgins they will get if they blow up their targets. One says 70, another wants 75. They put their fingers in their ears. Nothing happens. A mobile phone was supposed to set off the charge, but its battery died!
In another fantasy, a bunch of Saudis en plªne costume with burqas want admission to a committee for human rights. They are trying to persuade Swedish diplomats that they are not so bad to women. "We are Saudi   Arabs. We have been stigmatized because of the status of women!" They tell a diplomat to call in her boss. Except she is the boss!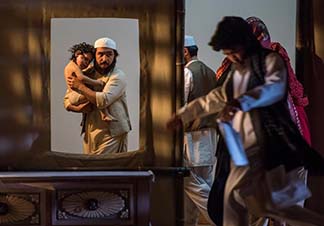 I loved the riotous desert cinema done in full Hollywood music where a Muslim who is supposed to be directing the action, with a Daesh flag and a woman in a burqa, keeps on making Malapropian sexual allusions. "Fornication is prescribed," he declares. "No, prosecuted!" he is loudly corrected. The incompetent fellow repeatedly bangs his head on a boom mike.
There's also sadness. A little girl with a suicide vest.
The women are tough. Mrs. Marty, a teacher, fights the opposition to educating girls. Her lover, a Sikh, was taken by her brother and his thugs. She never saw him again. But now the women laugh and plan.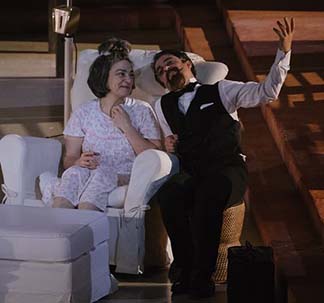 They decide to meet in Syria. Men come to attack and cry to kill them. Dreams and nightmares. Newspapers are blown onstage. The killing in Paris is conflated.
And then, so French intellectual, when Cornélia gets hysterical, Dr. Chekhov arrives. You know which one. The Three Sisters also show up. And Shakespeare. Even Charlie Chaplin shows up at the end to make his famous anti-fascist speech from The Great Dictator.
We get back to the Mahabarata, very noisy assertive Indian dancing, amazing bright colored costumes, and the submissive wife, which I found jolting. The backward woman: "Why was I born a woman?" Brilliant theater, it also shows how deep the misogyny goes.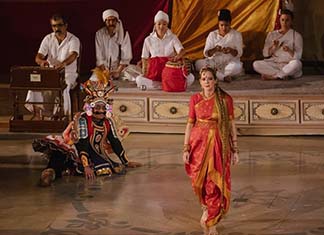 The iconic woman is shot by a man with an assault weapon. The final plea against slavery for liberty against intolerance seems another fantasy.
Ensemble acting is brilliant. You are pulled into the fantasy. You will forget which part is imagination and which is subtle political commentary. I expect Mnouchkine meant it that way.
"A Room in India." A collective creation by the Thé¢tre du Soleil with Hél¨ne Cixous, directed by Ariana Mnouchkine. Thompson Arts Center at Park Avenue Armory, 643 Park Ave at 67th Street, New York City.   Dec 5-20, 2017. 12/31/17.