By Lucy Komisar
Jan 15, 2018
Who is Juleanna Glover?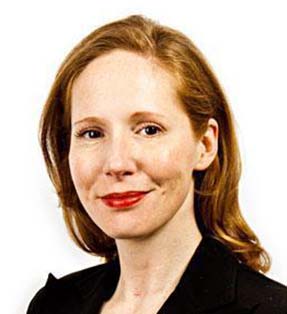 Glenn Simpson of the investigative agency Fusion GPS in his August appearance before the Senate Judiciary Committee was asked about Paul Manafort's notes of the June 2016 meeting between Donald Trump Jr. and Russian lawyer Nataliya Veselnitskaya. Manafort wrote that "Browder hired Joanna Glover."
Simpson called that "a mistaken reference to Juleanna Glover, who was Dick Cheney's press secretary during the Iraq war and associated with another foreign policy controversy."
She was Browder's lobbyist for the Magnitsky Act.
Veselnitskaya had gone to see Trump Jr. to talk about the Magnitsky Act. The US law, which passed in 2012 with majority support from both parties (Bernie Sanders opposed it) targeted Russians accused of playing a role in the death in a Russian prison of Browder's accountant (erroneously called his lawyer), Sergei Magnitsky.
Though Browder claimed Magnitsky had been beaten to death, the Physicians for Human Rights, who investigated at his request, could find no evidence of that. Congress didn't know or didn't care.
The accused Russians were never charged in any tribunal in the US or elsewhere or allowed to see evidence, but nonetheless the US froze any American bank accounts they had and banned them from the country. It was a key element in Browder's international campaign to block Russia from collecting $70 million he owed in evaded taxes and profits on illicit stock buys.
Browder's full court press also included getting the U.S. Justice Department to sue Veselnitskaya's client, the real estate company Prevezon, for allegedly receiving $1.9 million of $230 million defrauded from the Russian Treasury. DOJ never suggested who got the other $288+ million or why it targeted an accused recipient of a minuscule amount of the funds. Hint: the father of Prevezon's owner was a Russian official, so he was tarred with Putinphobia. For Veselnitskaya, chipping away at the Magnitsky Act could have led to undermining other Browder charges that were the basis of the legal attack against Prevezon.
Glover lobbied for the Magnitsky Act in 2011 and 12, at a time in Barak Obama's presidency when the Senate majority was Democratic and the House Republican.With liberals she could play a human rights card, with conservatives anti-Putinism. (Nobody asked for independent evidence.)
Her own politics were straight-forward right-wing. She was on the senior staff of President-elect George W. Bush. She worked for Vice President Dan Quayle, anti-feminist Phyllis Schlafly, and former Senator Jesse Helms of North Carolina. She was a senior policy advisor to Senator John Ashcroft (R-Missouri), publicity director for The Weekly Standard; and legislative director for the Project for the Republican Future.
She was a senior advisor in Senator John McCain's 2008 bid for the White House, worked in the Jesse Helms for North Carolina campaign, the Rudolph W. Giuliani U.S. Senate exploratory committee and the Steve Forbes 2000 presidential campaign
She co-founded the Ashcroft Group along with the then former U.S. Attorney General. It was there, as a lobbyist, that she worked for Browder in 2011 and 12 to win passage of the Magnitsky Act.
Browder talked about Glover in his April 15, 2015 deposition in the Prevezon case, US Federal Court Southern District of New York, acknowledging that she accompanied him to visit a White House official to get him to add names to his Magnitsky Hit List. The individuals whose lives would be damaged by being added to the list were apparently of so little moment to him that he could not remember their names.
                      Q. You were at The White House at the
7                                                     beginning of 2014?
8                         A.                     I don't remember.
9                         Q.                     How many times have you been to The
10                                                 White House?
11                     A.                     Once.
12                     Q.                     When was that?
13                     A.                     2000, 2002, something like that.
14                     Q.                     Okay. We'll have to pull out some
15                                                 records.
18                     Q.                     I'm marking for identification as
19                                                 Exhibit 17 the document entitled "White House
20                                                 Visitor Records Requests."
21                     A.                     Yes.
22                     Q.                     It says "Name: Last, Browder"?
23                     A.                     Yes.
24                     Q.                     "Name: First, William"?
25                     A.                     Yes.
Page 304
2                         Q.                     "Middle initial F; appointment date
3                                                     February 12, 2014"; you see that?
4                         A.                     Yes.
5                         Q.                     So does this refresh your

6                                                     recollection that you had a meeting at The

7                                                     White House with a Mr. Carpenter on

8                                                     February 12, 2014?
9                         A.                     Could you break down the question?
10                                                 There's several questions there.
11                     Q.                     Did you have a meeting at The White
12                                                 House on February 14, 2014?
13                     A.                     No, I had a meeting at the old
14                                                 executive office building.
15                     Q.                     I see. Within The White House
16                                               complex?
17                     A.                     Yes.
18                     Q.                     So when I asked you when you'd been
19                                                 to The White House, you weren't talking about
20                                                 The White House complex?
21                     A.                     Correct.
22                     Q.                     So I have to be very careful in
23                                                 asking my questions; is that right?
24                                                 Did you meet with Mr. Carpenter?
25                     A.                     Yes.
Page 305
2                         Q.                     Who else was present?

3                         A.                     Juleanna Glover.

4                         Q.                     Who's Juleanna Glover?

 5                         A.                     She was my lobbyist.
6                         Q.                     She was your lobbyist?
7                         A.                   Correct.
22                     Q.                     Okay. So other than Mr. Carpenter
23                                                 and Ms. Glover, who else was present?
24                     A.                   Nobody.
25                     Q.                     And why did you ask for this
Page 306
2                                                     appointment?
3                         A.                     Part of our advocacy for
4                                                     implementing Sergei Magnitsky Rule of Law
 5                                                     Accountability Act sanctions.
  6                         Q.                     What were you asking for?

                            7                         A.                     More people to be added to the

                            8                                                     list.

                            9                         Q.                     And who did you want added to the

                          10                                                   list?

                            11                     A.                     I can't remember the names.

12
21                     Q.                     So how long did you meet with
22                                                 Mr. Carpenter?
23                     A.                     Forty-five minutes.
24                     Q.                     And what was the conversation?
 25                     A.                     About putting people on the
  26                                                 on the Magnitsky list."
3                         Q.                     And what did you say and did he say
4                                                     during that conversation?
5                         A.                     I said "Working on it."
9                         Q.                     And who are the people you wanted

10                                                 to add to the list?

 11                     A.                     I can't remember.
                    12                     Q.                     Did he say how he's working on it?
                      13                     A.                     No.