By Lucy Komisar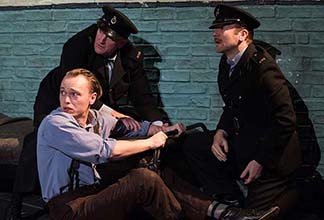 At the start of Martin McDonagh's quirky "Hangmen," a condemned prisoner, Hennessy (Gilles Geary) is shouting his innocence. It hardly matters to hangman Harry (Mark Addy) who has heard it all before in his 25 years on the job. It's 1963 in Lancashire, the north of England.
Near the end, Peter Mooney (a very good Johnny Flynn), a menacing stranger who exudes fake charm, erupts in a storm when Harry's wife Alice (Sally Rogers) refuses to rent him a room because his references don't check.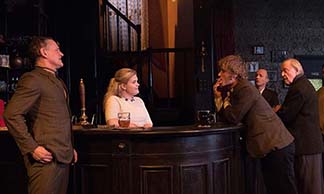 The couple's na¯ve shy daughter, Shirley (Gaby French) had agreed to meet Mooney at a train station that morning. He asked about her bathing suit; they could go to the beach. By night she hasn't returned home.
It's the second-year anniversary of the first hanging. And exactly a year ago a young woman was killed on the beach in a way that mirrored the first. Was the killer guilty of the first murder? It was in Norfolk, in the south, not far from London, where Mooney lives. It's not clear why he is in Lancashire.
Jump to judgment. He's guilty, right? Probably of murder. So, if he were "punished" the way the hangman does it, that would be justified, right? Why didn't the references check?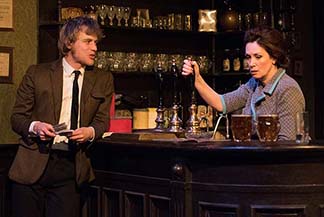 McDonagh takes us subtly through the events that lead to that moment. The site is a typical dark wood-paneled British pub with large frosted windows. The regulars down dark pints. Alice is worried about Shirley getting fat. A local reporter interviews Harry on the anniversary of the last hanging, because it's is no longer permitted. Syd (Reece Shearsmith), Harry's former assistant, who he had fired, arrives after Shirley goes missing, and we notice the hostility between them. Syd seems to have a connection with Mooney. (clues upon clues!)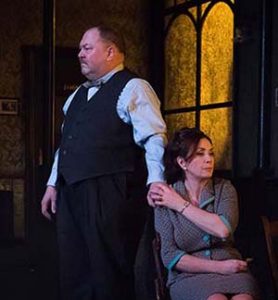 Harry and Alice are terrified.
Director Matthew Dunster keeps the mystery percolating. With the help of an excellent cast.
So, was Hennessy innocent? Is Mooney? If circumstantial evidence points to a killer, is it okay to hang him? Is someone now exacting revenge? Or tweaking the noses of the authorities?
The next part must remain untold. It happens with a soundless thud. Is justice done? Or has the audience been snookered? Do they leave with some doubts about capital punishment?
The subtle, dark McDonagh has scored again!
"Hangmen." Written by Martin McDonagh; directed by Matthew Dunster. Atlantic Theater Company, 336 West West 20th Street, New York City. Opened Feb 5, 2018; closes March 7, 2018. First presented in London in 2015. 2/17/18.