Don't arrive late to this charming, surreal and politically sharp-edged play. When you claim your seats, you may be almost touching distance from a sandy oval filled with a few chairs, discarded plastic bags and cups, a real goat being fed by a peasant guy, and a caged rooster that is grabbed and petted by a peasant lady. A lake is edged in sandbags. The livestock will disappear, but the sense of magical realism created by director Michael Arden will not.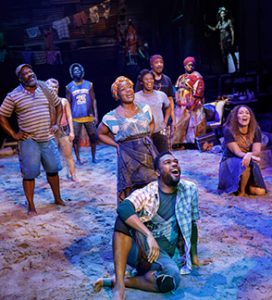 Lynn Ahrens' folk opera is about class and race, and the way that gets muddled in places like the Caribbean, where the lighter skinned descendants of European invaders now lord it over the dark-skinned peasants. This is an island where four generations ago, Armand, a Frenchman, arrived, built a fortune, married a white woman, and fathered a son with a black peasant. Then at the time of Napoleon, his son and other locals overthrew the colonials:
"Blacks fought against French
And the hated Napoleon.
They fought for their island
And finally won"
Armand fled. But he cursed his son and future generations that their black blood would keep them forever on the island while their hearts yearned for France. The mixed-race progeny couldn't leave, they would not be welcome in France, so they stayed. They would ironically be named the Beauxhommes, the beautiful men.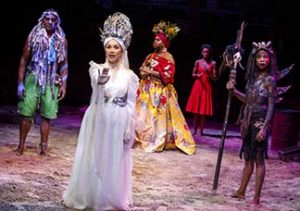 The story tellers of the current day would recount:
"They despise us for our blackness,
It reminds them where they're from
The sad, sad tale
Of the Beauxhomme!"
Stephen Flaherty's music is a cacophony of gorgeous art songs, rock, calypso, gospel. Sometimes it seems almost classical.
In the village, peasants dance with aesthetic fury to the gods, turning in religious fervor to Camille A. Brown's Afro-Caribbean choreography. "Ah, such powerful, such temperamental gods rule our island. Asaka (Aurelia Williams), Mother of the Earth. Agwe (Norm Lewis), God of Water. Erzulie (Lea Salonga), beautiful Goddess of Love. And Papa Ge, (Tamyra Gray) sly Demon of Death."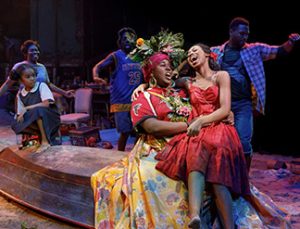 We hear, "The murmur of the river and the roar of rain. And if the Gods decide to send a hurricane we dance….we dance to their everchanging moods." When there is thunder and lightening, you feel the wind.
The people are superstitious. They believe threats represented by Papa Ge (the terrific Tamyra Gray), a creature with scales of flattened coca cola cans, and follow the fantastic movements of Agwe (an otherworldly Norm Lewis) the water god with a necklace of blue and white plastic bags and tin foil.
A young girl, Ti Moune (Hailey Kilgore, with an ethereal voice) had been adopted by a kind couple after her parents died in a storm years ago and is now a charming ingenue.
In the present, Daniel Beauxhomme (Isaac Powell), has joined other mixed-race inheritors of plantations and wealth in the upper class. "On the other side of the island, safe behind high walls and iron gates, the grands hommes dance to a different tune….They drink champagne. Entertain tourists at their fine hotels. And tell their servants, 'Polish up the Mercedes!'…   The peasants labor and the grands hommes… eat!"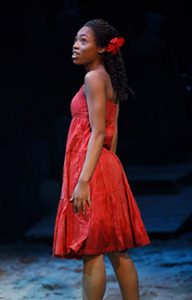 The jarring vision of that reality occurs when Daniel (Isaac Powell) drives into the village in his Mercedes, cleverly created by designer Dane Jaffrey with held pieces of cardboard, a windscreen, flashlights.
Ti Moune has desires for more of life. Daniel drives fast in his Mercedes. "A stranger! Racing down the beach, racing to places I was meant to reach….My stranger, one day you'll arrive, the car will stop, and in I'll hop. And off we'll drive…We'll drive!"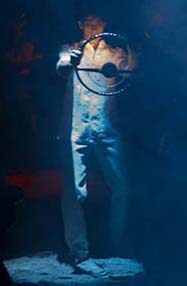 But the car crashes in the rain. She saves him, falls in love, cares for him, and when she learns after the accident that the "devil," Papa Ge, will take his life, she trades hers for his.
Daniel survives, goes back to the gated upper-class redoubt. She follows him, sneaks into the ch¢teau and shares his bed as she helps his recovery.
He is fascinated: "Some girls take courses at all the best schools in France, rising their horses and learning their modern dance. They're clever and cultured and worldly wise, but you see the world through a child's wide eyes."  But, "Some girls you marry, some you love."
It's thrilling at a big party when Ti Moune is asked to dance and, after stumbling in high heels, throws them off and does wild peasant-African movements. Servants join, going back to their roots. But it is a wedding party, and she meets Andrea (Alysha Deslorieux) , Daniel's fiancée, a light-skinned lady in a yellow ball gown.
Ah, as we know in the real world, race and class take precedence. This fable does not change the system it describes. But in this case, it's not just race, it is color. Ahrens, who wrote Ragtime, is a fine theatrical interpreter of the politics of race.
Philip Boykin as Ti-Moune's adoptive father Tonton Julian has an impressive baritone. His wife Kenita R. Miller stands out with a strong soprano. Lea Salonga exudes sweetness and a bit of magic as the Goddess of Love.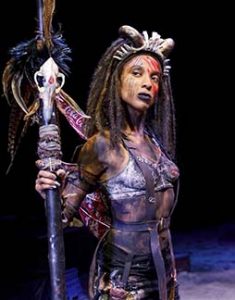 And I repeat that I loved Tamyra Gray as Papa Ge, the slithering cruel unforgettable Demon of Death.
The production has a charm whose mood stays, and you smile as you see departing audience members tracking sand onto the theater lobby carpet.
"Once on This Island." Book & lyrics by Lynn Ahrens, music by Stephen Flaherty, directed by Michael Arden, choreographed by Camille A. Brown. Circle in the Square, 235 W 50th St at 8th Avenue, New York City. 800-447-7400. Opened Dec 3, 2017. 2/23/18.