By Lucy Komisar
Actor John Lithgow is a charmer and always a pleasure to watch how he creates characters with voice, accent and a scrunch of the face. These two short stories lend themselves to his talents, though I have to admit, they might be better read and opened by the imagination. Directed by Daniel Sullivan, I didn't find them terribly engrossing.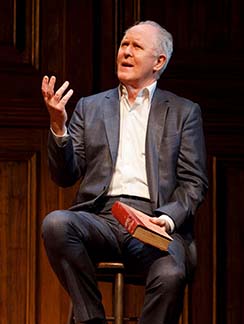 Both these shaggy dog stories reveal a meanness in characters, who get their comeuppances.
In Ring Lardner's "Haircut," a barber is chatting up patrons about the town's scandals. The anti-hero is a fellow who fakes out a young woman. You get all the details. Lot of sexism there, which doesn't perturb the good barber.
In PG Wodehouse's "Uncle Fred Flits By," an irascible fellow who lives in the country subjects his London nephew to his occasional forays into town. This now involves a walk in the country that is interrupted by rain that forces them into a house whose residents are not at home. A little drama will occur. There arrives a young man who wants to marry a young woman whose parents think they are above his station.
The house parrot gives Fred the opportunity to introduce his nephew as a local vet. The man hides behind a couch (rather unlikely). When the parents arrive with the young woman in tow, they hoping the homeowner relative will use influence to stop the romance, Fred interferes. So, maybe this is a shaggy parrot story.
But in spite of Lithgow's talents, he can't make me care about these old, vaguely disturbing tales.
"Stories by Heart." Based on "Haircut" by Ring Lardner and "Uncle Fred Flits By" by PG Wodehouse. Adapted and performed by John Lithgow; directed by Daniel Sullivan. Roundabout Theatre Company, American Airlines Theater, 227 West 42 St., NYC.   Opened Jan 11, 2018; closes March 4, 2018. 2/17/18.