By Lucy Komisar
This smart musical revue tells the changing attitudes of and toward women over a century with the lyrics of popular songs of the time. It's semi-autobiographical about the author Dorothy Marcic, a former Vanderbilt professor who wrote a 2002 book on how women were portrayed in songs, channeled here by Janet (Jana Robbins), as a middle-aged college professor.
It goes back to Lily Langtry, with a tight corset, asking, "Why should we worry our pretty little heads about politics?" And Betty Boop, the 1920s high-pitched silly blonde.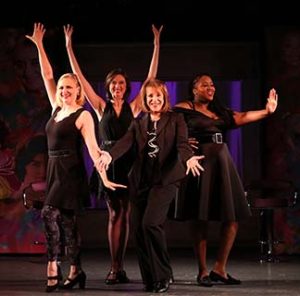 What do women care about? Men ("Oh my man I loved him so)" and money ("Diamonds are a girl's best friend.") Rich high sound, bad politics!
The college prof wonders, "Why doesn't the woman sing, "I am woman" instead of, "he beats me so."
The musical moves through 60 songs to tell the story of women as ink blots of American culture. "I will follow him" and "I could be satisfied knowing you love me" are more of the same. Jazzy. I like the sound, the voices, not the thought! All needy, all dependency.
And "Don't you know it's the end of the world….it ended when I lost your love."
The prof imagines her ex, Jason, arriving: "I fall to pieces each time I see you again." In a quivering voice, "How can I be just your friend?"
Too many torch songs, too much self-abnegation, women singing into suffering the blues.
But there were others in older days, Ida B. Wells, a jazzy, "It ain't nobody's business if I do…" She was activist and criticized.
And Aneesa Folds' advice: "My momma done told me….a man is a two-faced who'll leave you to sing the blues…." She is good and jazzy.
I liked the boogie harmony of the war years, when women got jobs.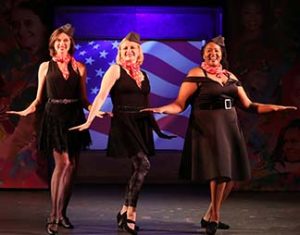 The women are fired after the war and go to bake a cake.
Marilyn Monroe was a 1950s Betty Boop. Forget the wartime independence. Now women were Barbie dolls. A woman shows up at restaurant, she says not a word, she is dominated by a guy. The women keep saying, "I'm sorry."
And then there was, "Whatever Lola wants," in a thin back dress, and a red boa that makes her sneeze. The 50s were Marilyn and Lola and the TV June Cleaver as the ideal mom. Marilyn a hero? No, she was retrograde. A terrible role model.
Things would change in the 60s, but not for the better, with young women crazed about "where the boys are." That's when the girls the boys admired would wear tight sweaters and short skirts. (The Marilyn influence.) And (thanks to the pill) they'd favor them with sex, because if they didn't, they would sing, "It's the end of the world ˜cause you don't love me anymore."
We see them in bathrobes and curlers repeating the propaganda. "I want to be Bobby's girl….That's the most important thing to me." "I want a brave man, I want a cave man." And "Going to the church and were going to get married"
They do a comic, "Let it please be him or I shall die." Even funnier, a singer with a bowl of milk in one hand, a laundry basket in the other, and a doll hanging from her leg, warbles, "Stand by your man."
What kind of rank craziness was all this? What "Stepford Wives" horror?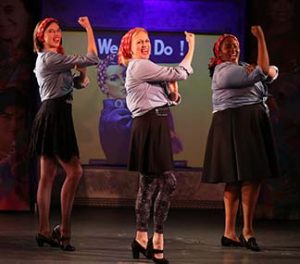 Finally comes the feminist awakening, starting in the 1970s with the glorious anthem, "I Am Woman" hear me roar. And "I will survive."
Finally, women discovered heroes such as Rosa Parks. They joined protests against battered women. They expressed their assertiveness in the riveting, "You don't own me." And, "These feet are meant for walking."
As a coda, the prof's ex wants to get together Friday night. People in the audience shout out, "Don't do it!" From Betty Boop to Betty Friedan, the message is "respect."
A terrific if sometimes depressing measure of what pop music has said about, how it has indoctrinated, American women in the past 100 years. There couldn't be a better moment for this show.
"This One's for the Girls." Written by Dorothy Marcic; directed and choreographed by Tamara Kangas Erickson. St. Luke's Theatre, 308 West 46th St, New York City. 800-447-7400. Opened Oct 7, 2017. Fri at 8pm, Sat at 2pm. 2/21/18.