By Lucy Komisar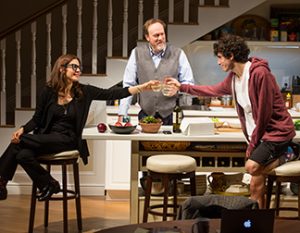 Clever, funny, challenging, not totally persuasive, "Admissions" tells of the family crisis when Charlie (the terrific Ben Edelman), son of parents with top jobs at Hillcrest, an expensive second-tier prep boarding school in rural New Hampshire, doesn't get into Yale.
The father runs the school, the mother is admissions officer, and they are committed to diversity. But Charlie thinks his friend Perry – child of middle class black father and white mother– got in because he checked the "black" box.
Written by Joshua Harmon, who has a gift for dialogue, directed by Daniel Aukin who moves events at a lively pace, it's a play of the political moment.
Charlie has already had diversity problems when Olive Opatovsky, who he insists can't write, was named editor of the student newspaper instead of him, because (he says) she was female. He declares, "I am Tony Morrison compared to her."
There are throwaway lines about not reading "Moby Dick" anymore because it's by a dead white man.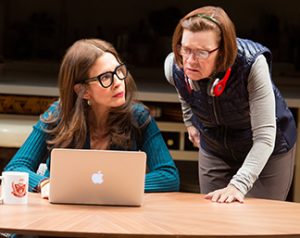 Meanwhile, his mother, Sherri Rosen-Mason (the always brilliant Jessica Hecht, low key till she explodes), has admonished staffer Roberta (Ann McDonough), who you have to feel sorry for – in her 70s, she has been through it all " because she has not put enough photos of people of color in the outreach booklet. In case you don't pick up, Rosen is Jewish, Mason is her wasp husband.
Charlie rants against the system:
"And then Cristobal Hernandez was like, I'm also sick of all these white books and I was like, Cristobal! YOU'RE WHITE TOO! And he was like, are you fucking kidding me?
And I was like, NO! I'M NOT! Look in a mirror. You're white. You're from Chile. Who is from Chile who's white? Indigenous people weren't white, African slaves weren't white, if you're white, that means your ancestors were colonizers, not the colonized, that's like the only way you end up white unless you're albino and you don't seem albino to me, and Joanna was like, maybe you could shut up and listen for once and I was like I do listen, all the time, but also, class participation is a huge part of my grade so if I don't speak, it actually hurts my chances of getting into a good college cause I don't have any special boxes to check, so sorry if the sound of my voice is so upsetting but I actually have no choice I have to talk my whole future depends on it."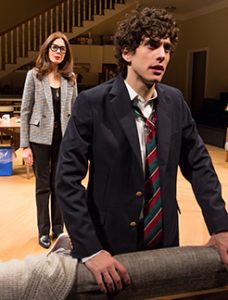 "At which point Priscilla Chen agreed with me, so Cristobal turned on her and I was like, hold up. Priscilla's dad is an immigrant from Taiwan. Your dad is a Chilean ambassador who's clearly descended from a bunch of white people, but when Priscilla applies to college she goes in the shit pile too, cause Asian people are actually dealing with a whole bunch of quotas right now, but maybe you'd like to explain why you would be thrilled if we replaced Willa Cather with an Asian writer, but if that Asian writer has a kid applying to college, then everyone suddenly stops caring that that kid is a person of color."
And who decides? "My Mom's dad had to escape before like half his family was murdered by Nazis, but now when we all apply to college, I go in the shit pile too, even though my grandfather couldn't get into an Ivy League seventy years ago because they had super intense quotas against Jews, but– shocker!– they found a new way to keep Jews out: they just made us white instead, and the grandsons of Nazis who came to America go in the exact same pile as me, which makes absolutely no sense, and the grandsons of Nazis who ran away to South America go in an EVEN BETTER PILE, which makes EVEN LESS SENSE, alongside you, Cristobal Hernandez, direct descendant of murderous, genocidal Spanish conquistadors, but I tell you what, I bet my grandfather's cousins would've given anything to be Spanish conquistadors instead of corpses in Auschwitz. "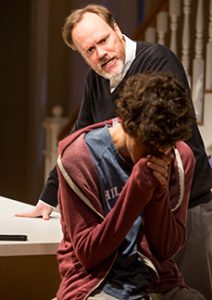 Makes some sense. Who pays for history?
Sherri is not above calling in some favors to get him admitted at least to Middlebury. But Charlie decides he will not take advantage of white privilege; he will go to a community college. He writes in the school paper that his parents should donate his college fund to a scholarship for minority kids. Is this out of pique, to take affirmative action to a logical absurd conclusion? The parents are furious.
Charlie's father Bill Mason (Andrew Garman) is nasty, calls him a spoiled brat. "I raised a Republican." If he goes to community college he will get no cash, will have to work for tuition and board. He is screwed.
Here's where I have a problem with verisimilitude. Freeing up a place at Middlebury doesn't mean it will go to a black kid. It could go to a privileged white kid. Charlie seems to just want to get back at his affirmative action parents and meanwhile shoot himself in the foot.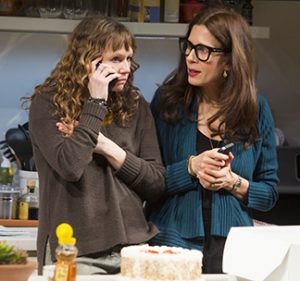 Then Perry's mother Ginnie Peters (Sally Murphy), who is white, tells Sherri that her black husband who teaches at the school was not given the chance to run it even though Bill Mason had no more qualifications.
We've read about angry white kids who didn't get into a college that had affirmative action for minorities. And it's clear that the system to set things right is flawed – the child of a rich Argentinian gets points for a Hispanic name.
I've always thought affirmative action should be based on family income, nothing else. Poor white Appalachian kids should be privileged over the children of wealthy black doctors. But that is class over identity, not popular in the fake "we don't have classes" meme.
One person in the audience told me she didn't see many black people there. Another said he was sitting near a black man who laughed a lot.
So, not a great play but tuned-in, well-acted and important because it has a lot to say about a very divisive social issue.
"Admissions." Written by Joshua Harmon, directed by Daniel Aukin. Mitzi Newhouse Theatre at Lincoln Center, 165 West 65 Street, New York City. (212) 239-6200. Opened March 12, 2018; closes May 6, 2018. 3/22/18.