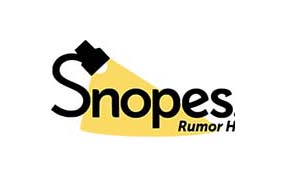 By Lucy Komisar
March 5, 2018 –
Snopes, which pretends to check out fake news, is a fraud. I sent them a detailed email of why one of its Browder stories is a fake, and the response was "Thank you for writing to us!" And "our search engine can probably help you locate the very article you're looking for. Thank you for your interest in snopes.com." No interest in evidence that its report was a fraud.
My email was: Re your story: Russian Lawyer Injured in Mysterious Fall Before Court Appearance     It was written by Snopes Staff    22 March 2017.
I said: The importance as you say is that "The Magnitsky scandal has wide-ranging implications for U.S.-Russia relations."
You have built your reputation of exposing fake news. So now let me provide evidence that your Browder story is based on fake facts. (Don't feel too bad. Pretty much all the MSM write these fabrications.)
Please make the corrections here and on related articles.
Whistleblower
Lawyer
Tortured
Convicted
Whistleblower
You write: "On 21 March 2017, Nikolai Gorokhov, a lawyer representing the family of Russian whistleblower Sergei L. Magnitsky, …..Magnitsky reportedly  discovered  a $230 million fraud perpetrated by Russian officials using documents they found when they raided the offices of London-based financial firm, Hermitage Capital Management."
No, he was not a whistleblower. The first clues came in April 2008 from Rimma Starova, a director of the shell company that took over some of his stolen companies, and then Browder talked about it to the NYTimes in July 2008. Magnitsky didn't mention this in testimony till October.
Rimma Starova, a director, in fact a hired ˜name,' for Boily Systems, a shell company that had taken control of three Browder companies, perhaps was worried she might take a fall after a reported Browder tax evasion investigation. She went to Russian police April 9, 2008, and told them about about the fake lawsuits involving the Browder companies. April 9, 2008 complaint She returned to testify again July 10, 2008. The companies had been used in the scam to get a fake $230-million tax refund from the Treasury. She didn't mention the theft, which occurred in Dec 2007, but she gave police a clue and a roadmap.
On July 11, 2008, HSBC, trustee of the Hermitage Fund, filed in British Virgin Islands court against Boily Systems that it said had used Hermitage's shells to defraud the Russian government of $230 million. (Hermitage Sept 16 press release)
Browder acknowledged he lost nothing because his stolen companies were empty shells. But in his book "Red Notice," published in 2015, he said his group filed official complaints about the tax rebate fraud July 23, 2008. They were signed by Paul Wrench, a professional director in Guernsey for offshore companies, who said under oath at U.S. District Court in New York Sept 25, 2015, that the only person he recalled discussing the content with was Ivan Cherkasov, Browder's London partner. Not with Magnitsky.
Did you discuss this document with anyone at the time you signed it?
A.                 At the time I signed it? I would have discussed this document before signing it.
Q.               With whom?
A.               With Ivan Cherkasov.
Q.               Anyone else that you recall?
A.               Not that I recall.
Q.               Okay. Did you do any independent investigation into the statements in this document prior to signing this document or did you just discuss it with Mr. Cherkasov and then — and then
sign it?
A.               I didn't do any separate independent investigation into the contents.
In his book, Browder notes that the story was published July 24, 2008 in Russian newspaper Vedomosti and in the New York Times which reported, "Mr. Browder said he had learned that his former holding companies had been used to embezzle $230 million from the Russian treasury."
Magnitsky does not mention the fraud until October 7, 2008, at an interrogation to which he was summoned as a suspect in Browder's tax evasion –for which he was arrested the following month " when he tells of "a fraud of budget monetary assets in the amount exceeding 5 (five) billion rubles." That is six months after Starova's first testimony. Three months after the HSBC court filing and publication in Vedomosti and New York Times. For his Oct 7 testimony, see what Magnitsky said.
I can send attachments Starova, Wrench, Browder's book pages, Hermitage press release, Magnitsky interrogations.
Lawyer
At the time, Magnitsky was working as a lawyer for the firm, which was run by William Browder.
No, he was an accountant. In the questioning by Russian investigators in 2006, Magnitsky said he was an auditor on contract with Firestone Duncan.
Though Browder continued to say Magnitsky was his lawyer in this summer's testimony before the Senate Judiciary Committee, two years ago, in his testimony in the US government's Prevezon case, Browder told a different story.
 He was asked if Magnitsky had a law degree in Russia.
"I'm not aware that he did," Browder said.
Did he know if Magnitsky "went to law school?"
"No," Browder answered.
Why did Browder say he was a lawyer? In his book, he says after his companies were stolen he went out and got the best lawyer he could find. But Magnitsky had been his accountant, handling his taxes, for ten years. He has worked on Hermitage tax evasion. Browder wanted to deflect attention from that.
I can send attachments browder deposition, Magnitsky interrogations, p202 of Browder's book
Torture
Magnitsky was thrown into one of Russia's harshest pre-trial detention centres, repeatedly denied medical care and allowed to die. A presidential human-rights commission later found evidence that he was tortured.
Zero evidence. The Wall Street Journal links to the definitive prison report, by an NGO, the Public Oversight Commission for Human Rights Observance in Moscow Detention Centers. The report describes appalling conditions and medical care, says nothing about beatings or torture. Browder sent this and another 43 other documents and photos to the US NGO, Physicians for Human Rights, but rather than confirm Browder's "determination" of abuse and torture, it repeated the Commission report and said Magnitsky died of untreated illness. No claim of beating or torture. https://s3.amazonaws.com/PHR_Reports/magnitsky-report-july2011.pdf
The best Browder could come up with is a photo of black and blue marks on Magnitsky's wrists and ankles. Not critical organs. He said 8 thugs beat Magnitsky for 1 hour or sometimes he says 8 hours. Did the "killers" aim expertly only for wrists and ankles? And not land any blows on his head or back or chest? Because in Browder's "evidence," there are no other bruises shown. Other more logical explanations from prison reports: wrists were black and blue because he pulled against handcuffs; ankles because he kicked against bars or doors. A Death-Certificate Browder cites selectively says in a part he does not include: "no signs of a violent death detected."
When Magnitsky testified about his conditions in October 14, 2009, a month before he died, he said, "The required medical aid is not provided to me in full. I have repeatedly been prohibited to be visited by my mother and wife or speak over telephone with my minor children. During the period of confinement. I have repeatedly been deprived of the possibility to take a regular shower, have a TV set and a refrigerator or simply live in normal conditions, as far as it is possible in a detention facility." That was all he said. Not pleasant. Not torture.
The Human Rights Commission report you refer to was repudiated by Kirill Kabanov, the chair of the Human Rights Commission, who said in sworn testimony in Prevezon case federal court in NY that it was based on fake documents by Browder. I can send pdf. Also exhibit 39 in Prevezon case.
Convicted
In a surprising move, Russia posthumously charged and convicted  Magnitsky  for the very tax crimes he had uncovered.
No, as Magnitsky had died, he was not convicted. In Russia, a deceased person cannot be charged.
Final message in all of this, you cannot declare something is true because Browder says it. I'm sure you must know that. Please tell me the legitimate sources of your claims in this article. Because, based on all independent evidence, it is a fabrication.
All I got was, "Thank you for writing to us!" And "our search engine can probably help you locate the very article you're looking for. Thank you for your interest in snopes.com." No interest in evidence that its report was a fraud. Or any way to allow readers to challenge their fake facts.
Recently it posted this   to counter the report that the Podesta emails, which showed how the Democratic National Committee was violating its rules and favoring Hillary Clinton against Bernie Sanders, were downloaded by an insider, who was later killed.
But Sy Hersh, with a lot more credibility, says this. I go with Sy Hersh.
Snopes is a fake. A fraud. Not credible. Who is behind this group?