By Lucy Komisar
March 10, 2018 –
Federal Judge William H. Pauley III (Southern District of New York) has backed the Justice Department demand that Prevezon, a Russian-owned real estate holding company, pay a $6-million settlement to DOJ, though the department knew in advance William Browder would get Dutch authorities to block the Prevezon assets that both parties agreed would be used to pay the settlement.
I attended a hearing Dec 14 where a U.S. government attorney admitted that he had received information that the Dutch would block release of money that was supposed to settle a dispute between DOJ and Prevezon.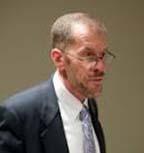 The case was brought on the complaint of Browder, seeking to deflect attention from his tax evasion and money-laundering by targeting a Russian company owned by the son of a Russian state railroad executive. Prevezon was accused of laundering $1.9 million of $230 million scammed from the Russian Treasury in a tax refund fraud which occurred before the Russian bought the company.
The Russians convicted a known fraudster for the theft and put him in jail. The Americans – intervening in a case that scammed the Russian Treasury, not the U.S. – used it to go after the politically connected Prevezon owner, Denis Katsyv, in U.S. federal court. In the event, the DOJ told Katsyv nothing about Browder's plans to block the assets. More proof that in this highly political case, DOJ is Browder's lawyer.
See below the latest parts of the docket dealing with the outcome: the judge allows the DOJ to seize Prevezon real estate it had frozen in the U.S,. violating the agreement the money would come from the Dutch assets. But still to discover: who told Browder about the secret negotiation between Prevezon and DOJ? Did DOJ collude with Browder to scuttle the settlement? The evidence is persuasive.
For full docket, go to www.pacer.gov, sign up and search for case #: 1:13-cv-06326-WHP. Just put in 1:13-cv-06326. 10c a page to open (including copy/download) up to $3 a file. If you don't go above $15 a quarter, no charge. If you go to a federal court house, you can find it all on public computers for free, but you cannot take in computers or other electronics to take notes or screen photos, and downloading pages is 25c a page. Not citizen friendly, considering that forwarding the docs via email costs the courts nothing and taxpayers are already funding the system. It's a way to keep ordinary people without big bucks from knowing details of lawsuits. See this pro bono lawyer/media lawsuit challenging the fees. Also see via Recap, a project to get free public access to Pacer, how you can get for free files downloaded by others. Public knowledge of the truth about Browder might have been different if citizens – even reporters! – had been reading the court files.
The recent docket to March 8th.
| | | |
| --- | --- | --- |
| 03/08/2018 | 762 | STIPULATION AND ORDER: IT IS HEREBY STIPULATED AND AGREED, by and between the United States, by its attorney, Geoffrey S. Berman, United States Attorney, of counsel, Assistant United States Attorneys Paul M. Monteleoni, Cristine I. Phillips, and Tara M. La Morte, of counsel, and the Defendants and Claimants, by their attorneys, Kevin Reed, Esq., Quinn Emanuel Urquhart & Sullivan LLP, that: The Settlement Agreement continues in full force and effect except as expressly modified herein, and all terms defined in the Settlement Agreement have the same meaning herein unless specifically redefined herein. Upon entry of this Stipulation and Order, any authorized agent of U.S. Customs and Border Protection having custody of the Restrained Properties shall use portions of the Restrained Properties to make Substitute Payments to the U.S. Treasury to total the amount of the Judgment Payment, in the amounts and from the assets set forth in paragraph 3, below, and under the procedures set forth in paragraph 4, below. The Substitute Payments shall be drawn from the following assets in the following amounts: 1. From the 250 East 49th Street, Unit Comm3 Sale Proceeds, a Substitute Payment in the amount of $4,429,019.44 shall be made under the procedures set forth in paragraph 4, below. 2. From the 20 Pine Street Unit 2009 Sale Proceeds, a Substitute Payment in the amount of $1,379,518.94 shall be made under the procedures set forth in paragraph 4, below. 3. From the 20 Pine Street, Unit 1711 Sale Proceeds, a Substitute Payment in the amount of $230,276.54 shall be made under the procedures set forth in paragraph 4, below. The Amended Protective Order is hereby vacated. The Action is dismissed against all Defendants with prejudice. Notwithstanding paragraph 10, above, this Court shall retain jurisdiction to enforce the Settlement Agreement, the Enforcement Order and the Judgment, and this Stipulation and Order. Each Party to this Stipulation and Order will bear its own costs and attorneys' fees. The signatories to this Stipulation and Order each represent that they are duly authorized to sign this Stipulation and Order, and as further set forth in this stipulation and order. (Signed by Judge William H. Pauley, III on 3/8/2018) (jwh) Modified on 3/8/2018 (jwh). (Entered: 03/08/2018) |
| 03/07/2018 | 761 | LETTER addressed to Judge William H. Pauley, III from Paul M. Monteleoni dated March 7, 2018 re: Stipulation Modifying Settlement Agreement. Document filed by United States of America. (Attachments: # 1 Stipulation Executed by Parties)(Monteleoni, Paul) (Entered: 03/07/2018) |
| 02/06/2018 | 760 | CLERK'S JUDGMENT re: 759 Opinion & Order. It is hereby ORDERED, ADJUDGED AND DECREED: That for the reasons stated in the Court's Opinion & Order dated February 2, 2018, the Government's motion to enforce the Settlement is granted, and Prevezon's motion for discovery is denied. Judgment is hereby entered in favor of the Government, in the amount of $5,896.333.65, plus pre-judgment interest at an interest rate of 9% per annum, running from October 31, 2017 to the date judgment is entered, which as of February 6, 2018 is $142,481.27. Accordingly, judgment is hereby entered in the favor of the Government for a total amount of $6,038.814.92. (Signed by Clerk of Court Ruby Krajick on 2/6/2018) (Attachments: # 1 Right to Appeal)(tro) (Entered: 02/06/2018) |
| 02/02/2018 | | Transmission to Judgments and Orders Clerk. Transmitted re: 759 Memorandum & Opinion to the Judgments and Orders Clerk. (jwh) (Entered: 02/02/2018) |
| 02/02/2018 | 759 | OPINION & ORDER re: 743 MOTION to Enforce Settlement Agreement filed by United States of America: For the foregoing reasons, the Government's motion to enforce the Settlement Agreement is granted. Separately, Prevezon's application for discovery is denied. The Clerk of Court is directed to enter judgment in favor of the Government, and calculate pre-judgment interest at a rate of 9% per annum. The Clerk of Court is further directed to terminate the motion pending at ECF No. 743. (Signed by Judge William H. Pauley, III on 2/2/2018) (jwh) (Entered: 02/02/2018) |
| | | |
| --- | --- | --- |
| 01/05/2018 | 758 | NOTICE OF FILING OF OFFICIAL TRANSCRIPT Notice is hereby given that an official transcript of a ARGUMENT proceeding held on 12/14/17 has been filed by the court reporter/transcriber in the above-captioned matter. The parties have seven (7) calendar days to file with the court a Notice of Intent to Request Redaction of this transcript. If no such Notice is filed, the transcript may be made remotely electronically available to the public without redaction after 90 calendar days…(McGuirk, Kelly) (Entered: 01/05/2018) |
| 01/05/2018 | 757 | TRANSCRIPT of Proceedings re: ARGUMENT held on 12/14/2017 before Judge William H. Pauley, III. Court Reporter/Transcriber: Martha Martin, (212) 805-0300. Transcript may be viewed at the court public terminal or purchased through the Court Reporter/Transcriber before the deadline for Release of Transcript Restriction. After that date it may be obtained through PACER. Redaction Request due 1/26/2018. Redacted Transcript Deadline set for 2/5/2018. Release of Transcript Restriction set for 4/5/2018.(McGuirk, Kelly) (Entered: 01/05/2018) |
| 12/22/2017 | 756 | LETTER addressed to Judge William H. Pauley, III from Faith Gay dated December 22, 2017 re: Newly-Produced Dutch Documents. Document filed by Ferencoi Investments, Ltd., Kolevins, Ltd., Prevezon 1711 USA, L.L.C., Prevezon 1810, L.L.C., Prevezon 2009 USA, L.L.C., Prevezon 2011 USA, L.L.C., Prevezon Alexander, L.L.C., Prevezon Holdings Ltd., Prevezon Pine USA, L.L.C., Prevezon Seven USA, L.L.C., Prevezon Soho USA, L.L.C.. (Attachments: # 1 Exhibit 1 Email)(Gay, Faith) (Entered: 12/22/2017) |
| 12/21/2017 | 755 | LETTER addressed to Judge William H. Pauley, III from Paul M. Monteleoni dated December 21, 2017 re: Additional Netherlands documents. Document filed by United States of America. (Attachments: # 1 Exhibit 1 – Documents from Netherlands)(Monteleoni, Paul) (Entered: 12/21/2017) |
| 12/14/2017 | | Minute Entry for proceedings held before Judge William H. Pauley, III: Oral Argument held on 12/14/2017 re: 743 MOTION to Enforce Settlement Agreement . filed by United States of America. (Choi, Brian) (Entered: 01/08/2018) |
| 12/12/2017 | 754 | DECLARATION of Alexander J. Wilson in Support re: 743 MOTION to Enforce Settlement Agreement .. Document filed by United States of America. (Monteleoni, Paul) (Entered: 12/12/2017) |
| 12/12/2017 | 753 | DECLARATION of Paul M. Monteleoni in Support re: 743 MOTION to Enforce Settlement Agreement .. Document filed by United States of America. (Attachments: # 1 Attachment A – DOJ Response to Congress)(Monteleoni, Paul) (Entered: 12/12/2017) |
| 12/12/2017 | 752 | REPLY MEMORANDUM OF LAW in Support re: 743 MOTION to Enforce Settlement Agreement . . Document filed by United States of America. (Monteleoni, Paul) (Entered: 12/12/2017) |
| 12/12/2017 | 751 | MEMO ENDORSEMENT on re: 750 Letter. ENDORSEMENT: Application granted. (Signed by Judge William H. Pauley, III on 12/12/2017) (jwh) (Entered: 12/12/2017) |
| 12/12/2017 | 750 | LETTER addressed to Judge William H. Pauley, III from Renita Sharma dated December 12, 2017 re: Requesting telephonic participation. Document filed by Ferencoi Investments, Ltd., Kolevins, Ltd., Prevezon 1711 USA, L.L.C., Prevezon 1810, L.L.C., Prevezon 2009 USA, L.L.C., Prevezon 2011 USA, L.L.C., Prevezon Alexander, L.L.C., Prevezon Holdings Ltd., Prevezon Pine USA, L.L.C., Prevezon Seven USA, L.L.C., Prevezon Soho USA, L.L.C..(Sharma, Renita) (Entered: 12/12/2017) |
| 12/06/2017 | 749 | DECLARATION of Renita Sharma in Opposition re: 743 MOTION to Enforce Settlement Agreement .. Document filed by Ferencoi Investments, Ltd., Prevezon 1711 USA, L.L.C., Prevezon 1810, L.L.C., Prevezon 2009 USA, L.L.C., Prevezon 2011 USA, L.L.C., Prevezon Alexander, L.L.C., Prevezon Holdings Ltd., Prevezon Pine USA, L.L.C., Prevezon Seven USA, L.L.C., Prevezon Soho USA, L.L.C.. (Attachments: # 1 Exhibit 1- Prevezon Purchased NYC Real Estate Properties, # 2 Exhibit 2- August 18, 2017 Email, # 3 Exhibit 3- September 18, 2017 Email, # 4 Exhibit 4- October 10, 2017 Email)(Gay, Faith) (Entered: 12/06/2017) |
| 12/06/2017 | 748 | MEMORANDUM OF LAW in Opposition re: 743 MOTION to Enforce Settlement Agreement . . Document filed by Prevezon 2011 USA, L.L.C., Prevezon Alexander, L.L.C., Prevezon Holdings Ltd., Prevezon Pine USA, L.L.C., Prevezon Seven USA, L.L.C., Prevezon Soho USA, L.L.C.. (Gay, Faith) (Entered: 12/06/2017) |
| 11/17/2017 | 747 | NOTICE OF FILING OF OFFICIAL TRANSCRIPT Notice is hereby given that an official transcript of a CONFERENCE proceeding held on 11/9/17 has been filed by the court reporter/transcriber in the above-captioned matter. The parties have seven (7) calendar days to file with the court a Notice of Intent to Request Redaction of this transcript. If no such Notice is filed, the transcript may be made remotely electronically available to the public without redaction after 90 calendar days…(McGuirk, Kelly) (Entered: 11/17/2017) |
| 11/17/2017 | 746 | TRANSCRIPT of Proceedings re: CONFERENCE held on 11/9/2017 before Judge William H. Pauley, III. Court Reporter/Transcriber: Carol Ganley, (212) 805-0300. Transcript may be viewed at the court public terminal or purchased through the Court Reporter/Transcriber before the deadline for Release of Transcript Restriction. After that date it may be obtained through PACER. Redaction Request due 12/8/2017. Redacted Transcript Deadline set for 12/18/2017. Release of Transcript Restriction set for 2/15/2018.(McGuirk, Kelly) (Entered: 11/17/2017) |
| 11/15/2017 | 745 | DECLARATION of Paul M. Monteleoni in Support re: 743 MOTION to Enforce Settlement Agreement .. Document filed by United States of America. (Attachments: # 1 Exhibit 1, # 2 Exhibit 2, # 3 Exhibit 3, # 4 Exhibit 4, # 5 Exhibit 5, # 6 Exhibit 6, # 7 Exhibit 7, # 8 Exhibit 8, # 9 Exhibit 9, # 10 Exhibit 10, # 11 Exhibit 11, # 12 Exhibit 12, # 13 Exhibit 13, # 14 Exhibit 14, # 15 Exhibit 15, # 16 Exhibit 16, # 17 Exhibit 17, # 18 Exhibit 18)(Monteleoni, Paul) (Entered: 11/15/2017) |
| 11/15/2017 | 744 | MEMORANDUM OF LAW in Support re: 743 MOTION to Enforce Settlement Agreement . . Document filed by United States of America. (Monteleoni, Paul) (Entered: 11/15/2017) |
| 11/15/2017 | 743 | MOTION to Enforce Settlement Agreement . Document filed by United States of America.(Monteleoni, Paul) (Entered: 11/15/2017) |
| 11/09/2017 | | Minute Entry for proceedings held before Judge William H. Pauley, III: Pre-Motion Conference held on 11/9/2017. (Choi, Brian) (Entered: 12/07/2017) |
| 11/09/2017 | 742 | SCHEDULING ORDER: The parties having appeared for a pre-motion conference on the Government's anticipated motion to enforce the settlement, the following briefing schedule is entered on consent: 1. The Government shall file its motion by November 15, 2017. 2. Prevezon shall file its opposition by December 6, 2017. 3. The Government shall file its reply by December 12, 2017. 4. Oral argument on the motion shall be held on December 14, 2017 at 11:30 a.m. Motions due by 11/15/2017. Responses due by 12/6/2017 Replies due by 12/12/2017. Oral Argument set for 12/14/2017 at 11:30 AM before Judge William H. Pauley III. (Signed by Judge William H. Pauley, III on 11/9/2017) (mro) (Entered: 11/13/2017 |