The Argentine pampas, their "West," was settled by English, German, Italian, and Spanish immigrants who became the gauchos, the "cowboys," who ran the ranches, ran the cattle that made the country world famous for beef.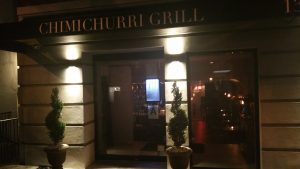 The Chimichurri Grill, an elegant New York Upper East Side Argentine steakhouse with a glittery Italian crystal chandelier and working Italian marble fireplace, goes back to those roots. And brings diners extraordinary meals based on beef from the pampas. Even the entrance promises something very special. It opened in October 2016.
Grass-fed beef steak, free-range chicken, sustainable fish, organic salads and vegetables, home-made pastas. And it is sauce driven!
Dishes are paired to Argentine wines. And classic cocktails of the 1900s. So after you settle down and take in the surroundings, get ready for a very fine dining experience.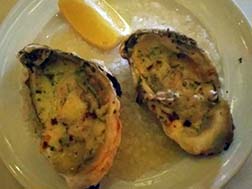 We start with spicy grilled Sewansecott oysters with garlic pepper flakes, melted cheese with butter and lemon juice. An amazing combination!
Then a tarte of tomato spice with watercress and avocado lime. The appetizers are unusual, special. With that I loved the Torrontes wine, admit it's a favorite. This one is sweet but really more flowery than sweet. (Michel Torino Cuma Organic 2016). Wines are selected by co-owner Alicia Rodriguez. Regional Argentine wines are by the glass or by the bottle.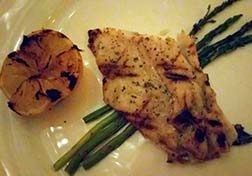 Executive chef and co-owner Carlos Darquea likes large fish. Branzino sits on the grill beautifully. That signature fish with fresh herbs and olive oil is set off by a Chardonnay, Luca 2015, with a rich fruity after taste. Carlos shops on Wednesdays in the market and at fish mongers all the way out in Montauk. That's a long haul! The catch is very fresh. I love fish that is thick. Here that is grilled halibut and cod.
Even the sides are special: with the branzino comes grilled asparagus with olive oil and sea salt, along with grilled lemon that becomes a light sauce that mixes with the oil. Carlos changes menus four times a year.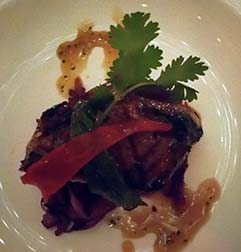 The major appeal is beef: South American grass-fed 32-day wet-aged Black Angus filet mignon. Our dish came with polenta fries and cream garlic sauce with tangy blue cheese. The Malbec, O. Fournier Alfa Crux 2011, was a massive wine, black as pitch in the glass, dominant cassis and blackberry with cedary oak /cigar notes, plush and round.
The grilled Berkshire pork was soft, juicy, spicy with grated beets, a family recipe. It was made with agave glaze, wild flower honey parsley, garlic vinegar, pepper, fresh apple cider in port marinade. The apple cider sauce reduction took a few days. The pork was grilled till it carmelized. Then it was apple red, sweet and savory at the same time. Served with sauteed red cabbage. And a Malbec Meritage, Vistalba, Corte, 2014.To clear the palate, a homemade raspberry sorbet.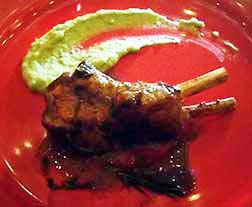 I also loved the succulent New Zealand grilled grass-fed baby lamb chops with fresh mint and fava mint mash. Subtle. And Syrah, Luca 2012.
At this point you understand that if you want to try all these dishes, you need to arrive with friends and share!
I commented that Argentine wines have been more successful than Argentine politicians. Carlos grinned, "You are right!" The Malbec was rich, not tanic, perfect. Luca Shiraz Pinor Noir was richer softer than most pinots.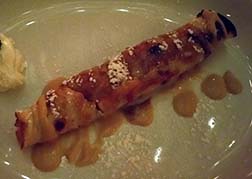 Then an unusual tarte demi-glace with carrots and a Sirah sauce and grass-fed butter! A dulce de leche desert thin crepe filled with caramelized milk, served warm was not too sweet. Can you still drink more wine? But it's desert. Here was a Santa Julia Tardio Late Harvest Torrontes ice wine.
If the food is not enough to entice you, visit on tango nights. Check for dates and times.
Chimichurri Grill
133 East 61st Street (west of Lexington Ave)
New York City
646-707-0801
Lunch: 12noon to 3pm Mon.-Sat. entrees: $18-$28.
Dinner: 4pm to 11pm Mon.-Sat. entrees: $21-$48.
Happy Hour: 4pm to 8pm, Mon.-Sat. ($3-$9
Argentine bar bites, $14-$19 Argentine small plates, $9 Argentine wines, $6 Argentine beers, and $12 martinis.)
Tango Nights feature live tango music and dancing.
There's a full-service 18-foot Brazilian granite sit-down bar at the front of the triplex townhouse restaurant. Curiosity: the walnut and green leather chairs are from Joan Crawford's estate. There are also Argentine cowhide bar stools and framed vintage photos from Buenos Aires.
The first branch of Chimichurri Grill opened in the Theater District in March 1998.
Photos by Lucy Komisar.