By Lucy Komisar
April 29, 2019 –
People outraged by Browder's fake story about Jim Zwerg, the Freedom Rider, being his beaten lawyer, found this: Jim's video interview as he recovered from the Alabama racists' assault, almost 50 years before Browder's fabrication.
Why does anyone believe crooked Browder? Oh, wait, the mainstream media has its own agenda. So it repeats the Browder hoax.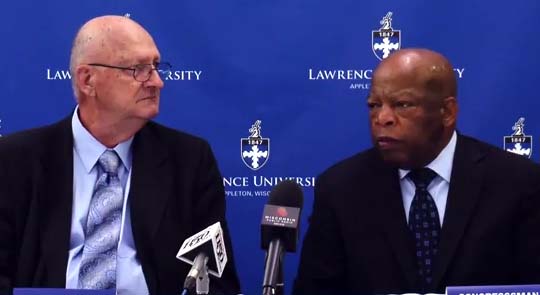 Jim Zwerg and Rep. John Lewis.
Here is Zwerg and Congressman John Lewis. They were on the same bus. Rep Lewis, are you aware of the Magnitsky fraud perpetrated by Browder? And his lies about Jim being his beaten lawyer? Shouldn't you deal with that?
And, by the way, if anyone is interested in my own connection to the civil rights movement, here are five pages about me in a book just published by a journalism professor at the University of Mississippi. About my time as editor of the Mississippi Free Press 1962-3.