By Lucy Komisar
In Kenneth Lonergan's smart, serious, funny morality tale of the big city, a cop angling for a promotion visits a hooker in a high rise while his newbie female partner waits below, a clueless young security guard in the lobby has a propensity to blather, and his supervisor has a crisis when his brother is implicated in a killing,
The "hero" is the one who can't help telling the truth.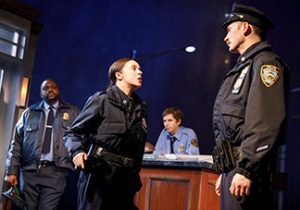 First, I have to say that the cops, Bill (Chris Evans) and Dawn (the chirpy Bel Powley) have brilliant exaggerated New York accents. It's not clear why security guard supervisor William (Brian Tyree Henry) and guard Jeff (Michael Cera) don't. Unless it's an inside joke.
All takes place in a high-rise lobby with a counter and goose-neck lamp and an elevator, with floors marked by changing lit numbers. Your eyes are on the numbers when you think officer Bill may be coming down from his assignation with Mrs. Heinvald in 22-J.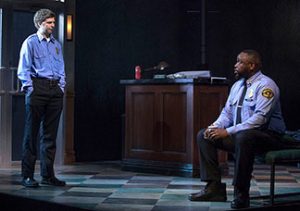 The morality challenge is how the very straight William, who is rigid about procedures, caves to family interests and agrees to give an alibi to his brother, who may be implicated in raping and killing a nurse in an attempted theft of drugs from a hospital.
What does Jeff do when the boss rather foolishly lets him know?
And what does Dawn do when Bill, who is breaking all the rules by visiting a hooker, is the only one who can testify to the fact that she smashed a guy over the head when the 500-pounder (maybe less, but that's how she remembers it) was rushing to attack her? He will lose an eye.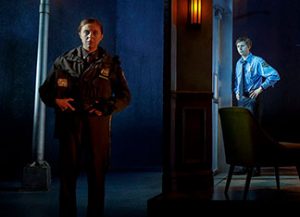 Bill lets her know that quid-pro-quo means Dawn keeps quiet about Mrs. Heinvald.  But he also demands that she be "nice" to him.
"Isn't that sexual harassment," Jeff asks.
"No, I think it's called rape," she says.
He wonders, "How are you supposed to know if you're right and everybody else is wrong.   Or if you are wrecking your own chances?"
That's where we get to "hero."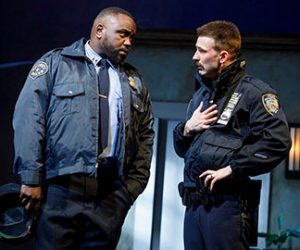 I also wondered why the cop Bill and the security guard William have almost the same name. Does it mean that there but for a change in uniform"or race (William is black)– goes the other?
In this terrific ensemble cast, Brian Tyree Henry is a perfect conflicted supervisor, a straight arrow who insists everything be according to book, but folds when confronted what could happen to his brother in a justice system that chews up blacks.
Chris Evans makes Bill almost a caricature of the cop who believes he can/should game the system. Beth Powley is a charmer as the young novice officer who really believes in justice. And Michael Cera is perfect as the guy who can't help doing right even if it isn't good for him.
Director Trip Cullman takes it all up a few floors from the police sit-com you might see on TV. First produced in 2001, this play is of the moment.
"Lobby Hero." Written by Kenneth Lonergan; directed by Trip Cullman. Second Stage at the Hayes Theater, 240 West 44th Street. (212) 239-6200. Opened March 26, 2018, closes May 13, 2018. 4/9/2018.