By Lucy Komisar
April 27, 2018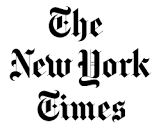 Repeating the William Browder fabrications, New York Times reporters Andrew Kramer and Sharon LaFraniere today wrote the repeatedly disproved claim, "The tax fraud was uncovered by Sergei L. Magnitsky, a Russian lawyer who was imprisoned and died in custody after disclosing the theft."
A lawyer?
No, he was an accountant. In the questioning by Russian investigators in 2006, Magnitsky said he was an auditor on contract with Firestone Duncan, a Moscow legal and accounting firm. Magnitsky interrogations
Though Browder continued to say Magnitsky was his lawyer in this summer's testimony before the Senate Judiciary Committee, two years ago, in his testimony in the US government's Prevezon case, Browder told a different story.
 He was asked if Magnitsky had a law degree in Russia.
"I'm not aware that he did," Browder said.
Did he know if Magnitsky "went to law school?"
"No," Browder answered.
See that exchange on video.
Why did Browder say, why does he still say, that Magnitsky was a lawyer?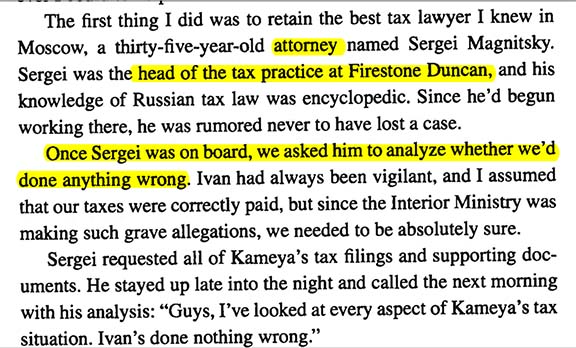 In his book, "Red Notice," published in 2015, p. 202, he says after his companies were stolen through a legal scam in 2007, he went out and got the best lawyer he could find.
But that was a lie. Magnitsky was not a lawyer. He had been Browder's accountant, handling his taxes, for ten years. He had worked on Hermitage tax evasion and was interrogated about that in 2006. Browder wanted to deflect attention from that. The US media except for 100Reporters has never reported this.
Imprisoned and died in custody after disclosing the theft?
No. Magnitsky did not disclose the theft. He first spoke of it in testimony October 2008. It had already been reported in Kramer-LaFraniere's own New York Times by Clifford J. Levy and in the Russian paper, Vedomosti, July 24, 2008.
The first clues came in April 2008 from Rimma Starova, a director of the shell company that took over some of his stolen companies, and then Browder talked about it to the NYTimes in July 2008. Magnitsky didn't mention this in testimony till October.
Rimma Starova, a director, in fact a hired ˜name,' for Boily Systems, a shell company that had taken control of three Browder companies, perhaps was worried she might take a fall after a reported Browder tax evasion investigation. She went to Russian police April 9, 2008, and told them about about the fake lawsuits involving the Browder companies. April 9, 2008 complaint She returned to testify again July 10, 2008. The companies had been used in the scam to get a fake $230-million tax refund from the Treasury. She didn't mention the theft, which occurred in Dec 2007, but she gave police a clue and a roadmap. Translation of Starova Complaint
On July 11, 2008, HSBC, trustee of Browder's Hermitage Fund, filed in British Virgin Islands court against Boily Systems that it said had used Hermitage's shells to defraud the Russian government of $230 million. (Hermitage Sept 16 press release)
Browder acknowledged he lost nothing because his stolen companies were empty shells.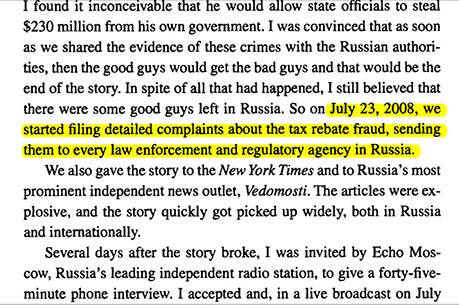 But in his book "Red Notice," published in 2015, p. 236, he said his group filed official complaints about the tax rebate fraud July 23, 2008.
They were signed by Paul Wrench, a professional director in Guernsey for offshore companies, who said under oath at U.S. District Court in New York Sept 25, 2015, that the only person he recalled discussing the content with was Ivan Cherkasov, Browder's London partner. Not with Magnitsky.
Did you discuss this document with anyone at the time you signed it?
A.                 At the time I signed it? I would have discussed this document before signing it.
Q.               With whom?
A.               With Ivan Cherkasov.
Q.               Anyone else that you recall?
A.               Not that I recall.
Q.               Okay. Did you do any independent investigation into the statements in this document prior to signing this document or did you just discuss it with Mr. Cherkasov and then " and then
sign it?
A.               I didn't do any separate independent investigation into the contents.
In his book, Browder notes that the story was published July 24, 2008 in Russian newspaper Vedomosti and in the New York Times which reported, "Mr. Browder said he had learned that his former holding companies had been used to embezzle $230 million from the Russian treasury." He said that the story quickly got picked up widely, both in Russia and internationally.
Magnitsky does not mention the fraud until October 7, 2008, at an interrogation to which he was summoned as a suspect in Browder's tax evasion –for which he was arrested the following month " when he tells of "a fraud of budget monetary assets in the amount exceeding 5 (five) billion rubles." That is six months after Starova's first testimony. Three months after the HSBC court filing and publication in Vedomosti and New York Times. For his October 7 testimony, see what Magnitsky said.
The New York Times owes its readers a correction.
BTW, sometimes I wonder, why does the mainstream media lie about these facts all the time? Are the reporters stupid, gullible, lazy, following an agenda set by their editors? Getting these facts right is not rocket science. Why do they get them so wrong? Any ideas?
On April 27, I sent a correction to nytnews@nytimes.com, the email where corrections are invited,  with links to the evidence. Will post a response if it ever comes. Don't hold your breath.