By Lucy Komisar
Marin Ireland is compelling in the Transport Group's minimalist production of Tennessee Williams' "Summer and Smoke." Her lovely slow southern accent is all the decoration the stage needs. Director Jack Cummings III does a fine job in evoking time and place with no accoutrements required.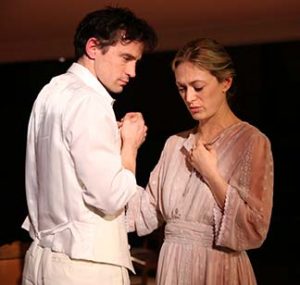 Ireland's "Alma," Spanish for soul as she tells people, wears it on her sleeve for the audience, but bottles it up when she is with John, her neighbor, with whom she has been smitten since a girl. But this is Mississippi, from the turn of the last century to 1916, and that means women's sensual feelings are suppressed.
John (the excellent Nathan Darrow) is a rake, who likes gambling, and his father, the town doctor and a widower, throws him out then asks him back. John somehow gets through medical school. Alma becomes a music teacher.
Alma's psychic health isn't helped by a rigid minister father (T. Ryder Smith). Her mother (the excellent Barbara Walsh) has escaped by having a breakdown, which is expressed by being catatonic except when she demands ice cream.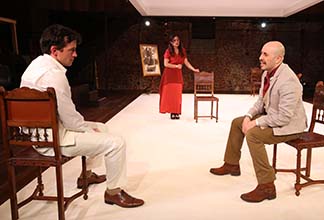 When Alma tells Dr. John she has nervous heart trouble, he tells her the symptoms means she has doppleganger, which she doesn't understand means a double. John is a charmer in a white suit. Alma is almost syrupy sweet in a long lacey beige dress.
She is not the woman John needs. He takes up with Rosa, the sexually flaunting daughter of the casino owner, a Mexican who built his wealth from nothing.
Williams includes a bit in this smothering town which must be autobiographical. Alma hosts a reading group, and an insufferable middle-aged Mrs. Bassett (Tina Johnson) refuses to let a young writer (Jonathan Spivey) read his own work.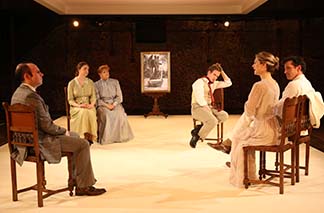 When John invites Alma to the casino, she runs from where it could lead. Though he will admit she had nothing to fear: "I'm more afraid of your soul than you are of my body."
Williams wants to tell us how unfulfilled sexual feelings can be suffocating. Except it's rather disingenuous to suggest that in that time, young women should readily engage in sex. It would have been enough to learn how to express feelings.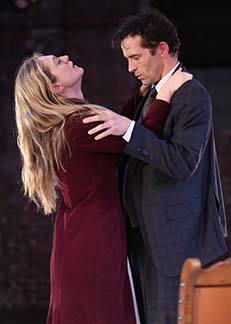 But maybe he was talking about a woman as a doppleganger for a repressed homosexual man.
The fine bluesy violin music is by Michael John LaChiusa.
"Summer and Smoke." Written by Tennessee Williams; directed by Jack Cummings III. Transport Group at Classic Stage Company. 136 East 13th St., New York City. (212) 677-4210. Opened May 3, 2018; closes May 25, 2018. Running time: 2:30. 5/6/18.