By Lucy Komisar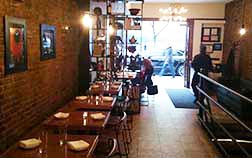 Where to go before or after a play in New York's midtown west that is smart but gives you a choice of snacks or full dinner? It's called Rummy's Tavern, on West 53rd Street, west of Eighth Avenue. And in good weather you can sit at tables in a back garden!
Ruumy's is run by Mike Kocak, who came to New York from Turkey in 1985 as a student. His family had a large food market in Turkey, and he's been in the restaurant business here for 25 years. He opened the place in February 2018. He also owns Akdeniz, a Turkish restaurant on West 46th Street.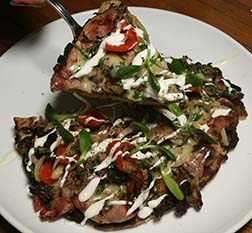 The executive chef is Matthew Sadownick, formerly of Gramercy Tavern and Union Square Café.
If you just want a drink before or after the show, note that there are 19 wines by the glass and craft beers in bottle and on tap.
But let's get down to tasting! First delicious small plates and then main courses.
Pita bread with onions from Sullivan's bakery was the base for a smooth liver mouse.
Raven and boar ham with  cr¨me fra®che  was a bit like pizza, smoky, rich, terrific.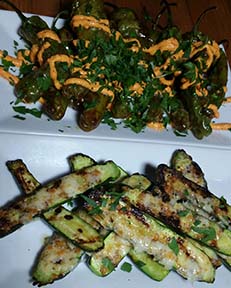 With that, I loved first the Jean Baptiste Grunderloch Riesling Kabinett from Austria, very nice fresh.
And then a Gruner Vertliner by Josep Ehmoser, crisp, fine.
Shitake and Portobello mushrooms was subtle with fontina cheese. The Durigutti red from Argentina was an amazing pairing.
Then we tried grilled baby zucchini, herb rich, and Shishito peppers, not too hot, stuffed with cheese.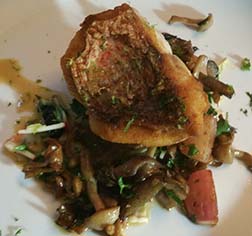 The first pi¨ce de résistance was Red Snapper with wild mushroom salad and lime vinegrette. It was rich, meaty, light. A thick mushroom crust was succulent with herbs.
With that I drank an Italian Verdiccio from Andre Felice, dry and fruity.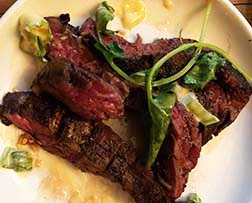 Followed by buttery rich steak frites with Bernaise sauce. And a luscious Bacchis Cabernet Sauvignon, warm and fruity — you could happily die drowning in it.
Desert was chocolate mousse. And I did drown in it!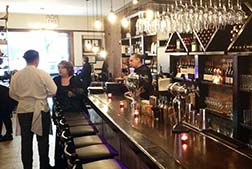 Ruumy's Tavern
310 West 53rd Street (Between 8th & 9th Avenues) NYC
(917) 409-3661
With dining upstairs and down, the restaurant seats 86, plus 25 in the garden, and a private dining room for 12.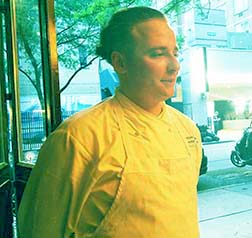 Dinner: 4pm – 12 midnight, Tues.-Sun. (Closed Monday)
Happy Hour: 4pm – 7pm, Tues.-Fri.
($8-$12 American small plates, $7 wines, and $7 craft beers.)
Dinner entrees: $21 – $30.
Full-service sit-down bar.
Photos by Lucy Komisar.