By Lucy Komisar
June 2, 2018

This radio interview I did on Fault Lines focuses on the significance of Spain's brief arrest of William Browder and on the meaning of Paul Manafort's notes, released by the Senate Judiciary Committee.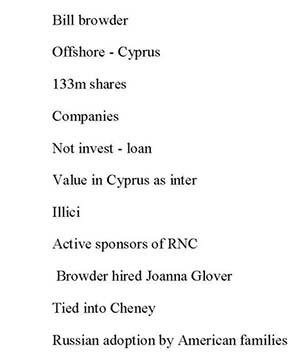 First, the arrest appeared to result from Browder's name on a watch list linked to Interpol. Except that Interpol, compromising its allegedly non-political nature, takes orders from the US and refuses Russia's request for a red notice to detain him based on his conviction for tax evasion. So there was no Interpol red notice out on Browder. Just a glitch by the Spanish authorities who must have gotten their hands slapped by the Americans.
The second part tells how Paul Manafort's cryptic notes of the Trump Tower meeting, released by the Senate Judiciary Committee, are not so cryptic when set next to Prevezon lawyer Natalia Veselnitskaya's testimony. She discussed Browder's corruption, running Russian profits through Cyprus shell companies to take advantage of a Cyprus-Russian treaty providing only 5% taxes on Cyprus profits. Since Browder was just using the Cyprus companies as a pass-through to evade Russia's 35% taxes, this was fraud.
She also talked about how the Ziff Brothers, Browder's major investors, had used fake loans to disguise their investments and thereby evade US taxes on profits, again running the money transfers through the Cyprus shells.
Browder is trying to get Cyprus authorities to refuse Russian investigators access to the Cyprus shell company documents that would prove the fraud on Russian tax authorities. Will the IRS also seek the documents?