By Lucy Komisar
June 8, 2018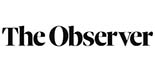 This article by Michael Sainato  (@msainat1)  in The Observer (London) recites the fake news we are used to: Magnitsky a whistleblowing Russian lawyer jailed after tagging officials for tax-refund fraud.
I've rebutted this so often that at the end I will copy and link to the documents that skewer these fabrications and which are routinely ignored by media stenographers like Sainato.
However, there are some new elements in the story, which we have to assume come from William Browder as he is the fount of all wisdom the media's fake news about the Browder/Magnitsky hoax. Sainato is unaware that the backstory of Renaissance could blow the Browder story wide open. My comments are marked with **.
Russian Lawyer Was Lobbying Against Sanctions Clinton Opposed After Paid Speech Gig
Her campaign killed a story linking opposing the sanctions and Bill being paid $500,000

By Michael Sainato ¢ 07/13/17
On July 12, the Hill reported  that the Russian lawyer who met with Donald Trump Jr. in June 2016, Natalia Veselnitskaya, was allowed into the United States without a visa by the Department of Justice under the  Obama  administration.
The report sheds further light into the story, which has further fueled allegations that Trump colluded with the Russian government: "The Moscow lawyer had been turned down for a visa to enter the U.S. lawfully but then was granted special immigration parole by then-Attorney General  Loretta Lynch  for the limited purpose of helping a company owned by Russian businessman Denis Katsyv, her client, defend itself against a Justice Department asset forfeiture case in federal court in New York City." Katsyv faced allegations that he was involved in the assassination of Sergei Magnitsky, which led to sanctions  under the 2012 Magnitsky Act.
** It is standard to allow lawyers into the US to defend their clients. Veselnitskaya was being harassed by not getting a visa [Justice Dept grants visas, Justice Dept brought the case against Veselnitskaya's client, so dirty pool to keep her out] , but Lynch relented this once. Later, the lawyer was "present" for her client only via phone hookup. (The client also had American lawyers.) Imagine the furor if some country didn't allow a US attorney to represent her client in person! But it was also a way to limit her communication with US journalists and others, except those with Moscow staff or the money to fly there.

And there were never any allegations that Katsyv was involved in the assassination of Magnitsky, which of course is a fable. Sainato, where did you get that from? Katsyv has never even been put on the Magnitsky list, which is where Browder would place him immediately if there were a thread of invented evidence theoretically connecting him to Magnitsky's death.
The Hill added,  "Interviews with a half dozen Americans who came in contact with Veselnitskaya or monitored her U.S. activities in 2016 make clear that one of her primary goals was to see if the Congress and/or other political leaders would be interested in repealing the 2012 Magnitsky Act punishing Russia or at least ensure the Magnitsky name would not be used on a new law working its way through Congress in 2016 to punish human rights violators across the globe."
In an interview, Veselnitskaya claimed her meeting with Donald Trump Jr. was part of a lobbying campaign to get American officials to see  "the real circumstances behind the Magnitsky Act."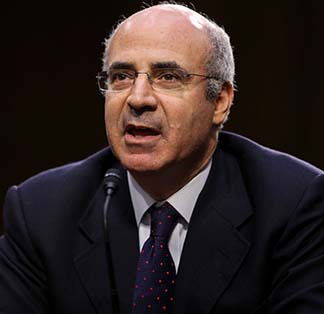 The Magnitsky Act, passed with bipartisan support in 2012, froze U.S. assets of Russians purportedly involved in the detention and suspicious death of whistle-blowing attorney Sergei Magnitsky in a Russian prison in 2009. Magnitsky represented U.S. investor Bill Browder, who was the largest foreign investor in Russia at the time. Browder claimed Russian organized criminals colluded with Russian government officials to collect a $230 million tax rebate on Browder's companies.
** Not a lawyer, not a whistleblower. See the end.

Browder's claim about Russian organized crime colluding with government officials is stated without evidence. Mr. Sainato do you have any?
In December 2015, The Wall Street Journal  reported  that Hillary Clinton opposed the Magnitsky Act while serving as secretary of state. Her opposition coincided with  Bill  Clinton giving a speech in Moscow for Renaissance Capital, a Russian investment bank"for which he was paid $500,000. "Mr.  Clinton  also received a substantial payout in 2010 from Renaissance Capital, a Russian investment bank whose executives were at risk of being hurt by possible U.S. sanctions tied to a complex and controversial case of alleged corruption in Russia.
** Secretary Kerry had also opposed the Act. So did Thomas Donilon, National Security Advisor to Pres. Obama. Note former U.S. Ambassador to Russia McFaul in his book. You'd have to prove the Renaissance case. It was cited in a Justice Department filing, but then ignored. Guess Browder didn't want to go that route!
Members of Congress wrote to Mrs. Clinton in 2010 seeking to deny visas to people who had been implicated by Russian accountant Sergei Magnitsky, who was jailed and died in prison after he uncovered evidence of a large tax-refund fraud. William Browder, a foreign investor in Russia who had hired Mr. Magnitsky, alleged that the accountant had turned up evidence that Renaissance officials, among others, participated in the fraud."
**So now Magnitsky is an accountant. Did he lose his law degree?
** No, Magnitsky didn't uncover evidence of the tax-refund fraud. See the end.
Renaissance Capital, a Russian investment firm like Hermitage

**Browder hired BakerHostetler lawyer John Moscow in September 2008 to find that evidence. An article in Bloomberg Businessweek November 2008 appears to be a Browder plant, but nevertheless interesting. It said that two subsidiaries of Rengaz Holdings, a fund created by Renaissance, had been involved in a tax refund fraud, but that the company had not filed a complaint.

Moscow had spent 30 years with the New York District Attorney's Office as senior prosecutor for cases involving securities, bank and tax fraud against the United States and foreign governments. He worked most prominently investigating and nailing the BCCI fraud, big-time corruption involving Americans, CIA, Pakistan, Osama bin Laden, Saudis and others, which the Bush family Justice Department seemed uninterested in.

But Moscow left the Browder job in May 2009 without finding what Browder wanted. Moscow declines to say more about his work for Browder, so it's not clear whether he quit, was fired or they just parted.

That is why London attorney Neil Micklethwaite of Brown Rudnick filed a declaration in July 2009 in U.S. Federal court in the Southern District of New York seeking judicial assistance to conduct discovery to get information from Renaissance he said Hermitage needed to defend against two cases in Russia.

Moscow would later be hired by Prevezon, and Browder would go to court to ban him from the case for conflict of interest, though Browder was not a party to the Prevezon case. Well, not officially. [Do you need any more admission that Browder ran the Justice Department lawsuit?] He won. Then Browder would sue for his $1mil+ court costs. He lost.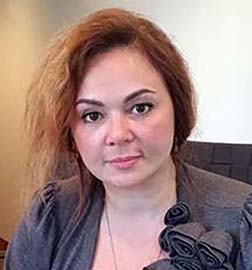 Attorney Veselnitskaya told me, "If you look at the chronology of events and the announcements of actions at particular times, I conclude that the person who ordered the theft was Browder. The perpetrators were people who worked for Renaissance, and he had close relationships and contacts with them. Today we have substantive proof that shows that all this re-registering of companies was orchestrated and controlled by Browder's people. All consequent lawsuits were controlled by Browder's people."
If she is right, hiring Moscow and filing petitions in US court could be alibis to cover up the fact that Browder bought Renaissance's services. A curious section in his book Red Notice (p220-222) raises those questions. One of Browder's associates tells him about a phone call from the president of Renaissance Capital. See Red Notice re meeting with Sagiryan of Renaissance about tax refund fraud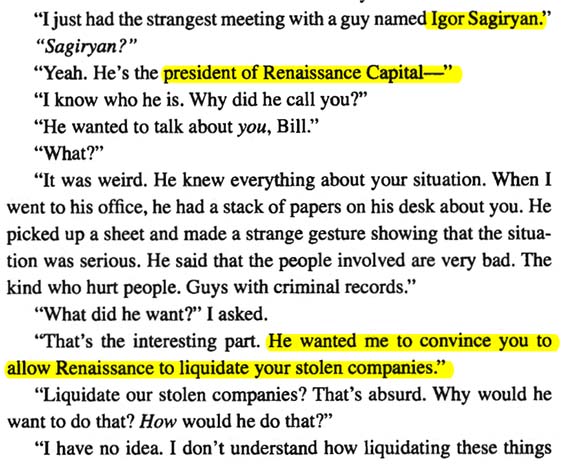 And then Browder meets Sagiryan.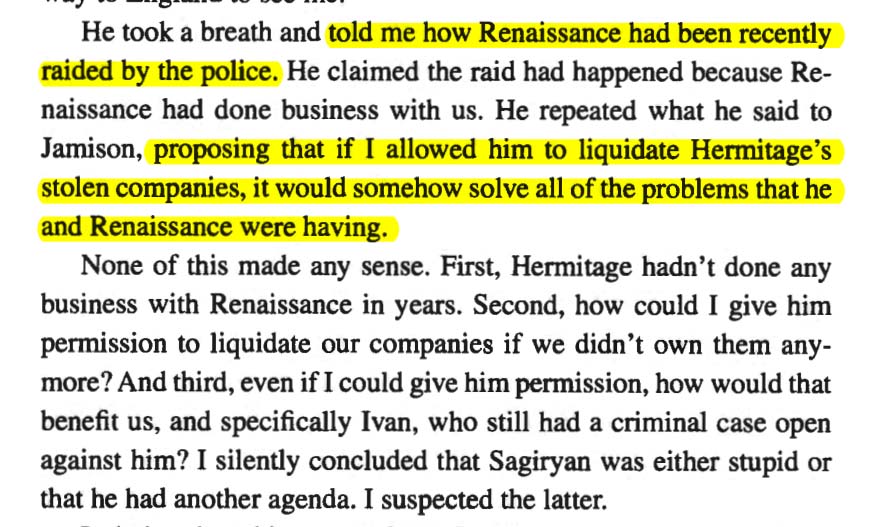 **Why would a Renaissance official, who Browder appears not to have dealings with, offer to fraudulently bankrupt the companies he said were stolen to engage in the tax-refund fraud?   The alleged phone conversation occurs in early December 2007, before the tax-refund fraud payout at the end of the month. The book was published in 2015. Could this be the creation of an alibi?
Though he doesn't know it, Sainato stumbled upon a little-known part of the Browder story that could break it wide open.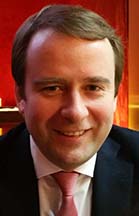 Moscow lawyer Andrey Pavlov, who worked on the fake legal case to set up liabilities for the re-registered Hermitage companies, said the same people were involved doing it for Renaissance. Pavlov told me: "When Browder created shell companies in Kalmykia, he used the same address for them as did Renaissance, if we look at the addresses of companies created at Ulitza Lenina and Kolnikova. And according to documents filed, they were the same people, Plaksin and Arlo, who did this for Renaissance a few years before."
Browder was trying to get back his companies, which had been transferred to Boily Systems (director Rimma Starova) which had a connection to Renaissance. He brought suits in the British Virgin Islands and Russia. Why did he want companies with no assets? Most likely to erase the paper trail, which is why the Renaissance president had suggested bankrupting them. But the discovery action in New York indicated they were now on opposite sides. When Browder lost his Russian visa in November 2005, he depended on associates in Moscow to move his stocks out of the country. Sometimes one partner wants too big a cut. Anyway, thieves fall out.
Browder won court rulings, got back the companies and dropped the US discovery effort.
I saw Pavlov in New York last year and interviewed him for my 100Reporters story. Two months after it was published, Browder had him added to the Magnitsky list. Before, he would regularly come to New York to see clients. Now, he is barred, so he cannot readily talk to American journalists or anyone else investigating the matter. Goal Browder!
Back to Sainato:
The State Department opposed the sanctions bill at the time, as did the Russian government. Russian Foreign Minister Sergei Lavrov pushed Hillary Clinton to oppose the legislation during a  meeting in St. Petersburg in June 2012, citing that U.S.-Russia relations would suffer as a result.
**As McFaul wrote in his new book, the US already had power to ban human rights violators. But he notes that Browder wanted something much more public.
The Wall Street Journal report continued, "A few weeks later, Bill  Clinton  participated in a question-and-answer session at a Renaissance Capital investors conference. He was paid $500,000. After the appearance, Mr.  Clinton  received a personal thank-you call from Vladimir Putin, then the Russian prime minister, the government news agency TASS reported."
A spokesperson for Hillary Clinton denied the connection between her stance against the bill and Bill Clinton's paid speech, but the conflict of interest is undeniable. During the presidential election, the  Clinton  campaign even took measures to stop a story reporting the link. An  email released  by  Wikileaks  from Clinton Campaign Chair John Podesta in May 2015 noted, "With the help of the research team, we killed a Bloomberg story trying  to link HRC's opposition to the Magnitsky bill to a $500,000 speech that  WJC gave in Moscow."
** The research obviously found other information, including that before Clinton, Secretary of State Kerry had also opposed the Act. As did Obama's National Security Advisor Thomas Donilon, who was McFaul's boss. See McFaul book. Did Kerry and Donilon get paid for speeches, too?
** I'm not surprised that The Observer printed this Browder-hoax article as it and the associated Guardian are tootling down the Russophobia track.
To repeat, here is The Komisar Scoop Browder Hoax evidence:
** Magnitsky was not a lawyer. Browder admits that in his April 15, 2015 Katsyv/Prevezon case deposition in US federal court. (The case, brought by the Justice Department at Browder's instigation, targeted Katsyv, a Russian who Browder said had received $1.9m of the $230m.)
 He was asked if Magnitsky had a law degree in Russia.
"I'm not aware that he did," Browder said.
Did he know if Magnitsky "went to law school?"
"No," Browder answered.
See that in a video clip. Browder really didn't want to give that deposition. Here see him running away from a process server!
Magnitsky was his accountant, in fact, the accountant who managed the tax evasion of Browder's company, Hermitage. Here see him identified as "workplace: auditor" in Firestone Duncan, No. 8 on his three testimonies. The one below was in 2006, eight months before the famous raid. It was about Hermitage tax evasion.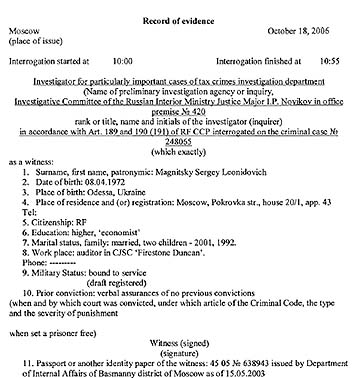 Magnitsky didn't blow a whistle. The first indication of the $230m tax refund fraud was by Rimma Starova, who worked for one of the implicated shell companies and, when she read in the papers authorities were investigating, in April 2008 went to police to give testimony to put herself in the clear. Translation.
The fraud involved shell companies colluding on a lawsuit, paying fake liabilities and then claiming a tax refund for that amount.
Paul Wrench, working for Browder, filed a complaint about the fraud in July 2008. He was asked in a sworn deposition in US federal court in the Prevezon case November 2015, who he discussed it with.
Q. Did you discuss this document with anyone at the time you signed it?
A. At the time I signed it? I would have discussed this document before signing it.
Q. With whom?
A. With Ivan Cherkasov. [Browder's partner.]
Q. Anyone else that you recall?
A. Not that I recall.
Six years after Magnitsky's death, with Browder shouting to the world he was a whistleblower, Wrench under oath does not back Browder up.
Browder told the tax refund fraud story to the New York Times and Vedomosti at that time. It's in his book, page 236.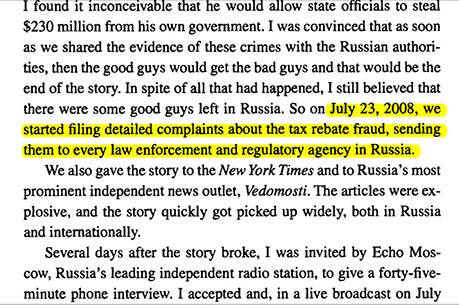 Magnitsky does not mention the fraud until October 7, 2008, at an interrogation to which he was summoned as a suspect in Browder's tax evasion –for which he was arrested the following month " when he tells of "a fraud of budget monetary assets in the amount exceeding 5 (five) billion rubles." That is six months after Starova's first testimony. Three months after publication in Vedomosti and The New York Times.