By Lucy Komisar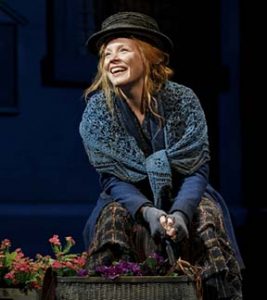 More than 60 years after its charm overwhelmed the American stage, Alan Jay Lerner and Frederick Loewe's"My Fair Lady," with revivals through the years, is back, and this time there's a feminist kick. And some class solidarity. They are changes from America's reactionary 1950s when it premiered. Credit  director Bartlett Sher.
The street flower seller Eliza (Lauren Ambrose) is a sweetheart, and you get the sense of a supportive society among the sweepers and other night workers at Covent Garden
Henry Higgins (Harry Hadden-Paton) has taken her up (in exchange for decent living conditions) to win a bet with his friend that he can teach her enough elocution to let her pass as a "lady." Not so much a "gentleman," which might require more than elocution, he calls her "low." He is of course a class snob and also a bully, which goes with the territory.
He is fine when he is in charge, tellling the street girl how to pronounce her vowels.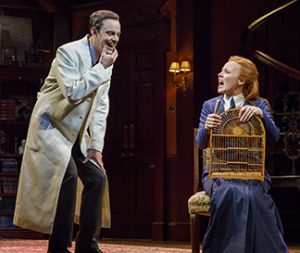 When he sings angrily, "Let a woman in your life," director Sher has a "Votes for Women" march parade through, with the protesters in the iconic white dress of 100 years ago.
So, this play is very much about class and gender, which is what the socialist George Bernard Shaw, who wrote "Pygmalion," meant.
More subtle is the treatment of Alfie, Alfred Doolittle (a superb Norbert Leo Butz), Eliza's hard-drinking father who hangs out at the Old Bell Tavern. He rails against middle class morality which tags him as one of the undeserving poor. His jaunty "A little bit of luck" number hopes that will last.
Note that when Alfie doesn't work, he's a bum. When Freddie Eynsford-Hill (Jordan Donica), the rich guy, doesn't work, he's still a classy guy. Though Eliza acknowledges that when they marry, she'll have to support him.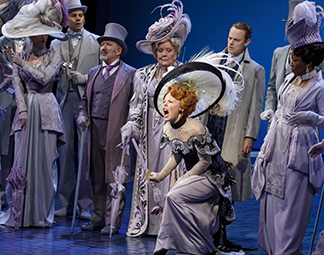 The rich side of town is exaggerated, from the dark wood walls of Higgins' townhouse, full of servants, to the elegant chapeaux and top hats of the Ascot coterie.
I thought, "Eliza has learned diction, but what does she say? She has no education. Then I realized that neither do the others, it's all surface and style.
When she revisits Covent Garden as a "lady," and her old buddies hardly know her, you realize this is about the fact that people are defined by money and the class system.
Not that all the rich are as nasty as Higgins. His associate Col. Pickering (Allan Corduner) is amiable and courteous. His mother (Diana Rigg) is sensitive. And even Freddy, who does a charming "On The Street Where You Live" in fine baritone, shows human feeling.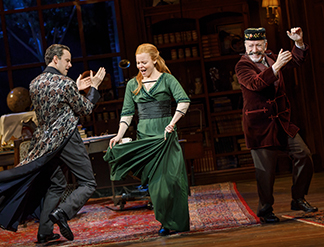 I loved the impressionist colors in Michael Yeargan's terrific sets, Sher's direction as Eliza proclaims "Just You Wait, Henry Higgins," walking in the revolving set through the many rooms of the house — to subtly point out there are so many — and the joyous "Rain in Spain" dance. Christopher Gattelli's choreography and Catherine Zuber's costumes are absobloominloverly.
Ambrose has a round sweet elegant soprano. But there's also substance in her aggressive "Show Me."
Seems to run in the family, as her father Alfie,  more human than any of them, does a show-stopping jaunty "I'm Getting Married in the Morning," his final acceptance of middle class morality, which seems to be defined, as socialist Shaw subtly notes, by getting a marriage license.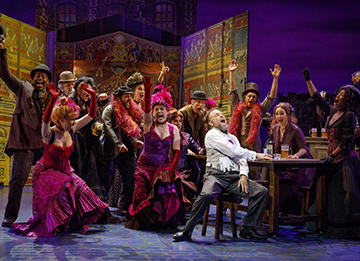 Of course, the best is at the end when Higgins demands of Eliza as servant, "where are my slippers," and she ditches him. I loved every moment of her racing off the stage and up the orchestra stairs to freedom. Shaw would have approved! In fact, his original ending was Eliza leaving Higgins after a quarrel. But Lerner and Lowe in the imprisoned housewives 50s chose "the sweet woman gives into dominant male." Ugh! Thank you, Bartlett Sher, for going back to Shaw's feminist original!
"My Fair Lady." Book and Lyrics by Alan Jay Lerner based on George Bernard Shaw's play, Pygmalion; Music by Frederick Loewe. Directed by Bartlett Sher; Choreography by Christopher Gattelli.  212-239-6200; Opened April 19, 2018; closes Jan 6, 2019. Running time 2:55. 6/13/18.