By Lucy Komisar
Brit Henry Naylor's play about the moral choices of people trapped in the Middle East horror and the western reporters of it could not be more timely, or more searing. The dialogue is stirring, often tough, and poetic. It is part of a series he has presented at the Edinburgh Festival Fringe the last few years about the human suffering and the ethical challenges posed by the region's crises.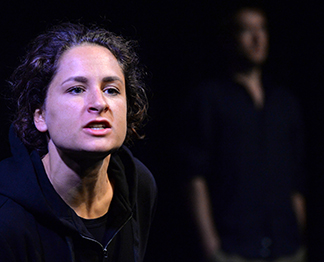 The nameless Syrian woman (Avital Lvova), whose father was an oppositionist seized by Assad's security forces in 1998, is shown from age 6, growing up as an artist, dedicating herself to painting anti-government graffiti.
Young photographer Sebastian Nightingale (Graham O'Mara) sees the bloody crises as a place to ply his career while doing some good. In Baluchistan 1998, he pulls a desperate farmer out of water inundating the valley, but the man slips back in, choosing to die. Sebastian can't sell his dramatic photos. The West doesn't much care.
With just a spare stage, directors Louise Scaaning and Michael Cabot create landscapes in our minds.
The play moves between the Lvova and O'Mara monologues, which sometimes include other characters. We notice the difference in demeanor. She is frantic, wound up, speaking in double time. He is quite calm, as if everything he experiences is distant, as a picture seen through his lens.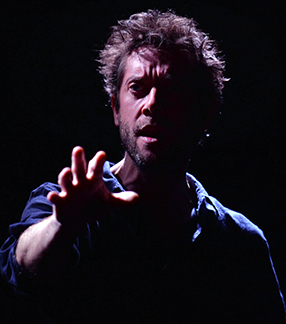 One of O'Mara's characters is John Messenger (yes, the name is Dickensian), a composite of British journalists John Pilger and John Simpson. Messenger gets him to go along to take pictures on his interview of "some militant."
The two men are blindfolded and driven on a day-long trek to finally see Osama bin Laden on a black horse, dressed in cream robes, and flanked by eight warriors.   In the interview, Sebastian thinks how boring bin Laden is. "The Sheikh's dull. Has all the charisma of a Town Planning Officer. He has no idea about pithy soundbites. Simply lectures us about the brilliance of ancient ways, whilst exposing a Casio digital watch."
"Nameless," which is how the young woman introduces herself, is 19 when a shop boy gives her spray paint to attack Assad's statue. Protesters are shot dead, a riot ensues, people are arrested.
In prison, the women massage the legs of a protester who had been hung upside down. "Nameless" is released with other women because the prison is too crowded.
Three years later, Sebastian is in Sri Lanka. But this is just vacation; now he does wedding shoots. He is there on September 11, 2001. It will be his breakthrough day. Bin Laden makes him a star.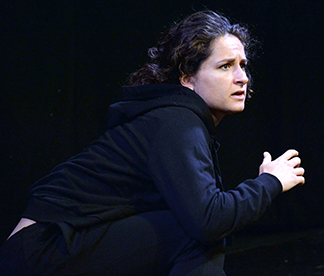 "Nameless" is defacing a statue, making giant murals, painting slogans on garage doors. One day handing out resistance leaflets, she runs into jihadis, who curse her. She spray paints one red, and runs.
Sebastian, however, is a celebrity, with an agent. He hams it up on TV. The encounter with bin Laden he describes is nothing like what actually happened. Welcome to celebrity journalism. Now he shoots the famous names he socializes with, buys a BMW and a house. He gets a retrospective at the National Portrait Gallery.
But Messenger is still writing about refugees, because, "We build borders around our hearts and minds." There's a surprise dénouement. She will pronounce her name. And Sebastian might get back his soul.
A dramatic, engrossing, challenging play.
"Borders." Written by Henry Naylor, co-directed by Louise Scaaning and Michael Cabot. 4th Street Threatre, Next Door @NYTW, 84 East 4th Street, New York City. 212-460-5475. Opened July 5, 2018; closes July 22, 2018. 7/7/18.