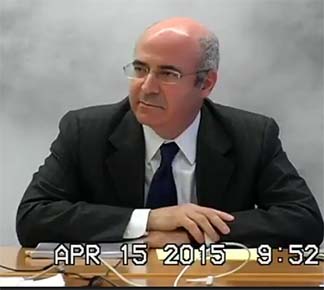 By Lucy Komisar
July 20, 2018
Lucy Komisar is an investigative journalist who focuses on financial and corporate corruption, particularly the use of offshore bank and corporate secrecy havens. She began investigating William Browder nearly 20 years ago when she learned of his use of an offshore company in the Isle of Man to siphon off profits from the Russian company Avisma, cheating minority investors of dividends and the Russian Treasury of taxes.
Her expose was published by 100Reporters, a highly regarded website that has received funding from the Ford and MacArthur Foundations.
Last October, 100Reporters ran her story about tax cheating in Russia by Browder's company Hermitage and his use of Sergei Magnitsky's death to build a campaign to block Russian attempts to recoup about $70 million in evaded taxes and illicit stock buys.

Dear President Trump,
William Browder sent you a letter before your meeting with President Putin, and I'd like to offer you a perspective about Mr. Browder that you probably aren't getting elsewhere. I am copying the form of his letter, but substituting Browder where he wrote Putin, and including facts you and the public probably don't know. Though there are indications your State Department does know.
As a journalist, I've have been investigating Mr. Browder for nearly two decades. I'm probably his number one enemy journalist. He had me banned from a public talk December 2016 at the Institute for Advanced Studies in Princeton where he feared I would ask him about his corruption.
As he said with some irony about President Putin, Mr. Browder is a bald-faced liar. Whatever he tells you, it's not true.
For example, he cites "the death of my lawyer, Sergei Magnitsky, in 2009 at the hands of the Russian state after he had uncovered a massive Russian government corruption scheme.
This is untrue. Mr. Magnitsky was not his lawyer, he was his tax accountant, his auditor, who since 1997 arranged Mr. Browder's Russian tax evasion. Though Mr. Browder lied about Mr. Magnitsky being an auditor to you (and also to the Senate Judiciary Committee in July 2017), he could not, under threat of perjury, lie in 2015 before the U.S. Federal Court Southern District of New York. He admitted then that Mr. Magnitsky did not go to law school or have a law degree. Here is his deposition. And here is a video excerpt of that admission.
Mr. Magnitsky did not uncover the December 2007 tax refund fraud that cheated the Russian Treasury of $230 million. The three testimonies he gave before his November 2008 arrest did not reveal the fraud. He does not even allude to it until October 2008.
However, the first indication of the fraud was by the Russian, Rimma Starova, who worked for one of the implicated shell companies. When she read in the papers in April 2008 that authorities were investigating the companies, she immediately went to police to give testimony to put herself in the clear.  Here is her testimony in Russian, with an English translation.
Paul Wrench, working for Mr. Browder, filed a complaint about the fraud in July 2008. He was asked in a sworn deposition in U.S. Federal Court November 2015 who he discussed it with. He said, "With Ivan Cherkasov. [Mr. Browder's partner.]
No mention of Mr. Magnitsky, who had not yet been arrested and hadn't mentioned the case in answers to government investigators. Mr. Browder himself in July 2008 gave stories to the Russian paper Vedemosti and the New York Times about the complaint and did not credit his accountant with finding out about the case. That was three months before Mr. Magnitsky alluded to the case in testimony. So Mr Magnitsky as whistleblower was invented to throw attention off the fact that he was the accountant that oversaw Mr. Browder's Russian corruption.
Mr. Browder lies not only about his accountant, but freely declares the Russian government the murderer whenever a critic dies. He said, for example, that the Russians "murdered Alexander Perepilichnyy, a whistleblower who died suddenly in the United Kingdom after coming forward with financial details on the criminal group behind Sergei's murder."
In fact, Mr. Perepilichnyy fled Russia after investments he was carrying out for shady characters went bad after the 2008 crash. He lived in London with his wife, but became very ill at the Bristol Hotel in Paris, where he had an assignation with a girlfriend, who recounted that fact. Mr. Browder got someone to say Perepilichnyy had had been poisoned by a rare plant, but expert testimony at the British inquest showed that was untrue.
Based on all of this, there are a few things you need to know about Mr. Browder.
He is a brilliant conman. Just by paying attention to him, governments and press are giving him a huge gift. Because Russian authorities had solid proof of his tax evasion and illicit share purchases, he could not defend himself in the usual way with lawyers. He had to enlist governments and press to represent him, making his defense a political cause in which they conveniently ignore evidence, even his admission, of corrupt dealings.
For example, in his U.S. Federal Court Southern District of New York deposition in 2015, one subject was the tax scam by which his companies took tax deductions for disabled workers they never hired. As the companies were shells set up only to hold shares, they had no employees. He was asked, "Who came up with the idea that you could use this tax regime?"
He replied, "[W]e were advised by Arthur Andersen, Firestone Duncan, Ernst & Young and various other firms that this was a proper way of organizing our affairs." Arthur Andersen, of course, was the Enron accountant and soon dissolved. Firestone Duncan employed Mr. Magnitsky, who oversaw the tax cheating.
Browder values money far more than human life. During the year Mr. Magitsky was in pre-trial detention, he could have been released at any time had Browder only paid his back taxes, then about $40 million. Mr. Magnitsky told Oleg Lurie, a journalist who was in prison at the time under a fraudulent charge that was later dismissed, that he thought his employers would get him out, but they had betrayed him. Lurie gave a sworn deposition to U.S. Federal Court.
Mr. Browder wants to derail your attempts at a better relationship with Russia, because that could lead to the State Department acknowledging the truth about his tax evasion and illicit stock buys and cooperating with Russia, as it does with other countries, in bringing him to justice.
Mr. President, the only way to deal with a person like William Browder is to contain him, not to engage him. He will lie to you, flatter you, trick you and betray you. The only message you can give him is that America will not let itself be deceived any longer, that it can and will stop him.
Sincerely,
Lucy Komisar
Investigative Journalist