By Lucy Komisar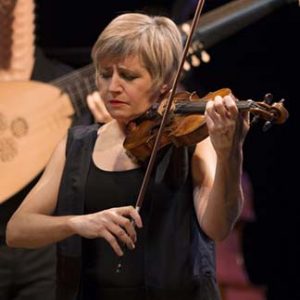 Think a chamber music concert is static? Think again. A brilliant production at the Avignon Theater Festival OFF was a mélange of "The Four Seasons" of Antonio Vivaldi (1678-1741) and the lesser known Astor Piazzolla (1921-1992) "The Four Seasons of Buenos Aires," created by violinist Marianne Piketty.
Most music groups sit on the stage and don't move. This production is quite different. With the choreography of Jean-Marc Hoolbecq, the players move and regroup on stage. Nothing is still. You are always engaged.
Piketty is a world-class performer who gave her first recital at age 7, studied at Julliard in New York and with Itzhak Perlman, has played with major orchestras across the continents.
With a chamber group of seven strings, Piketty premiered this production in 2013, and it became an immediate hit.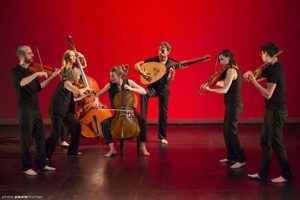 The musicians play four violins, bass, cello and Theorbo, a baroque instrument from Italy similar to the lute. The feeling is dueling violins, but she is always the major player. Her elegant bowing is clear, sharp, intense.
In the beginning is a sound a bit sauvage, slightly atonal, almost gypsy. A shadow of Vivaldi's vibrancy, avant garde, dissonant. Then the adagio is glorious. There is a plaintive cello.
The "seasons" of Piazzolla are more contemporary, they sometimes reference the notes of Vivaldi, and the two create a musical dialogue. An exciting event.
Vivaldi Piazzola – Seasons." Created and directed by Marianne Piketty. Choreographed by  Jean-Marc Hoolbec. Thé¢tre Girasole, Avignon Theater Festival OFF, Avignon. July 6 to 29, 2018.