By Lucy Komisar
It's an imaginary master class named in homage to Nijinsky, choreographed by Faizal Zeghoudi, text by Marie-Christine Mazzola, danced by four fine interpreters of his art, and narrated by Bernard Pisani, once a dancer, now an actor. I loved the dance. I was less entranced by the pretentious text. At the Avignon Theatrical Festival OFF.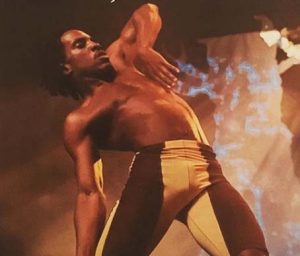 It revisits major pieces of Nijinsky repertoire mentored by the genius of the Russian impresario Serge Diaghilev.  The dancers are Assan Beyeck-Rifoe (a stand-out), Anthony Berdal, Sarah Camiade, and Simone Giancola. The music is by Alva Noto, Franz Schubert, Claude Debussy and Igor Stravinsky.
It begins almost as archeology, dancers as primates in a cave. There is a terrific sense of what early dance would have been like, turns twists and bends to the sounds of noisy drums. Then it moves to softly curving moves.
When we get to Diaghilev's excellent, simple movements, his reaches, turns in "The Rite of Spring," we are there.
A dancer comes in like a crab and unwinds, bends, twists. A dancer humps like an animal. Then a fawn moves in the forest. By the time we get to contemporary dance, with big cymbals, drums, horns, there are the leaps we'd expect from Nijinsky. Excellently performed.
Absent the dialogue, this is an admirable reinterpretation of Nijinsky's genius.
"Master Class Nijinski," choreographed and directed by Faizal Zeghoudi, text by Marie-Christine Mazzola. Coll¨ge de la Salle, Avignon Theatrical Festival OFF, Avignon. July 6-29, 2018.