By Lucy Komisar
"Quand le Piano Fait son Cinéma" is a charming, clever production in which two talented pianists in a four-handed recital make you think there's an orchestra on the small stage. Doing four-handers takes some alacrity as the hands repeatedly cross each other.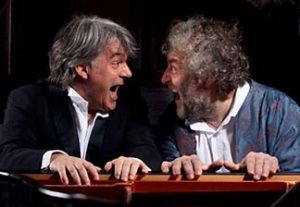 Laurent Ferlet and Franck Ciup go from Fellini's "8 ½" to "West Side Story," interspersed with repartee, and the themes from "Love Story," "The Pink Panther," "A Man and a Woman," "Cinema Paradiso" and once in a while Mozart, Debussy, Satie and more.
There are plenty of jokey interactions and shtick. The playing is excellent, the voices are fine, the mood is upbeat. This would be a good cabaret show anywhere.
"When the Piano makes Cinema." Performed by Laurent Ferlet and Franck Ciup. Avignon Novotel Centre, Avignon Theater Festival OFF, Avignon.   July 6 to 28, 2018.