By Lucy Komisar
Lillian Hellman's play about a labor conflict in a small town in Ohio in 1936 has some fine moments giving hints of stronger plays such as "The Little Foxes" where she takes on the corrupt, manipulating rich who exploit workers.
"Days to Come," written at a time of labor struggles across America, refers to a better future when workers bested by violent strike-breakers will get the union and rights they are fighting for. Based on the text, those days would be a long time coming.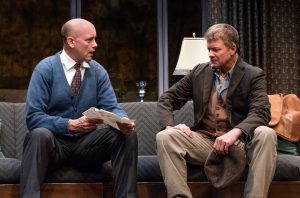 The irony in this play is that the factory owner, Andrew Rodman (Larry Bull) is painted as a good guy corrupted by the system. He grew up in the town of his father's factory and knew all the workers. He doesn't like the pay cuts he's forced to make through bad loans and cheap competition. Now workers are striking for 60 cents an hour.
His lawyer Henry Ellicott (a very smooth Ted Deasy) persuades the weak boss to bring in scabs who can make the brushes he sells. Except they are not factory workers, they are thugs.
The scab organizer Sam Wilkie (a mobster lookalike Dan Daily) has made a business of this, and his crude lieutenants, Mossie Dowel (Geoffrey Allen Murphy) and Joe Easter (Evan Zes), spend their off hours playing cards, cracking knuckles and speaking in a Brooklyn accent you haven't heard since "Guys and Dolls."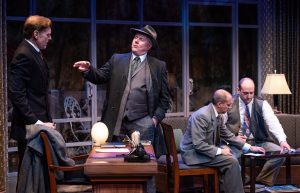 Hellman shows the influence of her long-time companion, pulp fiction and detective writer Dashiell Hammett, whom she had met in 1930.
Hellman was a leftist who supported the Republican side in the Spanish Civil War. She would be called before the McCarthy committee in the 1950s. She has an interesting line targeting American workers' xenophobia. And their na¯ve alignment with the rich bosses.
Worker Thomas Firth (Chris Henry Coffey) tells the boss, "We ain't foreigners. Our people came here with your people, and worked along with them and helped them, too. In 'twelve when they came and tried to make a union, we threw 'em out." And then, "I ain't believing that you're bringing foreigners" Coffey is terrific, his face a map of wretchedness.
But Leo Whalen (Roderick Hill), the union organizer, tells him, "Don't let 'em tell you that because your grandfather voted for Jefferson, you're any different from some Polack in Pittsburgh whose grandfather couldn't write his name."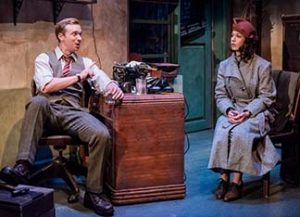 I liked Hill as Whalen, who seems to have nerves of steel when the bad guys attempt to frame him for the murder of a man whose body is planted outside his office. He's also pretty good at fending off the advances of the bored Julie Rodman (Janie Brookshire). The women in the family have not much purpose, which doesn't build character. Mary Bacon is very good as Andy's snarky, cranky, passive-aggressive sister Cora.
The conversations between Andy and wife Julie are not always credible, perhaps due to the text, which goes from interesting political history to the travails of a wife who never loved her husband. Or perhaps it's the acting and direction which are sometimes flat.
So, not a great play, but certainly interesting and worthy if you want to understand the Hellman canon and her politics, shown more subtly in "The Little Foxes," but very evident here.
"Days to Come." Written by Lillian Hellman, directed by J.R. Sullivan. Mint Theater Company at The Beckett Theatre, 410 West 42nd Street, New York City. 212 239-6200; Opened Aug 26, 2018; closes Oct 7, 2018. 9/2/18.