By Lucy Komisar
I love jazz, I love jazz vocalists, so how could it get better? It does with the Anderson Brothers who add text and video to tell the stories of the composers, lyricists and performers they feature. You are pulled into not just the sounds but their personal and musical lives.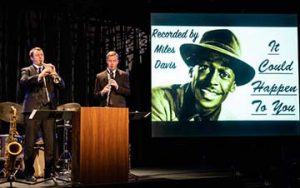 In August they appeared at Symphony Space and one week after another they featured Irving Berlin, Jerome Kern, Hoagy Carmichael and Jimmy Van Heusen. I caught the Van Heusen show. It was a delight.
They play horns. There was also flute, piano, bass and drums. The Andersons' smooth sax and clarinet doing "It Could Happen to You" was accompanied by a screen showing its recording by Miles Davis. "I Thought About You" had the picture of the great horn player Coleman Hawkins.
Even some corny stuff, showing Sinatra video as they did "Love and Marriage" and "High Hopes."
About composer Jimmy Van Heusen, we learned that Edward Chester Babcock was a terrible student, class clown and was expelled from high school. At 15, he was moonlighting as a disc jockey on Syracuse radio. Needing to hide his identity from his parents and school, inspired by a billboard ad for shirts, he changed his name to Jimmy Van Heusen.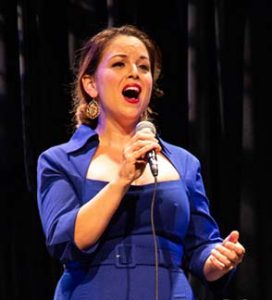 At Syracuse University, he became friends with Jerry Arlen, younger brother of Harold Arlen.  Harold went to Hollywood and got Jerry and Jimmy to fill in for him composing for the Harlem Cotton Club Revues. Jimmy's first published song "Harlem Hospitality" was recorded by Cab Calloway.
He   composed "Darn That Dream," for Benny Goodman, then went to Hollywood ("Imagination," "It Could Happen to You," and "Polkadots & Moonbeams") and did music for the road movies with Crosby, Hope and Lamour. He had a long career, and we hear the notes of a lot of it.
The show is terrific cabaret, bright sounds and horns, combination of live music and vocals and video. "Swinging on a Star" is live with vocalist Molly Ryan, who has a soft sweet dulcet voice.
"Aint that a Kick in the Head," features the Sinatra Rat Pack. Van Heusen is paired with Sammy Cahn for Sinatra in "The Tender Trap." There's a lot of Cahn and Sinatra through the years.
Even when rock hit the 60s, Van Heusen had a jazz sound. He wrote 800 songs, 50 standards. Sinatra did 85 of them. Their artistic collaboration was key. Their personal adventures and antics made the scandal sheets.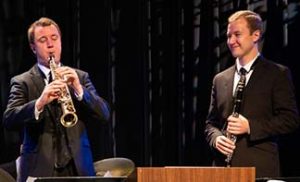 The Andersons have a new, exciting way of doing a jazz concert. Every few songs are set off by musical and personal stories. This is jazz and cabaret for smart people who want some history along with elegant playing. Peter does arrangements; Will is the script writer. There are their sweet mellow horns. And a lot of fascinating video and talk. They will be back next summer.
"Songbook Summit." Created and produced by Peter and Will Anderson. Symphony Space, 95th Street and Broadway, New York City. 90 minutes. $35. The Andersons Play Van Heusen. Aug 28-Sept 2, 2018.