Marilyn Maye at intermission.
Photo by Lucy Komisar.
There's a difference between cabaret and just a singer on a stage warbling a melody. And there's a reason so many good cabaret singers come from Broadway. Cabaret is not just about the words and the music, it's about telling a story. Sometimes, it's even a mini-musical play.
And that is what is good about the Cabaret Convention, in its 29th year, annually four nights in October, at Rose Hall at Jazz at Lincoln Center.
The singers and audience are almost a community, many returning for years, meeting and chatting in the expansive lobby at intermission and after the show. Marilyn Maye, a star the night before, was audience at the Jerry Herman event and schmoozed with the other fans.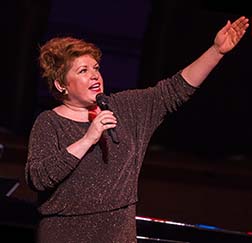 Klea Blackhurst. Photo by Richard
Termine.
Here for me were the highlights for a night devoted to the words and music of Jerry Herman, most known for "Hello Dolly" and also for "Mame," "Dear World" and "La Cage Aux Folles." He sent a note of appreciation from Miami.
MC Klea Blackhurst is a brassy reincarnation of Ethel Merman (which she acknowledges), a jazzy foghorn that fills the room in a smart "Just Leave Everything to Me/It's Today" from "Hello Dolly," probably his most famous production.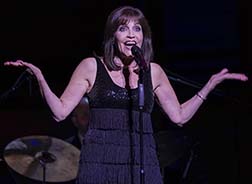 Joan Ryan. Photo by Richard
Termine.
Brent Barrett has a rich almost operatic baritone in "Look Over There" from "La Cage Aux Folles."
I loved Joan Ryan as the comic waitress from Flatbush in "Look What Happened to Mabel," with the right New York accent and pizazz. From "Mack and Mabel."
Then a very different note, Josephine Sanges, "I Never Said I Love You," a slow love theme with a round lilting soprano, from "Dear World."
It's play that hasn't been performed for years," but we also got Valerie Lemon in a sensitive half-sad mood doing "Kiss Her Now." Adrian Daurov's cello added a bit of darkness.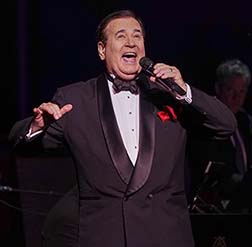 Lee Roy Reams. Photo by Richard
Termine.
A great number was Lee Roy Reams, of 1981 "42nd Street" fame, doing "Penny in My Pocket" from "Hello Dolly." It was a theatrical production, a drama; you felt you were at the show. Reams is a compleat performer.
Sarah Rice, who dates to "The Fantastics" and "Sweeny Todd," performed "And I Was Beautiful" from "Dear World" in a sweet, colorful, ethereal soprano.
I liked the stage presence and jazzy beat of of Eric Michael Gillett doing "I Am What I Am" ("La Cage"). It was like a cheer for life. Ah, the Broadway panache.
Debbie Gravitte. Photo by
Richard Termine.
Debbie Gravitte did "If He Walked Into My Life," from "Mame," an Edie Gorme song, her voice filled with feeling. About bringing up a son, again song as story with jazz inflection.
Gravitte and Blackhurst met in a great comic duet, "Bosom Buddies," a jazzy highlight from "Mame."
Then came Amra-Faye Wright's glittery, Broadway stagey "I Don't Want To Know" from "Dear World" about living in a world full of lies: "If love is dead, I don't want
to know."
Christine Pedi. Photo by Richard
Termine.
One of my favorites is Christine Pedi, a Forbidden Broadway star. She sang "The Spring of Next Year" from "Dear World," prescient in 1969.
"There'll be smokestacks consuming each available gulp that's inhaleable./ But the moment most thrilling begins when the pneumatic drilling begins;/ It's a song that all Paris will sing in the bountiful spring of next year. Ahh…/ You'll be watching the statues corrode, we'll be hearing the fountains explode."
Pedi sings, and coughs! The very clever comic Christine Pedi is a reason why Forbidden Broadway lasted for some of its decades.
Marieann Meringolo. Photo by
Natasha Castillo.
Celia Berk performed "It Only Takes a Moment" in a clear cool voice, and Renee Katz sang "Ribbons Down My Back" in a sweet fine soprano. Both from "Dolly."
And finally, the classic cabaret singer, sophisticated Marieann Meringolo in "Time Heals Everything," her glorious voice telling about forgetting a lover, from "Mack and Mabel." When will they bring back that show!
"The Best of Jerry Herman." Cabaret Convention 2018. Rose Hall, Jazz at Lincoln Center, Broadway & 60th Street, NYC. (212) 721-6500. Oct 11, 2018. Review on New York Theatre Wire.