By Lucy Komisar
I'm not too sure who the cursed child is. Albus (Sam Clemmett), the son of the grown-up hero Harry Potter (Jamie Parker), or Scorpius (Anthony Boyle), the son of his nemesis, Draco Malfoy (Alex Price).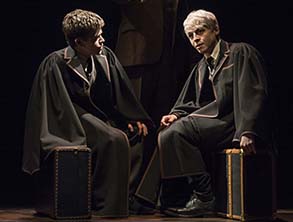 But mixed in with the magic and terrific scenery, there's a lot of stuff about fathers and sons, which is really the theme of the play, or the two plays which you can see on succeeding nights or a one-day marathon.
Critics were requested not to give away the plot, which is easy to comply with since it's rather silly. Unless you're a kid. For the rest of us the amusement is the magical stuff that makes descending chandeliers and flying Spidermen look like pikers. Such as wands that give off light and spew flames. Or a magical bookcase with books that open and talk and suck in whoever is perusing the stacks. And clocks that speed back to achieve time changes.
There's a nice escape from the top of trains that reminds one of Alfred Hitchcock's "The 39 Steps." And there are fingers growing on the lady with a cart. People disappearing into a phone booth. Arriving through a flaming fireplace. And there are flying broomsticks. Invisibility cloaks. Twirling black capes. Moving furniture. Flying ghosts and witches with pointy hats. Illusions & magic by Jamie Harrison.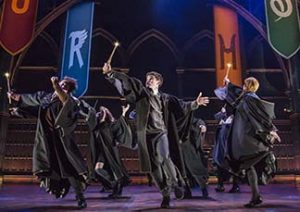 And of course, time travel, at the heart of the story. Harry Potter is now an adult, an official at the Ministry of Magic, and his son is committed to do something about a guy who was killed by Harry's mistake 22 years ago. Which leads to changing identities when the young actors become their older progenitors. And the memory of Harry as a child. We meet the daughter of Voldemort, the villain. If you need to ask, don't ask. Besides, I'm not allowed to tell!
I can say that a favorite was Anthony Boyle as Scorpius Malfoy, a charmer, son of the old "bad guy," who now just seems like a concerned dad. Not so different from Harry, an overworked employee of the Ministry of Magic, a husband and father of three school-age children. His youngest son Albus must struggle with the weight of a family legacy he never wanted. Another favorite is Bane, the centaur (David St. Louis), in a forest of Gothic arches.
I didn't catch all the British. But then again, I didn't catch all the hip-hop of "Hamilton." Maybe it's an age thing. Which may be why I think a lot of this play is hokey. But the show isn't for me. The story, which I'm not, happily, allowed to describe in detail, is for the kids, who apparently love it. Or, who knows, since the discussion is off limits.
"Harry Potter and the Cursed Child." Written by Jack Thorne, based on an original new story by J.K. Rowling, Jack Thorne and John Tiffany; directed by John Tiffany, with movement by Steven Hoggett. Lyric Theatre, 214 W. 43 St., NYC. 877-250-2929. Opened April 22, 2018.