By Lucy Komisar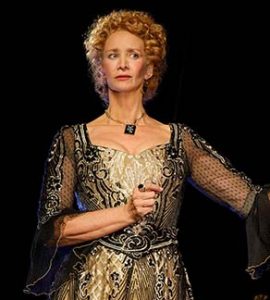 Janet McTeer is a charmer with ego as Sarah Bernhardt the greatest actress of the 19th century who performed on the Euro-American stage. And to bring the story up to date, her artistic challenge is a feminist one. We see it as a play within a play, and Theresa Rebeck's script sticks closely to reality, except for an affair with French playwright Edmond Rostand, who was a friend but not necessarily a lover.
It is 1897, she is in her mid-50s and tired of playing her great success, the courtesan Camille in The Lady of the Camellias or Orphelia in Hamlet. Was she supposed to leave those younger female roles and play Hamlet's mother Gertrude? She wants to go on stage as Hamlet.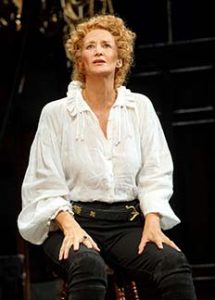 The critics are aghast. A woman can't play a man. She reminded them that in Shakespeare's time, men played women's roles
The best of the play is McTeer in the play within a play. Her doubt and uncertainty about whether she can do this role mirrors that of Hamlet. But she does a brilliant rendition of the speech to the ghost of Hamlet's father.
She and Rostand (Jason Butler Harner) talk about the theater. About the character of Hamlet. Some of conversations are tendentious, such as her wish that he remove the poetry from hamlet and rewrite him as a man of action. Rostand protests that she cannot touch Shakespeare's soaring language.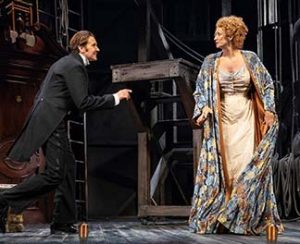 There is intellectual talk about Hamlet, then sultry grappling. Rostand is married, a father. In a silly bit, the wife comes to protest that Bernhardt is taking his time away from writing his plays.
And that moves to why Rebeck has put them together in this play. Rostand tells her he is writing a part for her. It is Roxane, the love object of Cyrano. She declares that Roxane is an idiot. She will not go back to playing flowers.
Dylan Baker as Constant Coquelin, who worked with Bernhardt, gives a fine performance as Cyrano in a brief passage from the play. Of course, the best parts of the play are the scenes written by someone else, by Shakespeare and Rostand. But that is tough competition.
Director Moritz von Stuelpnagel moves between high drama and some hokey text, but he lets McTeer's masterful talent hold audiences spellbound, best when she proves that a woman can indeed play Hamlet.
"Bernhardt/Hamlet." Written by Theresa Rebeck; directed by Moritz von Stuelpnagel. American Airlines Theater,   227 W. 42nd St., New York City. 212-719-1300. Opened Sept 25, 2018; closes Nov. 11, 2018. 2 hrs. 20 min.