By Lucy Komisar
It's a working-class crowd and the talk is of neighborhood, the boundary of their lives. The scene is a bar and music place (wood and brick by Boris Beowolf), the sounds are of the 50s and 60s, the voices are rich and jazzy.
I never realized Jerry Leiber and Mike Stoller created so many of rock classics, jazzy torch and doo-wap. I admit I didn't like this music then: "Gonna Find Her," "Jailhouse Rock," the hokey "Poison Ivy." I like it now. Most of it.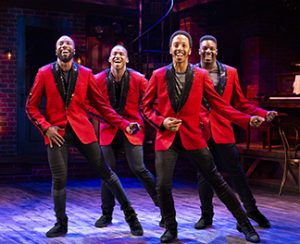 Director/choreographer Joshua Bergasse integrates the story to the music, and you never think you are watching just singers on a stage.
The four terrific main guys are John Edwards, Jelani Remy, Dwayne Cooper and Kyle Taylor Parker. Dressed in red jackets with sequin lapels, they do "Kansas City" with a smart jazzy inflection. And they can dance, including some acrobatics.
Alysha Umphress is an excellent jazzy torch singer in "I Keep Forgettin'" you don't love me no more." And in "Trouble": "If you're looken for trouble…I am evil."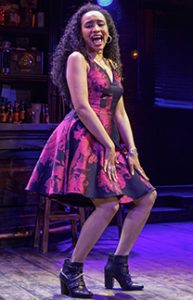 The sound reverberates in dueling pianos and the company doing "Charlie Brown."
Nicole Vanessa Ortiz in "You Aint Nothin' but a Hound Dog" has a powerful sound that could be a horn.
"There Goes my Baby" and "Love Potion #9" feature Kyle Taylor Parker and the other men doing the right cool-at-the-time dance steps.
However, there were some downsides, surprising in our era. OK, this is a revival of a 1994 play, but that was 20 years post-second-wave feminism. "Teach Me How to Shimmy" has a sexist and vulgar dance by Emma Degerstedt. Ugh! A very sexist song, "I'm A Woman," by the female performers, made me want to boo! (I didn't.) No, it wasn't the feminist anthem, "I Am Woman."
How about this, in case you've forgotten 1962: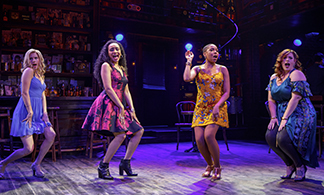 "Well, I can wash out forty-four pairs of socks
And have 'em hangin' on the line
I can starch and iron two dozen shirts
Before you can count from one to nine
I can scoop up a great big dip full of lard
From the drippings can
Throw it in the skillet, go out, do the shopping
And be back before it melts in the pan
'Cause I'm a woman, W O M A N
I'll say it again, hey."
Obviously, she will finally proclaim: "If it's loving you're lacking
I'll kiss you and give you the shivering fits." Hope she washed the lard off her hands. Maybe not.
I'll say it again. Yech!
"Smokey Joe's Café: The Songs of Leiber and Stoller." Words and music by Jerry Leiber and Mike Stoller. Directed and choreographed by Joshua Bergasse. Stage 42, 422 West 42nd Street, New York City. 212-239-6200. Opened July 22, 2018.