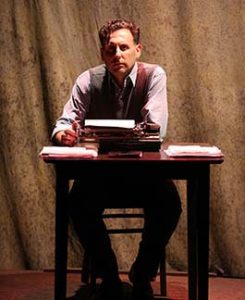 By Lucy Komisar
Howard W. Campbell, an American-born Nazi propagandist and double agent, served evil too well and good too secretly. That is the subtle moral of the Kurt Vonnegut story adapted by Brian Katz in a fascinating albeit not totally successful stage presentation. Still better than most of what you will see in New York theater at the moment.
Campbell (a superb Gabriel Grilli) is an American who from childhood lived in pre-war Germany, became a playwright, and when Hitler took over became a propagandist for Goebbels. But at 27 in 1938, he was recruited as a spy for the Americans, using his hate-filled broadcasts to pass on coded military information. So where is morality? If you run radio broadcasts that promote hate, does that get cancelled out by your secret service as a spy?
The Vonnegut novel with his subtle, ironic language and convoluted plot probably carried the mystery better than the play with its stitched together episodes.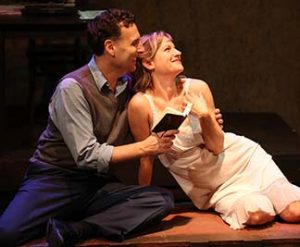 So, Campbell marries a pro-fascist actress Helga (the fine Trish Lindstrom), mixes with propogandist Goebbels. Loses his wife when she goes to the front, somehow disappears when the war is over and is never picked up as a war criminal by the Americans.
Years later in Greenwich Village, he is befriended by George Kraft (a very hokey Dave Sikula) a painter about 20 years older. But here is where Kraft, an alcoholic Russian colonel Potopov, with an absurd over the top Brooklyn accent, is hard to believe. Turns out he is part of a deep plot in which Russians will get Campbell to Mexico and kidnap him to exhibit him as an American fascist. Vonnegut wrote this in 1962.
Campbell is outed by somebody who sends his address to David Jones (Eric Rice) a virulent racist running a white supremacist newsletter. He lives conveniently nearby in the Village at 27 Bethune Street.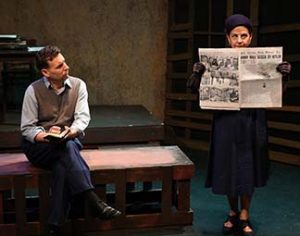 Along the way we meet Francis Wirtanen (the terrific Andrea Gallo), the CIA spymaster who recruited Campbell to pass on messages.
It's erratic as a play, particularly in the performances. Campbell's wife appears after years of slavery in the Ukraine and Siberia, which, given her sprightly demeanor, is a bit hard to believe. And then we discover we are right.
I thought at this time that this works better in a book when you can imagine the characters and not see them. Campbell is terrific. Cool, understated, utterly believable. So are the CIA operative and Helga. But the men who play everyone from racists to a Jewish Auschwitz survivor and Eichmann, are very over the top and rather jokey. Cartoonish might work in the novel not in the play. Don't know if the problem is director Brian Katz or those actors, some of whom come across as pretty dreadful.
Still, I'd never read the novel and was happy to see the play.
"Mother Night." Based on the novel by Kurt Vonnegut; adapted and directed by Brian Katz. The Custom Made Theatre Company, 59East59 Street Theaters, 59 East 59th Street, New York City. 212-279-4200. Opened Oct 10, 2018, closes Nov 3, 2018. 10/26/2018.