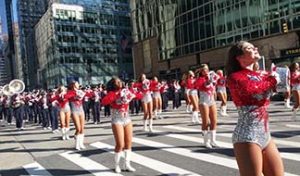 By Lucy Komisar
Nov 22, 2018
It was the coldest Thanksgiving ever in New York, in the low 20s with real feel half that. I wish I had the wool hat and wraparound earmuff concession for the marchers and balloon handlers for this year's Thanksgiving Day Parade. A policeman confirmed the record-breaking chill, but told me the parade has never been cancelled for weather.
High school bands from Texas, Alabama and Louisiana toughed it out. Those Southerners are made of hardy stuff!
There were also marchers from the islands, Hawaii and Puerto Rico.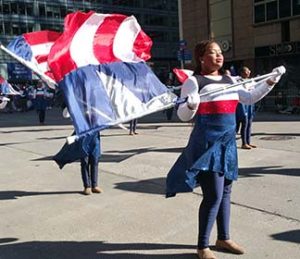 Most in the parade wore gloves and layers, and one unhappy fellow peered over a muffler pulled up to his eyes!
But some women marchers dressed only in flimsy outfits and stockings, no jackets or hats. I though they must be crazy! And a few tall thin Stilt Walkers, favorites as they lean over to glad-hand children along the route, seemed unbothered by the rawness.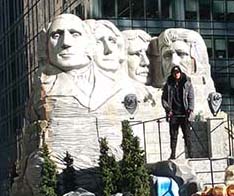 Many of the floats were commercial, sponsored by companies and copying cartoon figures, but I preferred ones like that of South Dakota, with the presidents carved in Mount Rushmore. And as this is New York, you need the Chrysler Building and yellow cabs.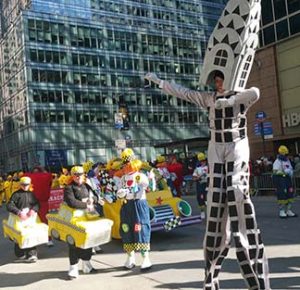 Because of the wind, balloons were kept low. One dipped down and prompted a nervous shout from onlookers.
The balloon captains, who looked like airport workers with headsets and arm motions, walked backwards in front of the helium balloons instructing people holding the cords to unwind or tighten.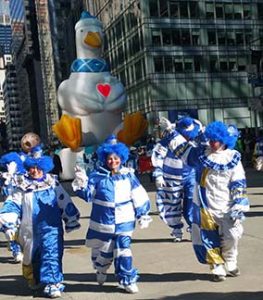 And no parade is complete without the clowns.
A woman walking in one of the groups told me they are all volunteers, they have to be nominated by someone who works for the sponsor, Macy's. She said her daughter worked there.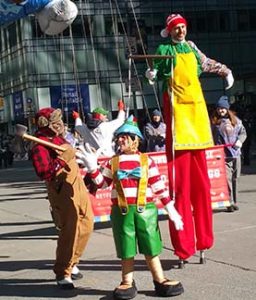 The marchers start at West 77th Street and Central Park West at 9am and finish at Herald Square, 34th Street and Seventh Avenue, at noon.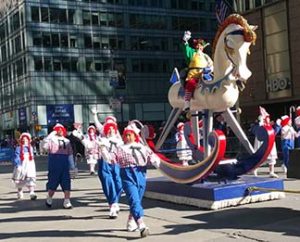 The best place to stand is in the sun. I like the corner of 42nd Street and Sixth Avenue. Maybe some other unobstructed intersections, where the sun is not blocked by tall buildings, are as good.
"Thanksgiving Day Parade." New York City. November 22, 2018.
Photos by Lucy Komisar.