By Lucy Komisar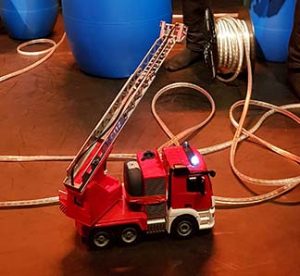 A firetruck circles houses, watching for threats of arson. Inside one home, a lady serves red wine. Her husband comments, "You open a newspaper, another house burned down." They are days of mistrust.
The play is a famous political allegory about Nazism and fascism by Swiss playwright Max Frisch, first staged in Zurich in 1958. It gets a very good production in English by actors from London and Berlin directed by Tom van der Klugt and Felix Schaaf at the Edinburgh Fringe.
They are imaginative in their use of a toy firetruck and other staging elements that make a small production achieve what the author wanted. The firetruck, voiced by Tamara Astor, takes the place of a Greek chorus of firemen.
This is a story about class conflict and na¯veté. Gottlieb Biedermann (the excellent Van der Klugt) runs a hair rejuvenation business. In German, bieder means conventional, conservative, worthy, honest, upright, often used in an ironic sense as the worthy man. But this Biedermann is corrupt. He has fired an employee who invented a process he used. He declares, "Hair rejuvenation is not an invention, it's marketing. He can stick his head in the oven or find a lawyer."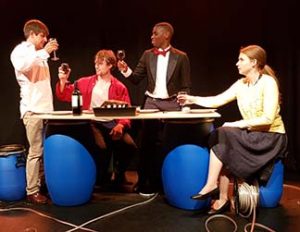 But curiously, Biedermann seems generous toward society's losers. Josef Schmitz (a challenging Felix Schaaf), a homeless man, arrives. He asks for bread and then for more than bread.
Biedermann is na¯ve. The visitor is of the lower class. Biedermann invites him and a friend to stay for dinner. The tragedy is that nobody believes the obvious threat. As Biedermann says "We are all human beings."
Schmitz is put in the attic. Biedermann declares, "Where is it going to get you if you suspect everyone of being an arsonist?"
The waiter, Eisenring, (a fine Roger Carvalho) has another view. He says, "Every citizen is guilty above a certain income level." What will the guardians of the town do, will they act in time to put out the flames?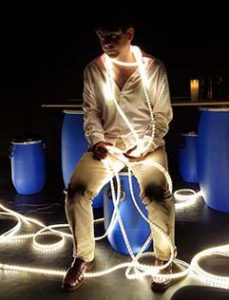 Suddenly, there's a dreadful noise. Drums have been stashed in the attic. What are they for? They are labeled petrol. When an investigator arrives, Biedermann says the barrels are filled with hair rejuvenation fluid.
Finally, the policeman (Laurence Long) confiscates a fire lighter. The sky is lit up. With the help of the middle class, the poor destroy them. "At least it's not our house." Dogs are barking. An academic says, "I disassociate myself from it all." So, who is responsible for fascism?
This is important as part of the canon of anti-fascist theater. And very well done by a small troop whose advantage is the crisp direction by Van der Klugt and Schaaf and the fine performances of the cast.
"The Arsonists." Written by Max Frisch; directed by Tom van der Klugt and Felix Schaaf. Edinburgh Fringe, August 2018. On Twitter.