By Lucy Komisar
Bertolt Brecht's brilliant 1941 allegory of fascism and the rise of Hitler, "The Resistible Rise of Arturo Ui," is set in a Chicago that appears helpless to ward off gangsters. A good choice since Al Capone ran the mob for so long there in part by paying off police and politicians. In this satire, the gang is taking over the city's cauliflower business, strong-arming merchants into making them "partners."
The cauliflower merchants represent the petite bourgeoisie in Germany who supported Hitler. We see as Arturo Ui (the extraordinary Raúl Esparza), morphs into Hitler, in voice and gesture, how some targets fight, some are destroyed and others succumb. His is a bravura performance. John Doyle directs a very good minimalist production, with actors waiting behind a chain-link fence so you get the sense that all the characters are always there.
Brecht wrote this as a refugee, while Hitler was rampaging in Europe. He describes the rise of Hitler in a way Americans can understand as a small-time crook/thief/conman using thuggish violence to attack small merchants. He also shows Ui's/Hitler's attack on the working class.
Esparza has kept the fast-talking speech and accent from Ui's native Brooklyn as he scopes out his assault on Chicago. He's a lowlife, but Brecht ironically mixes Shakespearean language, couplets, mood, with references to the great plays, and to the brutality that infused many of them.
"Where are the goons of yesteryear?"
The time is 1929-32. Germany landowners wanted government subsidies. Workers are agitating for higher wages. But maybe stores will be smashed. Grocers will want protection – at a modest fee. And if you are on the right side, a loan is given to a cousin who embezzles it.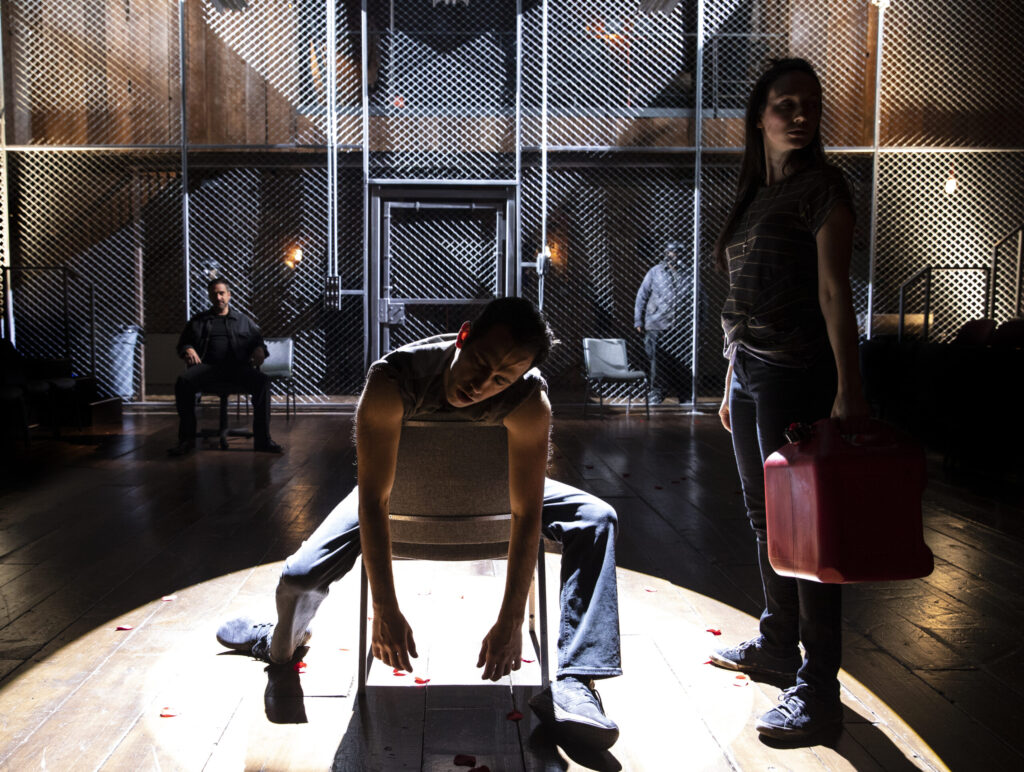 1932 is the year of the Nazi burning of the Reichstag. We hear the shouts of the Hitler crowds. Accusations that the perpetrators are paid by Moscow gold. (Sound familiar today?)
Brecht moves through those years to show the failures of German politicians. In fact, the major corporate interests supported Hitler's rise to power.
In 1933, Hindenburg yields to Hitler. He is represented by Dogsborough (Christopher Gurr), the local party boss, who gives up his job to Ui.
Ui appears with a sheet like a toga, in a speech that starts like Caesar. "Who is for me?" Then erupts into fury like Hitler, face twisted, the heil salute.
The only downside of this very fine production is that if you are sitting on one of the sides of the three-sided theater, it is hard to understand actors whose backs are to you.
"Arturo Ui." Written by Bertold Brecht, translated by George Tabori, directed and designed by John Doyle. Classic Stage Company, 136 East 13th St., New York City. 212-677-4210. Opened Oct 30, 2018; closes Dec 22, 2018. 12/3/18.