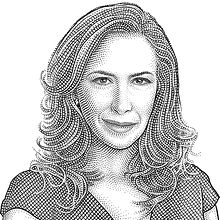 By Lucy Komisar
Jan 10, 2019
Lies exposed on my Fault Lines radio interview today: Wall Street Journal columnist Kimberly Strassel's declarations that William Browder's accountant Sergei Magnitsky was arrested for exposing a tax fraud by Russian officials. Echoed by a U.S. Justice Department indictment of Russian lawyer Natalia Veselnitskaya, who defended the Russian company Prevezon, target of a political attack by the DOJ on behalf of Browder. Both claims are fabrications based on no evidence.
Strassel is a columnist for the right-wing Wall Street Journal. So no surprise. The indictment of Russian lawyer Veselnitskaya fits the U.S. government's ColdWar 2.0 attack on Russia, in which though the U.S. knew that the Browder charges were fake, (see the Robert Otto files) the DOJ used uncorroborated documents Browder supplied to bring a lawsuit against Prevezon.
Their statements about Magnitsky were invented. He was an accountant (not a legal advisor as the DOJ says) who managed William Browder's Hermitage Fund tax evasion. He did not reveal the fraud, which was first reported to Russian police by Rimma Starova, who was the fake name for one of the companies involved in the fraud and was concerned police would target her for the scam. [translation] That was April 2008. The scam was the subject of a complaint three months later by Browder's associate Paul Wrench in July 2008, and reported by Browder at that time to the NY Times.
Magnitsky didn't even mention the fraud till testimony Oct 2008, three months after that.
When Wrench gave a deposition in 2015 in the Prevezon case in U.S. Federal Court Southern District of NY and was asked who he discussed it with, he said Ivan Cherkasov (Browder's partner). So, years after Browder was claiming Magnitsky was the whistleblower, Wrench under oath refused to lie, refused to say Magnitsky investigated the scam.
The Prevezon case is a U.S. Justice Department Russiagate attack on Russia using as its target a real estate investor who Browder named as part of his scheme to block the Russians from going after him for $70 million in tax evasion and stock buy fraud.
I point out that the U.S. indictment against Prevezon lawyer Veselnitskaya calls Magnitsky a legal advisor for Hermitage whom the U.S. government alleged in the Prevezon action had participated in reporting the Russian Treasury refund fraud to Russian authorities but had been arrested in a retaliatory proceeding. But, the government allegation was an egregious lie. As the Magnitsky testimony and Wrench deposition show, he did not participate in reporting this. So the DOJ indictment conveniently does not allege it again, just refers to the previous fabrication.
Journalist Strassel is lazy or incompetent or has an agenda. The Justice Department knows better, but also has an agenda.
It is common in repressive governments that after a justice department files a political suit, it goes after its target's lawyer. That's what the US DOJ did, targeting in this case, a lawyer not even a member of a US bar but practicing in another country.
She is charged with collaborating with the Russian prosecutor. With evidence from hacked emails apparently supplied by Russia fraudster Mikhail Khodorkovsky, unlikely to be corroborated.
Browder collaborating with the U.S. Justice Department doesn't count. But it means that she cannot come to the U.S. to provide evidence against the Browder hoax. The reach of soft imperialism.