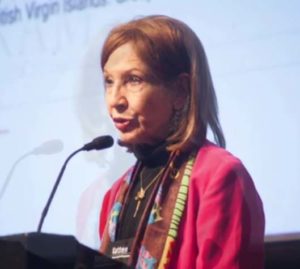 By Lucy Komisar
March 5, 2019
This is the audio of the panel on the Browder/Magnitsky hoax that filmmaker Andrei Nekrasov, Browder tax-fraud collaborator Jamison Firestone of Firestone Duncan, and I spoke at in November 2018 in London.
It was called "The Sergei Magnitsky Case: Fact vs. Fiction." Andrei and I spoke fact, Firestone repeated Browder's fiction!
There are a few photos, but it isn't a video. It runs for two hours.
I start at about 6 minutes in, followed by Andrei and then Firestone. I focus on Browder's corruption: how Hermitage was set up on Mossack Fonseca/Panama Papers shell companies, his partners, his tax evasion schemes, and more. Did you know that his Russian shells were listed at an address with more than 1000 companies? And it wasn't a skyscraper!

Andrei deals with the tax refund fraud and other issues. Firestone repeats the Browder fabrications!
The audience was mostly lawyers, accountants and others whose work revolves around offshore fraud and thievery — trying to prevent them or recover stolen assets.
And also Euan Grant, who at question time introduced himself as from the Institute for Statecraft, which we know as part of the UK Foreign Office-funded anti-Russian Integrity Initiative. Its site was hacked last year and the documents revealed. Among the people listed in its clusters of operatives is William Browder.
[If you are curious, some momentary delays/comments at the start were caused by a technician's mistake that prevented a PowerPoint from displaying. Got fixed soon.]
Firestone and I will do a reprise in Miami, April 30th.